On March 23rd 2012, very much loved, precious twin boys were born to Tom and Judi Bryant. They named them Samuel and Nathan. However, sweet little Sam was born with a broken heart. A very rare and complicated congenital heart defect called congenitally corrected transposition of the great arteries; complicated further by a ventricular septal defect and pulmonary stenosis, affecting normal heart function. Sam is a very active boy, loving, silly, happy and full of life. But in the spring and early summer of 2017, he started to slow down, tiring fast with simple activity. Then his doctors, surgeons and parents decided it was time... time to repair his heart. Sam's first open heart surgery occurred on September 21st, 2017. Complications after his surgery kept him admitted in the Stollery Pediatric Cardiac Intensive Care Unit for three weeks. After Sam stabilized, he was admitted to the Stollery Pediatric cardiology unit where he remains to this day. Unfortunately, Sam continues to experience many unexpected complications and set backs in his recovery. Sam has since had four more open heart surgeries, and many other invasive procedures and diagnostics for various other complications. Despite all these set backs, Sam continues to be a very happy, loving, silly and chatty little boy. This is due to his amazing personality, his innocence to the severity of his complications but largely due to his family's continued love, support and hands on approach in his recovery. Judi is by his side all week, while Tom works and takes care of Nathan. Then Tom stays at the hospital with Sam on the weekend and Judi stays at home with Nathan. These boys have their parents full  love and support, which is imperative for Sam's recovery; but it's not without sacrifice. 
Judi quit her job to be by Sam's side during his hospital stay.  A necessary decision as it is important for his emotional needs and physical support. Nothing helps more than Mommy and Daddy snuggles. But the bills don't stop. Monthly parking and commuting costs, gas, costs of food and other living expenses along side a mortgage, insurance, utilities etc. are a stress this wonderful and dedicated family shouldn't have to think about right now.  Please help them so that they don't have to worry about anything but Sam's recovery and Nathan's well being.
We do not know when Sam will be well enough to come home. He and his family have been at the Stollery for over 6 months now (over 190 days). Sam has only left the hospital 6 or 7 times on day passes during this time.  These brothers miss each other immensely. Tom and Judi miss their boys and each other. All so heartbreaking.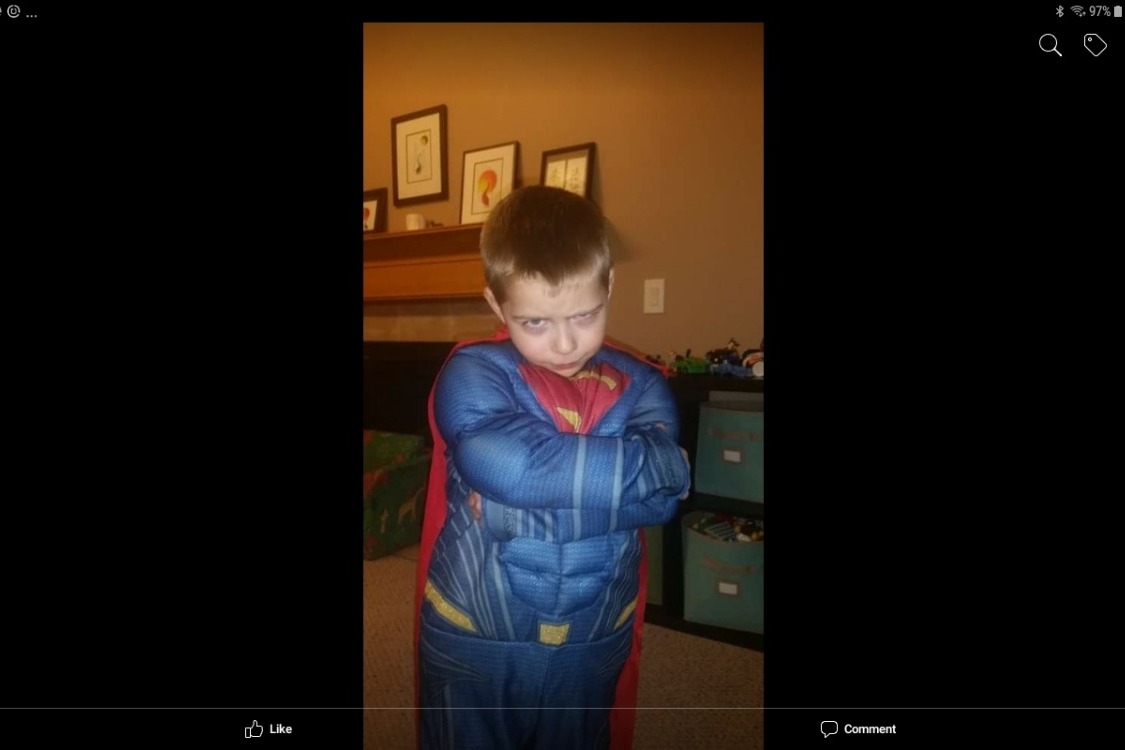 This precious boy has a beautiful light that he shines on all who have the privilege to meet him. He is a force of hope, a hero, a strong little man who will win this fight. He is Super Sam! Please help me in supporting this much deserving family, so they can continue to be by Sam's side to help him heal. Thank you for your time.
"I think a hero is an ordinary individual who finds strength to persevere and endure in spite of overwhelming obstacles." 
Christopher Reeves

Organizer and beneficiary
Tammie Brinson 
Organizer
Spruce Grove, AB