Saying Goodbye to Kate
 It was only a few months ago that another friend and I were having lunch with Kate when she told us she hadn't been feeling well and that she'd soon go for a check-up. Following several medical mistakes and delays, by the time she finally made it to surgery, it was too late. She had Stage 4 cancer. Inoperable. Terminal. Perhaps a few months to live at most. Her husband, Bruce, took her home and brought hospice in right away. He is heart-broken. We all are. She's been home for three weeks now and we can already see signs of her fading away as she struggles to balance medicine and pain. food and sleep and an emotional roller-coaster.
 Kate is such a warm, witty, kind, spiritual person; an artist, and nature/flower lover, fun-loving, laughing and light-hearted. She often seems bemused by life as you can readily see by the twinkle in her eye. We are heart-broken and in shock that one so vibrant can be leaving us so suddenly and so soon.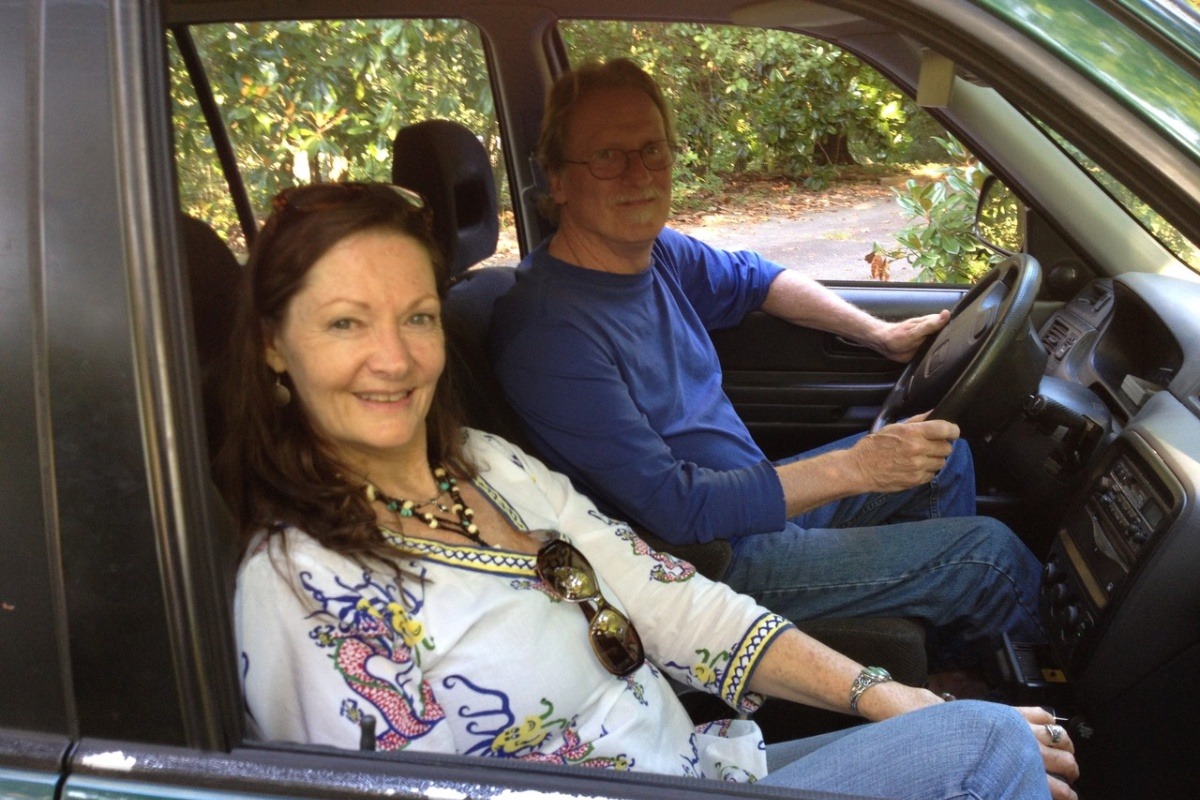 Kate shared with me that her biggest concern is not her condition but Bruce - the stress he is under (he has had two heart attacks in recent years), how the bills will be paid and how he'll go on without her. Their friends and family share the same concern.
When we explored their circumstances, we realized it was time to reach out to the larger community for much-needed financial help.
 Kate and Bruce are self-employed, small business owners who left careers in Atlanta in 1996 to come to N. Georgia to grow Greenstone Soap Company,
starting in a tipi!
 (See the back story below).
They have a very simple philosophy of life and work ... "have faith, do what you love, don't make a bigger mess then you can clean up, use tools rather than machines, and laugh often."
They aren't able to work now. Bruce is devoting all of his time to care-taking and providing for Kate. Their small reserves have dwindled fast as the business sits nearly idle while expenses keep coming.
They need our help with medical bills*, everyday living expenses, funeral and memorial costs and to help Bruce get back on his feet after Kate is gone.  (Kate has medicare but it only covers 80% of medical/hospital costs. The one bill that has come in so far is from just the hospital at $43,000).
We'd like to help Kate quit worrying so much about how Bruce is going to make it without her. He will need to downsize the business to something he can manage on his own and his income will drop by default.
Our efforts to raise funds are therefore as much about Bruce as they are about Kate. Bruce will be left with the bills, his grief, and huge adjustments in his life after Kate is gone.
Bruce has asked me to share, "With the pronouncement by the doctors on December 9th that Kate had stage 4 cancer and had very little time left to live, everything in our lives changed dramatically. Kate and I have created a partnership in life and business that has always required both of our talents and skills.  With Kate's coming passing there will be a big hole, not only in my personal life but also in this business we created together and love. I am asking for donations to be made to both help defray the medical bills and other expenses we are accumulating, but also to provide a financial buffer that will allow me to get my feet on the ground as I try to take on the many task that were Kate's in the business, and now will fall to me.  I hope you can help. Your prayers and well-wishes and kind thoughts are greatly appreciated. Thank you from the bottom of my heart."
Please share this request with friends and family and give whatever you are able to – small amounts are especially appreciated.
…Bruce Rodgers 
                                                And Here's the Back Story
A Walk Down Memory Lane . . . .
Greenstone Soap Company was established in 1996 with a very simple philosophy of life and work ... "have faith, do what you love, don't make a bigger mess then you can clean up, use tools rather than machines, and laugh often."
In the Spring of that year we began as a part-time business out of our home in Atlanta Georgia. In the early fall we decided to quit our full-time professional careers, pack up, and head out of town to pursue the ancient arts of small business and cold process soap making, on a full-time basis.
For a time, our home and corporate headquarters for Greenstone Soap Company was a Tipi. Set in a beautiful grove of young Pin Oaks, overlooking a grassy field on the property of a friend (we made soap in a small garage also on the property).
This certainly is not the path to growth for most companies, but to this day we look back on that experience as one of the most profitable and creative times in the life of Greenstone Soap Company.
 Our Own Road Side Attraction
In 1999 we moved out of the tipi and relocated to an old farm house in the country. With hard work and plenty of enthusiasm we soon established a small road side attraction. With a retail store, an assortment of herb and flower gardens, an art studio and on-site handmade soap-making, people came from all around to walk the gardens, shop in the store and visit the goats that belonged to our neighbor. It was pure fun! 
After three years we moved the whole operation to beautiful downtown Sautee, Georgia and continued attracting even more people to the gardens, the shop and the art studio of our new and expanded roadside attraction. It was beautiful.
                                                    On the Move Again
Then, at the end of 2014, we made a decision to close our brick-and-mortar store and took the business fully on-line. Making this decision was tough, but we wanted the freedom to travel around the country promoting our products and enjoying an easier pace.
And thanks to each of you, our wholesale and on-line retail business for Greenstone Soap Products is growing, and our efforts in promoting Shampoochie® around the country is paying off as well. Thank you for your friendship and support. We look forward to seeing you soon in our travels and on-line. 

Organizer and beneficiary
#1 fundraising platform

More people start fundraisers on GoFundMe than on any other platform. Learn more

GoFundMe Guarantee

In the rare case something isn't right, we will work with you to determine if misuse occurred. Learn more

Expert advice, 24/7

Contact us with your questions and we'll answer, day or night. Learn more