On Monday afternoon, Julia was driving along one of the major highways here in Ottawa and she caught a glimpse of what she thought was a paper bag on the highway. She passed it quickly but could not get the image out of her mind. About 5 minutes out, she realized that what she had thought was a paper bag, was actually a baby pig, lying on the side of the highway. He was clearly injured. She quickly turned around and ten minutes later, arrived to find a small piglet laying shivering and bloody on the ground.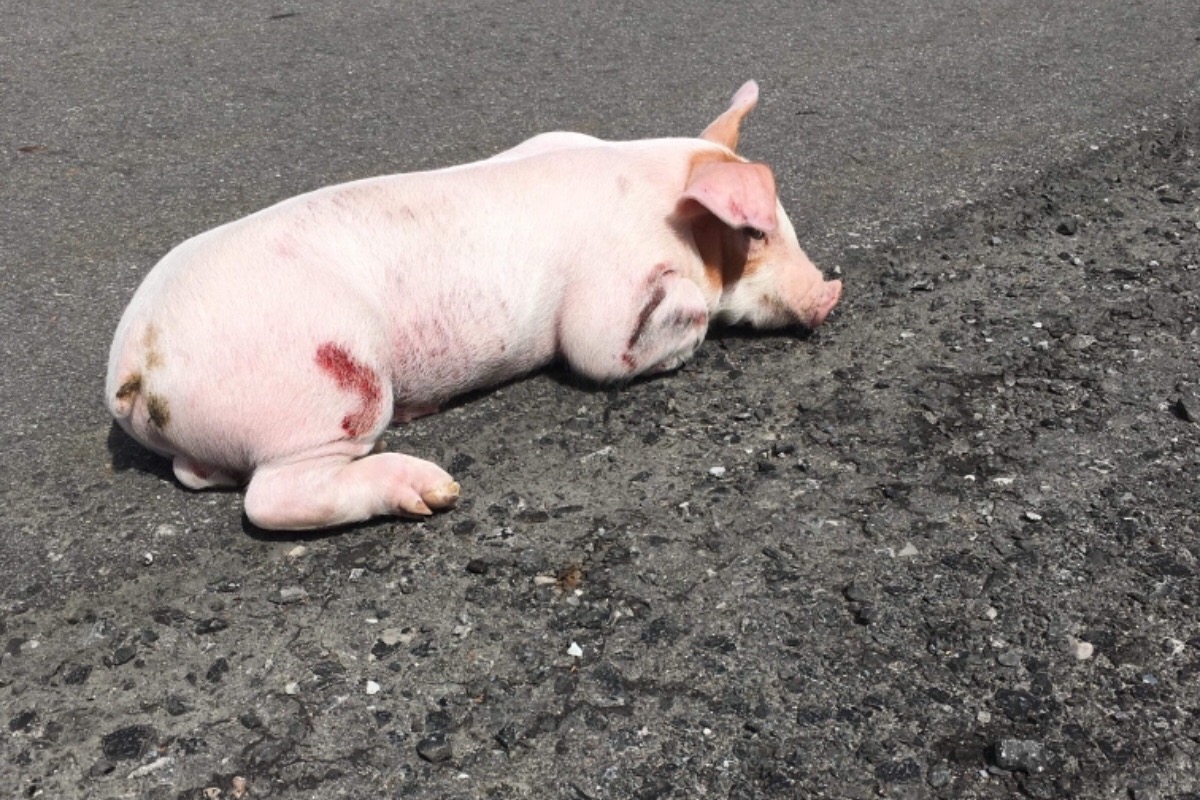 This little creature had likely fallen from a transport truck, on its way to deliver multiple young pigs to what is referred to as a "finishing farm", where the only goal is to get them fattened up quickly for market.  Although falling from the truck alone could have caused the injuries this young pig sustained, we suspect he may also have been hit by a car and left to die.
Not knowing what to do, Julia grabbed a towel, wrapped him up and brought him home.
She reached out to everyone she knew on social media and got the attention of myself and one other small animal veterinarian.  The piglet seemed to be taking a turn for the worse and she was sure he was going to die. 
When my colleague got there, the piglet who would soon come to be known as Mango, was not looking good. On the car ride to the emergency clinic, she thought she would be doing a humane euthanasia.   Shortly before her arrival however, her eyes met his and he had a look of gratitude and hope that could not be ignored. It was then that she decided to take a chance.
She was able to obtain pain medications from the emergency clinic and Mango started to show improvement almost immediately. Despite this, he remained largely listless and was unable to walk. One of his legs was extremely swollen and dangled from his hip.  We tried to keep him as immobilized as we could,
while creating a sling for him to walk outside to do his business every few hours. 
Mango came to the clinic with me the following day and x-rays were taken of his right hind limb. He has multiple fractures which require surgery by a specialist to repair. 
We also x-rayed the rest of his body to ensure that there were no other injuries which would change his prognosis, even if the fractures could be repaired.  Luckily, there were no other significant findings. 
The past three days have been spent caring for this young boy and searching for the means to provide him with the care he needs. Mostly, what he needs right now are around the clock pain management injections, and with this, we have been able to keep him relatively comfortable. Many people do not see pigs for who and what they are. Our meat-centric, commercialized world has portrayed these soulful animals as a commodity, and as being worth nothing more than the meat that grows on their bones. 
But it if you could spend one day with Mango, you would see what this creature is. This is a loving, soulful animal that has needs and emotions just like you and I. He feels fear and pain and clearly finds comfort in the presence of the people he has come to trust.  
Our goal for Mango is to provide the medical and surgical care he needs in order to heal. Once he is strong, he will go to the foster home we have already found for him, and then we will search for his forever home. This will be a place where he can roam freely, burrow in the soil and be amongst other farm and domestic animals, enjoying the care and respect of humans who understand the value of all creatures - large and small - regardless of what this earth has deemed to be their destiny. 
Please consider contributing to Mango's care. We anticipate that the total costs associated with his stabilization, diagnosis, pain management, surgery, post-operative care, and preventive health care (such as vaccinations and dewormer) will total $5000 to $7000.
Any and all donations are welcomed and deeply appreciated. Any leftover funds will be donated to animal rescue sanctuaries.
And speaking of sanctuaries...
Mango is a commercial pig (not a mini) and will grow to be very large. He currently has a foster home, but will be looking for a loving forever home to live out the rest of his life in peace and piggyness. We are searching for sanctuaries and hobby farms that might be interested in caring for him for his lifespan. If you or anyone you know could offer him a home, please contact us.
Thank you for reading, and for any help you may be able to provide. We are so grateful to everyone helping to save Baby Mango.
Organizer