Saving Alex - Stage 4 Cancer
I met my beautiful wife Alexandra, and her wonderful kids Andy and Sandy three years ago. From the moment I met her, I knew that she was a very special person. Her sincere caring  and attention for others were evident. She touched my heart like I have never experienced before. 
We met, We clicked, We knew it!
We got married a year later.
Alex was first diagnosed with stage II Breast Cancer in 2010.
She underwent a bi-lateral mastectomy and strong chemotherapy treatment.  At that time we were told by multiple doctors that us conceiving babies was an impossibility due to her previous cancer treatments. The doctors asked if we believe in miracles because it was medically impossible for her to conceive.
With  prayers and faith, we were blessed a month after our wedding with the news that she was pregnant.
Not only was there one miracle...we were having twins! 
Our family now consists of my wife, Alexandra, Son Andy, Daughter Sandy and our little one-year-old twin girls, Ava and Gia.
Although my wife had a bi-lateral mastectomy, her body had naturally reacted to the pregnancy of our babies as we quickly found out that some breast mass was left behind during the surgery. 
Knowing that this had changed the makeup of her body,  we requested for a scan to be done. The doctor felt that an ultrasound of her chest was enough. The test was done and came back clear.
However, as the months passed by, Alex kept having pains in her left leg and hip area, which went from being mild to excruciating. Alex is very strong, positive and always keeps a smile on her face,  so cancer returning didn't seem a possibility even to her doctors. After several visits to doctors, we finally got a doctor to order an XRay.  The findings triggered a STAT MRI Scan the very next day.  The scan revealed a lesion on her left hip. A biopsy confirmed that the breast cancer has metastasized to the bone.
She is now diagnosed with Stage 4 Metastatic Breast Cancer of the bone.
The cancer is triple positive, which is very aggressive in nature and growing rapidly. In a few months, the cancer mass has taken the place  of her bone causing Alex to lose most of the bone on her left hip.
Unfortunately, a surgery to remove the mass or reconstruct her hip is not possible due to the amount of bone loss she has suffered. Alex is now bound to the use of a walker and wheelchair, and unable to pick up the babies due to severe pain, the the fragility of her bones and risk of bone fracture. 
With surgery not being a possibility, the team of doctors has recommended for my wife to go through immediate radiation in hopes to stop or slow down the growth of the cancer cells. Although no further masses have been detected, based on the pathology results, the doctors believe that cancer cells may be in other places as well, just not big enough to be detected at this time. Other than her current radiation therapies, their plan is to have her on chemo pills, shots and intravenous treatments to lower her hormones for the next year or until these medications stop working. Once the pills, shots, and IVs stop working, they would administer chemotherapy treatment for the rest of her time. The doctor is not comfortable with starting her on chemotherapy treatment now due to how much it affected her during her primary cancer treatment. Alex had to be rushed to the hospital and hospitalized with every chemotherapy treatment due to massive drops of her blood cells.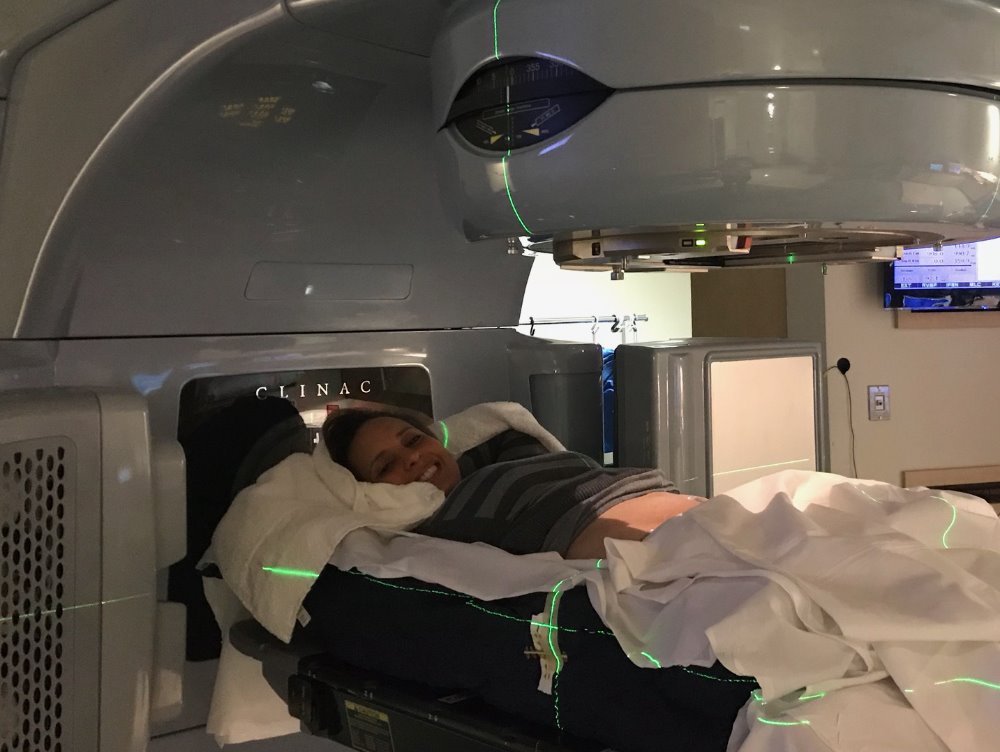 The treatment plan and life expectancy we have received are very discouraging.
Having our kids and little babies does not allow us to simply wait until the treatments no longer works, only to then see my wife further get killed by chemotherapy while trying to kill the cancer cells. Our goal is to help Alex survive without going through the severe side effects of treatment and chemotherapy. She is juicing, eating organic and very clean and finds it has already helped with some of the constant pain.   We have done extensive research and have found there have been excellent results with non-toxic immunotherapy, which, unfortunately, is not covered by our health insurance and is very expensive. 
Although we believe that there's a lot of good intention and care in traditional medicine, we can no longer only elect a treatment option with medications that cause so much harm to her body and might just give my wife another year or few months of life.  My wife and I have been doing non-stop research on the subject of alternative treatments and immunotherapy, we have educated ourselves on the different cancer treatments available and have been praying for guidance.
Alex is determined to fight! We would like to give Alex the opportunity of beating this awful disease in a cancer center which offers more viable options for fighting this cancer.
We have come to the conclusion that non-toxic immunotherapy and alternative treatment is a viable option that will benefit her at this time.
We are aware that no treatment is 100% successful and nothing is guaranteed, but
giving Alex the possibility of being here with her kids, family, friends and seeing our twin babies grow, means the world to me, my wife and our children. 
Many people have asked us how they can help us during this difficult time and although it is not our nature to ask for help, we must reach out so that my wife has every chance possible to beat this cancer.
The life-saving treatment Alex needs does come with a cost, of approximately $45-100,000 and unfortunately, our health insurance would not assist as they would only cover traditional medicine.
We have a limited amount of time to start alternative treatments and would need to get started soon.
  Please be part of our journey by sharing our story as we ask for prayers for health and continuous guidance.
If you feel so inclined, we would appreciate any financial help you can offer for the love of my life.
If you prefer to use other means to assist and would like to reach us directly, please send an email to: (
[email redacted]
)
Please keep us in your thoughts and prayers and thank you all for your prayers, kindness and support
Bobby Christiano

Organizer
#1 fundraising platform

More people start fundraisers on GoFundMe than on any other platform. Learn more

GoFundMe Guarantee

In the rare case something isn't right, we will work with you to determine if misuse occurred. Learn more

Expert advice, 24/7

Contact us with your questions and we'll answer, day or night. Learn more