Preserve Wing Commander Academy!
What do you want?!
Confederation spies have located a massive cache of Wing Commander Academy production artwork deep in the wilds of Southern California! There are 30 large boxes of artwork, each containing roughly 1,000 cels and several thousand sketches for a total of (we estimate) about 50,000 distinct pieces of Wing Commander artwork ranging from the cels used to make the show to the sketches and other drawings used to plan out scenes. My objective is to purchase this artwork and produce high resolution scans of ALL of it which will be made freely available to the Wing Commander community!
Where does all that money go?
All of the money will go to the purchase of the artwork. For every $300 donated, we can buy an additional box, up to 30! (The remaining $800 covers GoFundMe's fee and credit card processing.)
Will you do any other cool things?
That depends on how you define cool! To help promote the crowd funding project (and because I really, really want to) I'll be streaming live commentary of all thirteen Academy episodes. Once the artwork has been purchased, I'll stream the initial exploration of each box so that everyone else in the world can see how goofy excited finding a drawing of Admiral Tolwyn's arm makes me.
Here's me examining the first of the boxes!
Who the heck are you?
My name is Ben Lesnick, and I'm the co-founder of the Wing Commander Combat Information Center (WCNews.com.) We've been the community hub for the Wing Commander fandom since 1995 and continue to offer daily updates on the series' history and fandom. I'm representing WCNews in this project.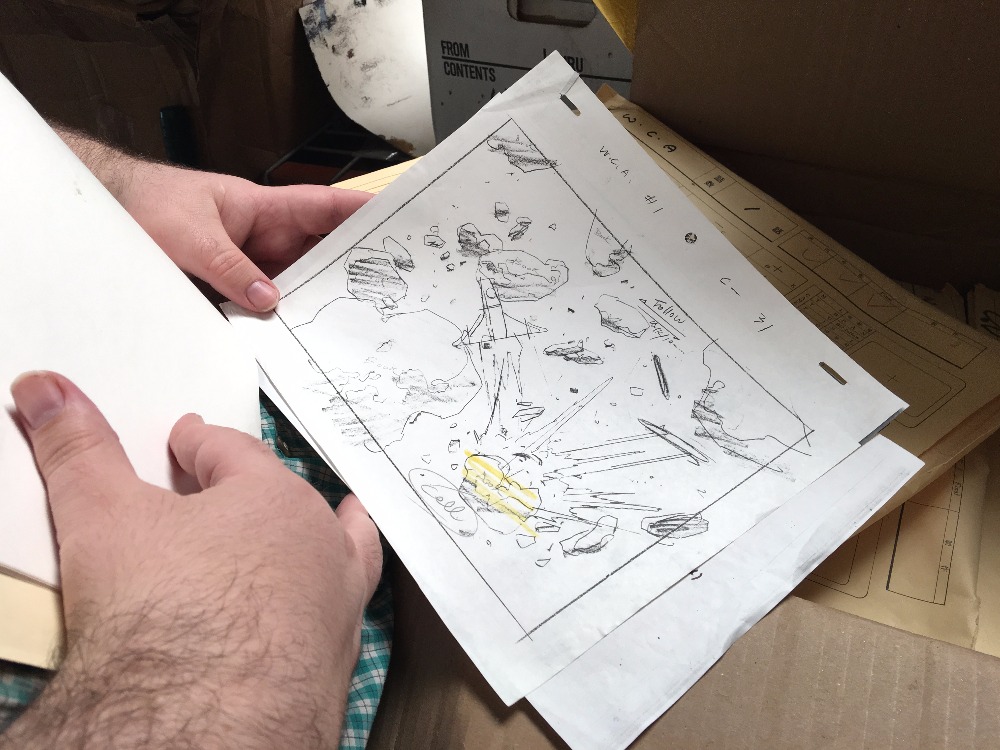 A cool battle scene from 'Red and Blue' sketched out!
Have you archived Wing Commander material before?
Heck yes! Part of our raison d'etre is preserving Wing Commander's history in any way we can. Our team has been responsible for digitizing countless pages of artwork, development docs, correspondence, source code, press, advertising and thousands of hours of video. From the earliest scribbles about 'Squadron' to the day-by-day production logs for Wing Commander Prophecy, we've worked for over twenty years to make sure the fascinating odds and ends of the game are preserved and available.
Electronic Arts has trusted our team with several projects, including production of the 2003 Gameboy port of Wing Commander Prophecy, the lore and documentation for Wing Commander Arena on Xbox Live Arcade and pitches for over a dozen unproduced games. We've also been invited to their offices to digitize and preserve Wing Commander material: in 2009 we spent a full week at EA Mythic in Virginia making sure everything saved from Origin Systems' closure was permanently preserved! Most recently, I've spent nights and weekends working to digitize Chris' Wing Commander material stored at Cloud Imperium (with his kind blessing), including hundreds of tapes relating to the film and other projects.
We've even recovered multiple finished, unreleased Wing Commander products, including the high resolution DVD port of Wing Commander Prophecy, the extended test audience cut of the Wing Commander film,  the unreleased HarperCollins novel Pilgrim Truth and a beautiful TCS Tiger Claw cutaway poster. These and many other documents are available at WCNews.com today! (In some limited cases, where documents include budgets or personal details or where final source code is involved, we store material in a non-public archive at EA's request.)
Blair joins the Marines from 'Glory of Sivar,' the series finale.
Okay, but have you ever archived any Wing Commander ACADEMY material before?
HECK DARN HECK YES! In fact, if you've ever watched Wing Commander Academy outside of the original airings (and its short syndication) and the release of the DVD set in 2012 then you've watched the off-air dub I recorded in High School!
Over the years, we've digitally scanned dozens of backgrounds, scripts, sketches and cels acquired from a variety of sources and have made all available to the public. The series' creator, Larry Latham, was kind enough to gift us his folder of original sketches which we have online in his memory (Mr. Latham very sadly passed away several years ago.) While we know a lot less about the 'behind the screens' of the TV show than we do Origin or Digital Anvil, we've learned a whole lot since it appeared back in 1996… and this project will only help us learn more!
Most recently, I happened across (based on a tip from The Fat Man himself and help from my very wonderful in-laws!) a complete Wing Commander Academy storyboard set at a Pasadena antique mall. You can download that,
available for the first time today, here
.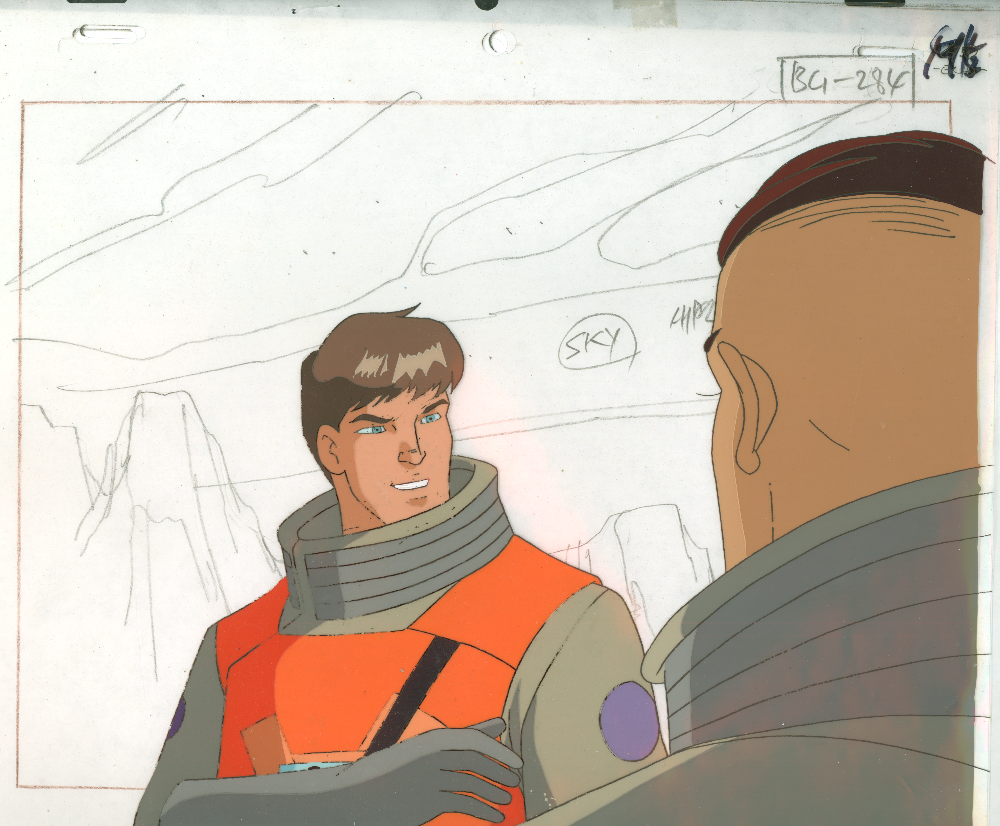 Cel and background sketch showing Mark Hamill's character, 2nd Lt. Christopher Blair! Hector "Grunt" Paz is in the foreground.
Can you really learn things from animation cels?
YES! Wing Commander historians have a great picture of exactly how the Wing Commander games were made… but very little is known about the details of the animated series, which was produced by Universal through animation studios in Japan and Korea. These will teach us how the show was made (and how shows in general were made back then; the advent of digital animation has rendered huge warehouses of animation cels a thing of the distant past! Wing Commander Academy was one of the last shows of its kind, in that respect.)
More exciting, I think, is what we'll learn about the Wing Commander universe. Character names, ship names, material cut from episodes or too small to see in detail at 480 lines of resolution. In the storyboard set available above, we learned the names of two transport ships, half a dozen background characters, the proper spelling of a Kilrathi warship AND the classifications of previously unidentified fighters!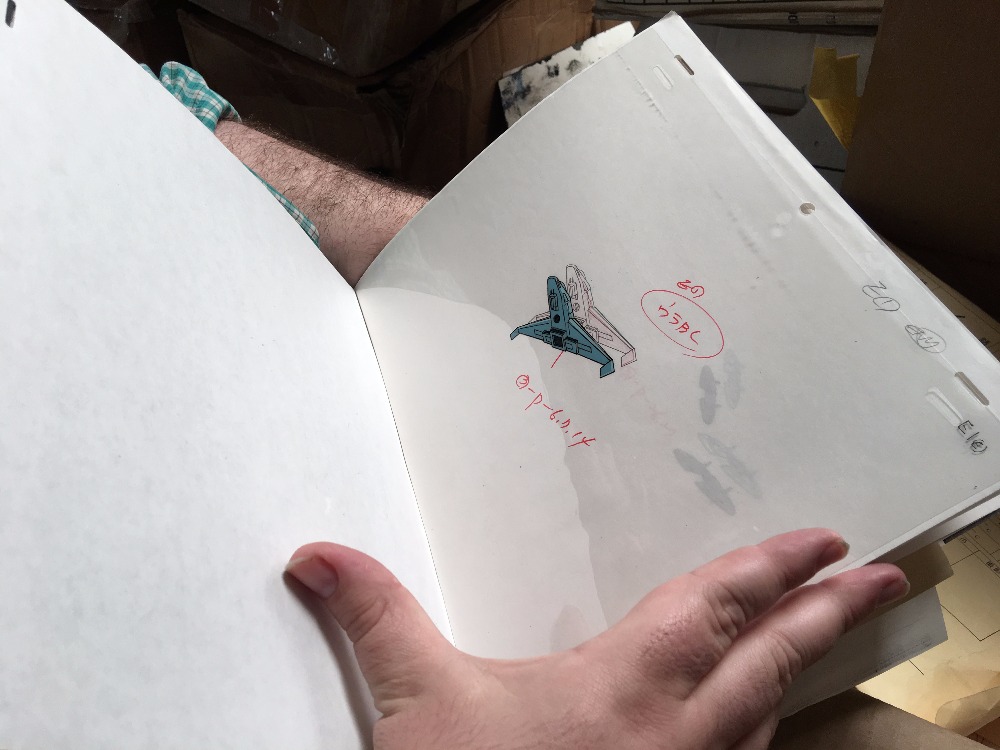 A Hellcat V from the pilot, "Red and Blue."
Don't you work on Star Citizen?
I do, but I want to stress that this project is completely separate from my work on Chris Roberts' NEXT great space adventure. I do not represent Cloud Imperium Games or any of its subsidiaries. I'm not stupid enough to think that folks won't be looking at this on account of my being part of an amazing community, but I'd encourage you to only back if you're interested in a whole lot of Wing Commander art and not because you're helping out the Star Citizen guy!
What are you going to do with all the art?
After the art has been scanned, I'd like to give it away to somewhere that will preserve it! There's a Ben Lesnick collection at the University of Texas at Austin where I've donated a lot of physical Wing Commander documentation over the years… I know that their gaming budget has been cut, but if they are interested they would be my first choice for 35 donated boxes of Wing Commander art.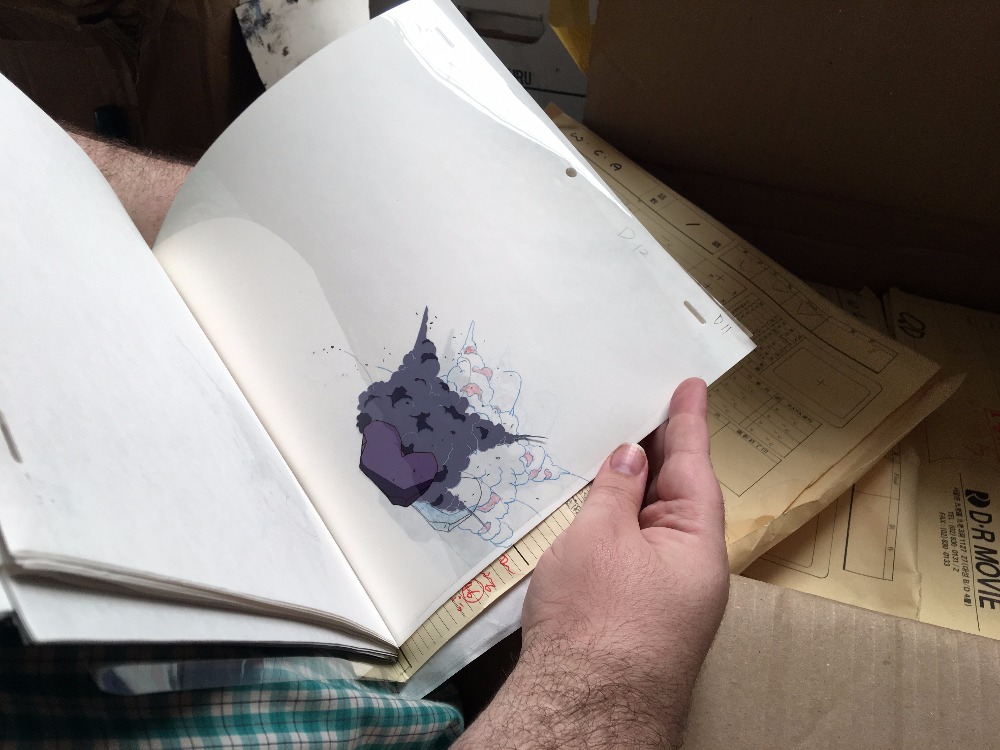 An explosion!
Will I be able to access the material once it's digitized?
OF COURSE!
How soon will the scans be available?
I expect that the animators' sketches (which, to me, are the most interesting because they've never been seen before!) can be scanned pretty quickly; I hope to have a first archive of them within two months of the transfer. I expect the animation cels will take a bit longer, since they have to be scanned individually and on a larger format scanner. (I also want to be sure to research cel preservation!)
What is an animation cel?
Back in the day, cartoons were made by painting characters on see-through sheets. These sheets would be layered on top of a painted background and swapped around in order to create the illusion of movement. In a sense, the cels are the 'source code' that a cartoon episode is made of (and looking closely at them, and the sketches and drawings that lead to them, will let us do everything from see new details to create high resolution images of ships and characters.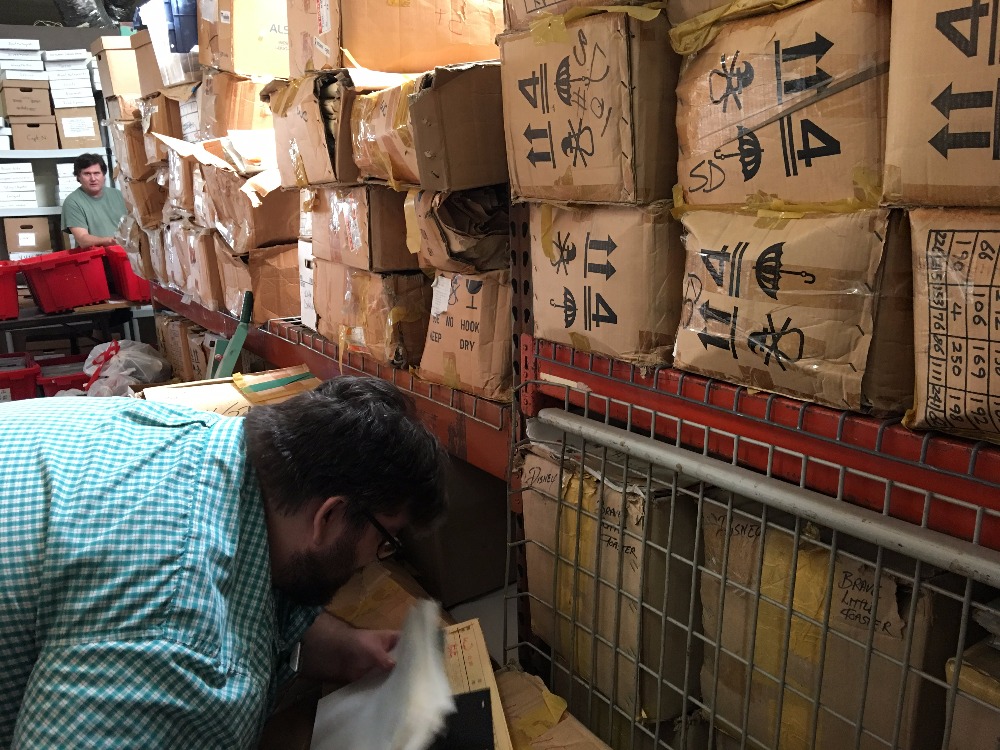 Sorry, Alexis! (For the record, she is onboard and totally excited about this little adventure. I have a good wife!)
How else can I help?
They also serve, those who help haul boxes and boxes of animation cels around! If you're in the Southern California area (or want to visit) you're more than welcome to help move the purchased cels (fingers crossed) and then help with the scanning. (One of my personal challenges is that I don't see well enough to drive; I can't thank Disco Lando enough for driving me around on this adventure. Outside help is always wonderful!)
Your expertise is also welcome! I have a lot of experience with Wing Commander, but I'm an amateur archivist. If you know scanners, if you know cels, if you know digital storage and preservation, I'd love to chat with you.
What are the dangers of this project?
The biggest danger is that we WON'T hit the goal and some cels won't be included.
The second biggest danger is that no library will want to store the physical artwork and I will be stuck owning way, way too much Wing Commander artwork for the rest of my life. Worse things have happened! (Should this occur, I will split the load with the rest of the WCNews staff.)
I will also warn here that because my real life job can become very busy, it may take months or more to finish scanning all of these cels.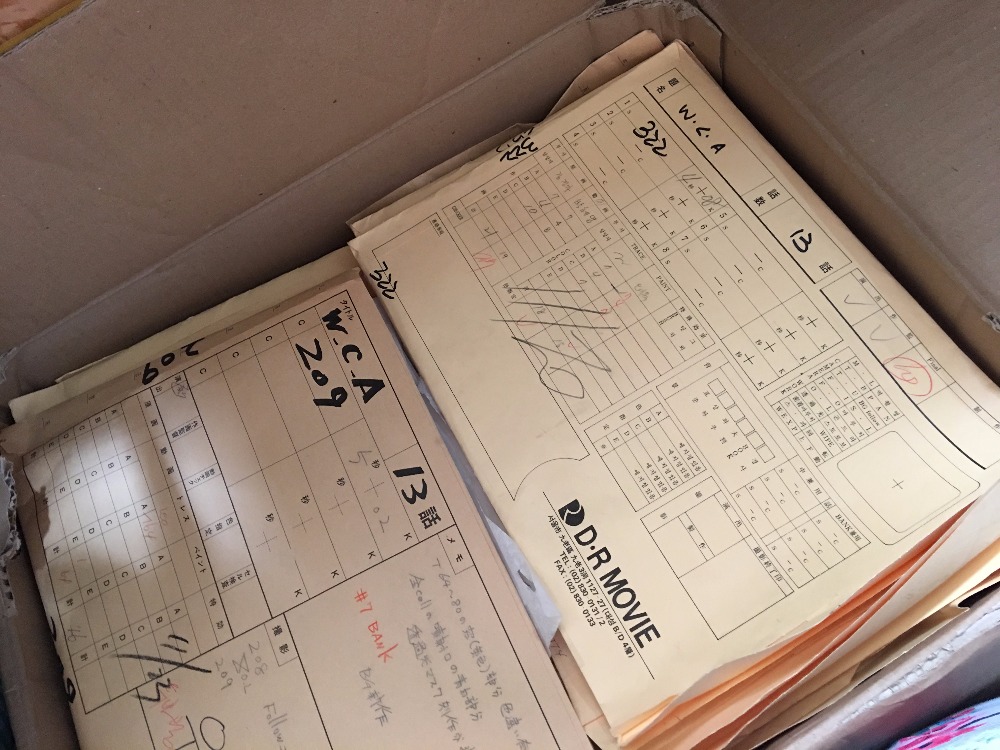 Each box contains dozens of these packets; each packet contains a single sequence from an episode!
Do you own Wing Commander Academy?
NO! The Wing Commander IP is owned by Electronic Arts. Extant Wing Commander Academy footage is owned by Universal Pictures, and distribution rights are currently held by VEI. I do not represent any of these organizations, and they have no stake in this crowd fund.
Why should I give you money, anyway?
Frankly, there's no reason you should. I am someone who tries to be a good egg and who is very passionate about this one peculiar thing. Neither of these things means I'm entitled to $9,800! I will appreciate every donation more than you can know, but I don't feel I deserve or should expect anything.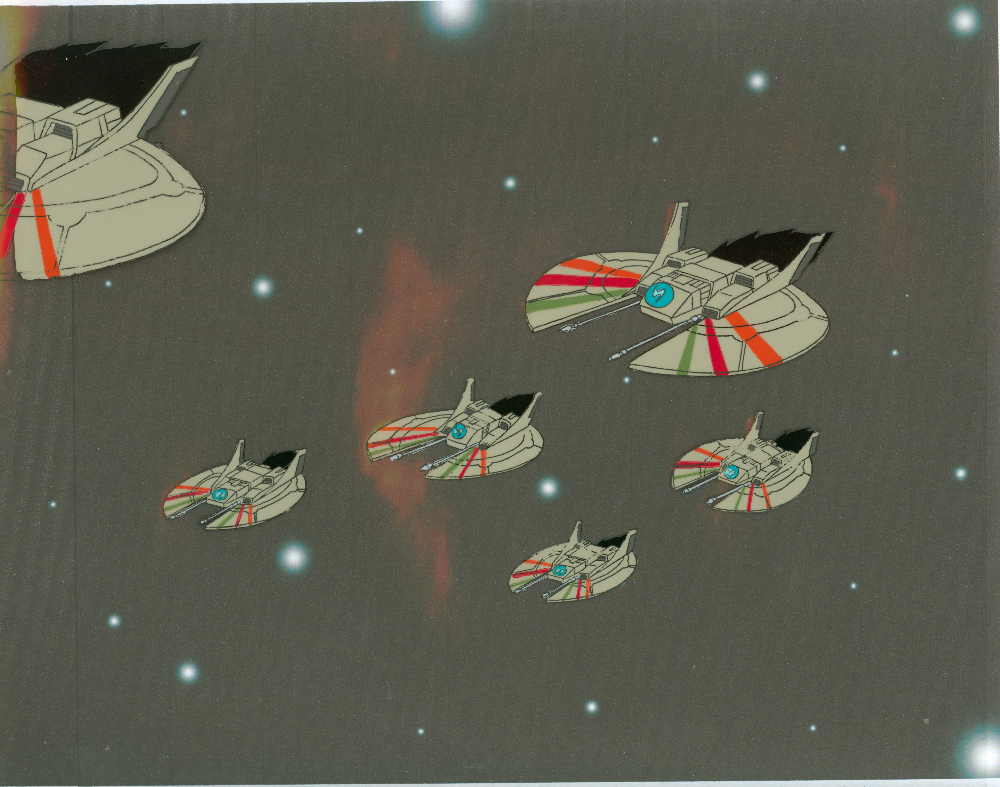 Did I mention there would be cool spaceships?
Organizador y beneficiario
Ben Lesnick
Organizador
Santa Monica, CA