Repair the NSC Velodrome!
Save track cycling in Minnesota.
The NSC Velodrome - the only velodrome in the state and a unique part of the USA's small portfolio of velodromes - needs major repairs immediately.  The track is currently closed until it can be repaired. These repairs will extend the life of the facility, keeping the track cycling community active until a new, future velodrome facility is completed. We are asking the broad track cycling community to help out.
Friends of Velodrome Racing in Minnesota must raise $60,000 in 5 months.

Friends of Velodrome Racing in Minnesota is a newly-formed, volunteer-run nonprofit organization working to keep track cycling in Minnesota.
The Velodrome is owned and operated by the National Sports Center Foundation, a nonprofit organization that administers a large complex of state-developed sports facilities.  Given the age of the velodrome, the NSCF was prepared to close the facility permanently, but Friends of Velodrome Racing in MN has worked with the NSCF Board of Directors on a plan to preserve our unique public cycling facility.
Friends of Velodrome Racing in Minnesota will share the cost of repairs with the National Sports Center Foundation.
 The complete cost of the repairs is about $60,000 and will be completed by professional crews.    
Friends of Velodrome Racing in Minnesota has already secured materials donations for the repair, volunteer labor for additional maintenance, and some funds from individual and institutional donors - but more is needed.
What you can do. 
There are many ways to help out:
1. Donate to this fundraising campaign
. Any amount helps to preserve the velodrome and keep growing the sport. You can donate through this GoFundMe campaign. Or, you can hand us a check or send us a Paypal gift to
[email redacted]
2. Come out and ride next year.
We need the current ridership to buy season passes, ride the velodrome, and support major events. Bring a friend, take a Learn To Ride class, or come out and race. The track has loaner bikes - all you need are shoes, pedals, and a helmet.
3. Connect the velodrome to sponsors
. Email us at [email redacted] for more information.
4. Help us connect the National Sports Center with major corporate sponsors
. The NSC is a major multi-sport facility that has over 4 million visitors per year. If you know somebody who could benefit from this opportunity, please help us get in touch.
[email redacted]


Thanks so much for your time, attention, commitment, and donation!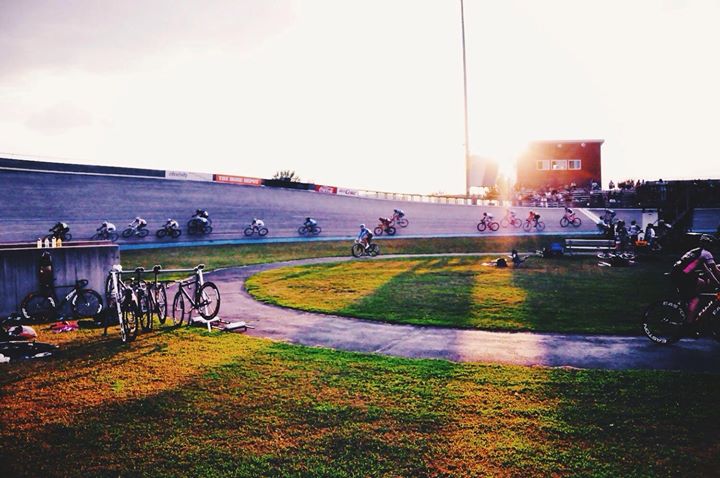 About the NSC Velodrome.  
Our velodrome program currently supports a thriving amateur racing community that includes everyone from casual riders to racers, National & World Champions and, a rich youth development pipeline that develops kids into accomplished athletes with a lifelong love for cycling sport.  It represents Minnesota Cycling worldwide in generating riders who routinely punch above weight.   This year was the most successful year ever – 500 riders and 200 racers used the velodrome in front of an audience of thousands. Juniors programs doubled in size and the women's field quadrupled. Our community sent riders to Juniors, Elite, and Masters National Championships competitions, and five riders went to the Masters World Championships. There, they finished with seven medals including a gold medal and a world record in the Team Pursuit!
The National Sports Center Velodrome is an outdoor, 250-meter wood strip velodrome - a bicycle racing track with turns banked at 43 degrees. Racers hit speeds of over 40mph on bikes with one gear and no brakes. Our velodrome was built 25 years ago as the sister track to the Barcelona Olympic Track.  We have hosted major cycling events including the US Olympic Festival, the Elite Track Cycling National Championships, the Master's Track Cycling World Championships, the EDS Cup and the Minnesota Fixed Gear Classic.
See for yourself: 
Take a look at 
a recent writeup in Urban Velo
, see
the view from inside an elite race
 , and
browse photos of the huge women's field
.
There are fewer than 25 velodromes in the USA. 
The nearest other velodrome to our metropolitan region is 400 miles away.  If the NSC Velodrome closes, we lose the only venue for this sport between Kenosha, Wisconsin and Colorado Springs, Colorado.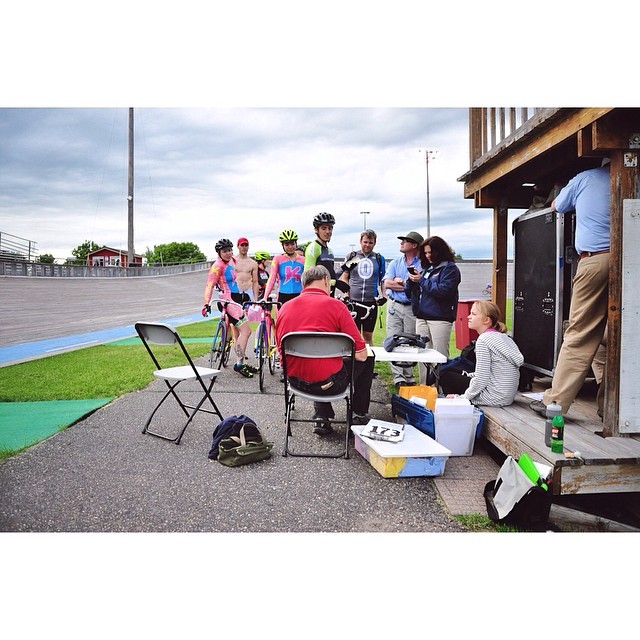 *****
Frequently Asked Questions:
Are you a nonprofit organization?  
Yes, but donations to us are not tax exempt. If you want to make a tax-exempt donation, you can write a check to the NSC Velodrome, but give it to us to 'hold' for the NSC until the repair plan is secured.

What if the repair doesn't happen and the velodrome closes?
  If that happens, we'll refund your money - minus any small GoFundMe, Paypal, or similar fees that may incur.
What happens after the repair is completed?
 If the repair is completed, we'll have a track to ride on for 2015 and beyond. The NSC will ask us to look into ways to raise more revenue and cut some operating costs - plus, look for major, attention-getting events to hold at the velodrome. And, we will support viable efforts to build a new velodrome - either at the NSC or elsewhere.
What do I get for my donation? 
You get a track to ride on for years to come! While we can connect the track with sponsorship opportunities, we can't sell sponsorships or naming rights to companies, or season passes to riders. To sponsor the velodrome, please contact Bob Williams ([email redacted]). If you're planning a lovely donation, please budget out the cost of a season pass for 2015, too, and subtract that from your donation to this fundraising effort, too.
Where can I get more information?
At our website (Friendsofvelomn.com), our Facebook page (facebook.com/friendsofvelodromeracinginmn), or you can email us at
[email redacted]
.
Organizer