Please help my great friend Rosie with her medical bills - she is currently fighting several blood clots in her brain, a very rare diagnosis called Cerebral Venus Sinus Thrombosis and Sagittal Sinus Thrombosis. This is a 1-4 in a million diagnosis. I will let her tell you in her own words what she is going through:

"Ok, let me preface this with the fact that I do not have health insurance. Being a bartender for 10 years it kind of happens. On Jan 10th and 11th 2014, I made two trips to the ER, the first being given meds for a sinus infection and the second less then 24 hours later demanding a test for menengitius. The second trip is when I was given the CT scan that showed signs of blood clots in my brain. Being as stubborn as I am if I had not had a migraine for the previous 7 days I would not have gone at all and would probably not be here today. 

I was ordered an MRI and it was discovered that I had several massive blood clots in my Saggital and Venus Sinus veins. The good news is I dont have menegitious! And my spinal fluid looks pretty cool in a tube. 



A blood clot? WHAT?  

The MRI showed that I have a massive Sagittal and Venus Sinus Thrombosis - a blood clot that is located in the vein that runs down the middle of my brains surface and a second larger one in my jugular vein.  This is the best part, its not a single clot, there are several. This condition is very rare only affecting 1-4 in every million people. It is also known as CTV, Cerebral Venus Thrombosis. It is most common in women my age. Yay me.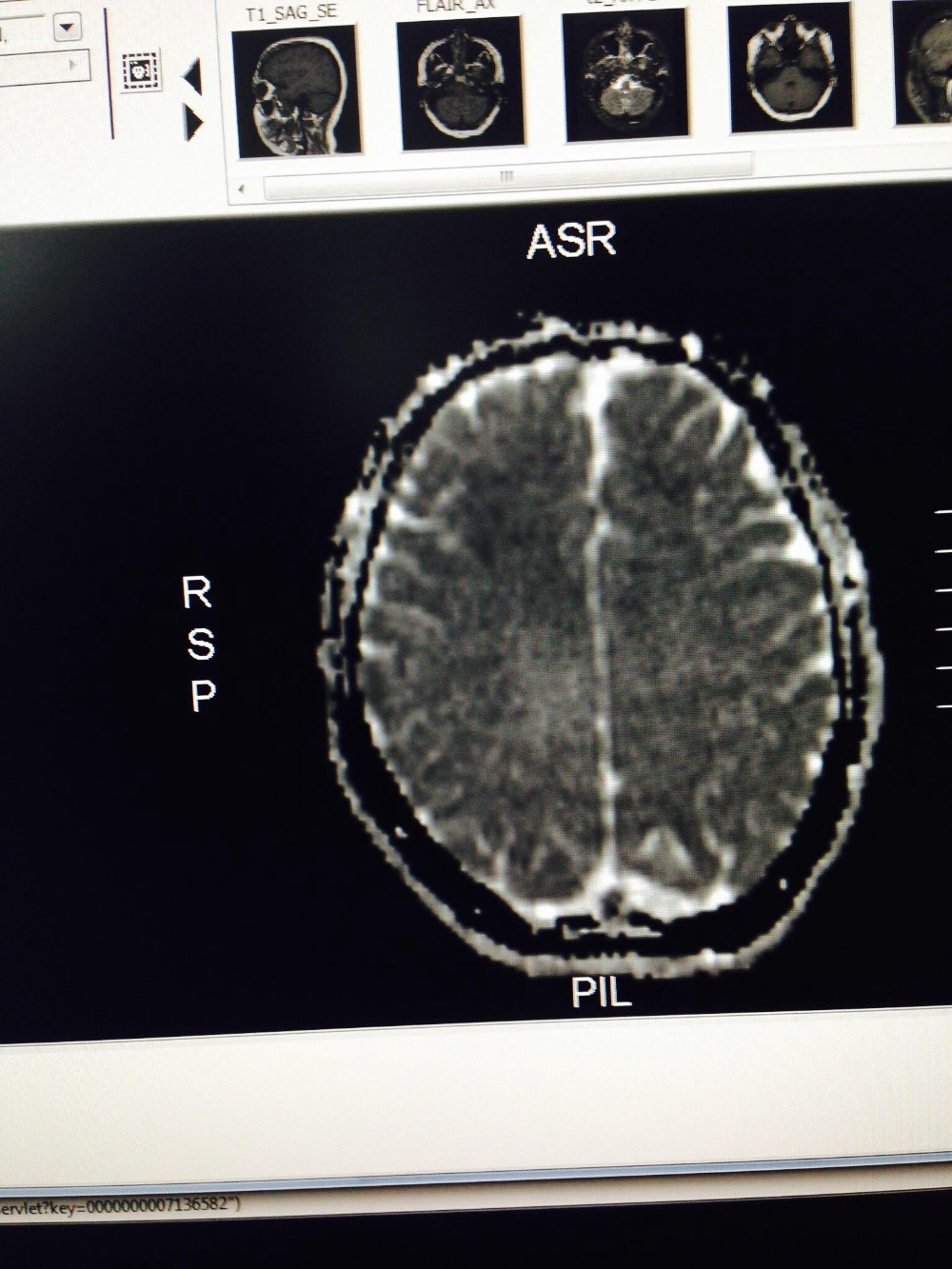 MRI showing where one of my clots is located. On the bottom you'll see the two white prodomininant sections, those are my right and left jugular veins. The right one is thick and fine while the left one is less white. This indicates a massive clot blocking the blood flow out of my brain. The result is horrendous pressure that builds up and gives me horrid migraines. Because it is considered a deep vein thrombosis it is inoperable. The other issue us this clot has hardened and attached itself to the vein, it is essentially now a permanent part of that vein.



I was admitted into the Neuroscience Department at UNC and awaited my treatment options. Because this is such a rare diagnosis they were unsure of how to treat me. I was put on a blood thinner called warfarin, it caused me to have one of three strokes. 




Since I was admitted into the Neuroscience department at UNC Chapel Hill, I lost the ability to walk without assistance, I now use a cane, I have trouble remembering people's faces, names, and titles. When people ask me simple questions I can't remember the answers and get confused/overwhelmed when people talk to me too fast. My speech is slowed and I feel like I'm trapped in my own head, which has me in tears from frustration. I've lost feeling in the right side of my body and my hearing comes and goes. I have issues with reading comprehension as well. I can read I just dont understand what I have read. My hand writing has suffered as well. To date we still have no answers as to why I am sick, there are speculations but due to legality issues I cannot discuss them here.

 I was being funded by the hospital, UVA and given my blood thinners through "charity care". They have since decided I am too expensive of a patient and cut my funding.  My options for blood thinners are very small and all of them are expensive. 

To date I have had 15 MRIs, countless CT scans with and without contrast and one CVT. With more to come as the time passes. I have also suffered three strokes, and have had to battle with severe depression, it's a lot to face when  you are 31 and a mother of an awesome 12yr old. 



Bonus Pic, My amazing daughter and I.

I have applied for disability and been waiting for an answer since January 2014 and I am still waiting for an answer.

I do not qualify for Medicade. I cannot afford Obamacare either, I was quoted $283 a month with a $6500 deductible. I cannot afford that even if I was working and healthy. 

I need help paying for my meds. I am currently on 8 daily meds and the blood thinners being the most important. Right now the one I am on runs $310 a month. This is just one of the prescriptions though. The rest are to try to help control my endless migraines.

Anything and everything helps. I appreciate everything that has been donated as it has helped lift a portion of theburden off my shoulders and keep me around so far. 



Organizer