Save the South LeRoy Meeting House
Restoration of the south side of the historic South LeRoy Meeting House was completed in November of 2015 and interior plaster repairs are currently being done.  It is time to turn the corner and begin repair of the east side of the Meeting House.  Help us fund the next step of our restoration! 
The South LeRoy Meeting House is the oldest historical landmark in LeRoy Township.  The Greek Revival style meeting house was built by early resident, Henry Brakeman from materials gathered within a quarter mile of the building, sawed and planed by hand. The mortise and tenon timber frame was assembled and enclosed in 1822.  Brakeman and his sons and neighbors worked evenings for the next ten years by tallow candlelight to complete the church, which hosted social events, weddings and funerals along with Sunday services.  Henry Brakeman deeded the South LeRoy Meeting House to the Methodist Episcopal Church in 1851.  The Leroy School district held pageants and graduations at the church from the late 1800's through the 1950's.
In the spring of 1964, the Brakeman Church had outgrown the building and moved to the newly erected Leroy Community Chapel.  The Brakeman Church sat abandoned and decaying until it was condemned by the fire department in 1972.   A group of township residents determined to save the landmark, formed The LeRoy Heritage Association, and  with donations of time, money, labor and materials worked to restore the church to as near original as possible.  They repaired and painted the siding and windows, and also painted the interior lathe and horsehair plaster walls and wide plank floors and brought back the original pews and pulpit.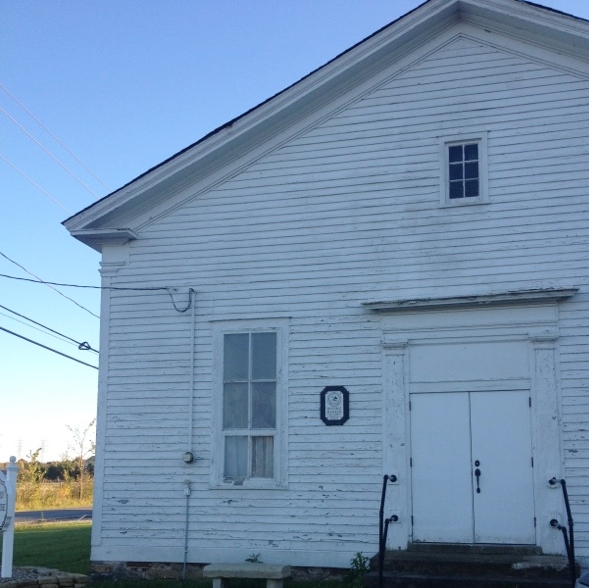 In 1976, the Methodist Church officially turned ownership of the building over to the township with the condition that it must be preserved for historic reasons. The LeRoy Heritage Association arranged to lease the building from the township for $1 per year. The South LeRoy Meeting House was listed on the National Register of Historic Places and became an annual field trip for LeRoy school 4th graders.  Residents and former residents donated photos, documents, tools and antique clothing to start the museum.
40 years have passed and many of those proud Leroy residents who worked so hard to restore the building are gone. The LeRoy Heritage Association has reorganized and taken on the project of restoring the Meeting House to it's full beauty once again.  The Meeting House must be restored with materials very similar to the original in order to maintain its place on the National Register. 
Like it or not, our township is changing.  Industry and commercial development are creeping in.  Your donation will help us to  preserve this little country church as a reminder of the humble and early beginnings of Leroy Township.
The LeRoy Heritage Association is a 501c3 and your contributions may be tax deductible!
Organizer
Lori Pike Watson
Organizer
Painesville, OH