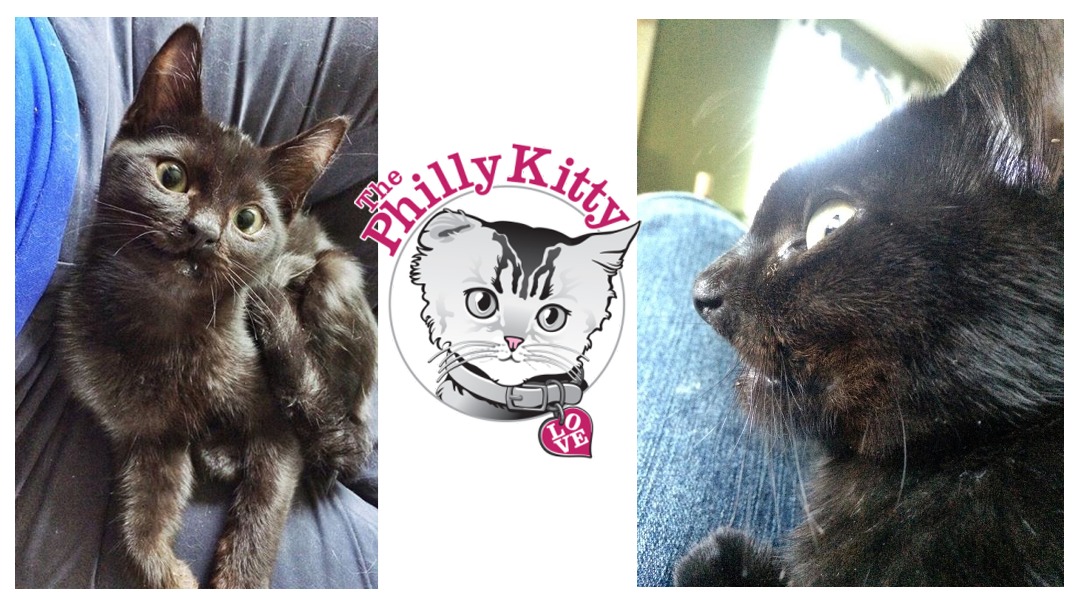 Goose is an adorable all-black male kitten that was found with his sister in a yard in Philadelphia. They were brought to Philadelphia Animal Control by a kind Samaritan and were placed on the shelter's urgent rescue list and needed out of the shelter by 6pm or would be euthanized. The shelter noted that Goose has severe ulcerations and damage to his lips, gums, teeth, and mouth, likely from some sort of electrical damage, which were beyond the scope of the veterinary care this high-volume, kill shelter could provide. Our rescue focuses on special needs and medically urgent kittens, and thanks to one of our amazing foster parents who is comfortable with such cases, we were able to pull Goose and his sister from the shelter just in the nick of time. 

Since entering foster care, Goose has gained weight rapidly, as a kitten should, and is able to eat and drink with no issues. He is missing all of the hard palatal tissue where his teeth should be, but amazingly, some of his incisors have begun to grow back. He has also lost a sizeable amount of palatal bone on the left side of his mouth and his right side is dead and will likely fall out. This will leave him with a hole in his palate in the front part of his upper jaw that will communicate with his nasal cavity. He also continues to lose critical bone mass and that hole in his mouth becomes a tad larger every day. Despite the extensive degree of Goose's injuries, he is making a significant recovery and is a happy, playful kitten. 
To view more photos of Goose's mouth (some are a tad graphic, so be ready!), visit his album:
http://on.fb.me/1mUSjtw
The approximate veterinary cost for Goose is close to $6000.00 and he will need two critical, involved surgeries. The 1st  surgery would be a combination of anesthetized exam + imaging (CT) to get a better idea of the extent of the palatal defect, tissue around the upper lips/canine teeth for planning for the definitive surgery, and extraction of teeth on the upper and lower jaws - mainly incisors/canines +/- some of the upper front premolars in order to have the areas where the flaps needed for the 2nd surgery will be only tissue/no teeth thus allowing larger flaps to cover his palatal defect.
The Philly Kitty Rescue is a 501(c)(3) non-profit, no-kill, all volunteer organization dedicated to providing refuge, medical care, spay and neuter efforts, and permanent homes for stray & surrendered cats in Philadelphia. The Philly Kitty (TPK), run entirely by donations, operates solely out of a network of foster care homes and our foster volunteers are the backbone of the organization. 
Find out more at: 
http://www.thephillykitty.org
All donations are tax deductible by the extent of the law. Thank you for your support!
Organizer
Leslie O'Neill 
Organizer
Philadelphia, PA