Help Save Cleveland's Art Program!
UPDATE: July 31, 2016
Because of the generosity of donors like you and our amazing partnership with the Arts Council OKC, we are proud that all
Cleveland students will receive weekly visual arts instruction
.
Private donors raised more than $10,000 to serve students and the
Arts Council of OKC's All Access Arts program is doubling our funds AND paying for all needed art supplies.
In partnership with the Arts Council OKC, Mrs. Stafford has selected an experienced Teaching Artist, who will lead visual arts lesson 5 days a week in the mornings. Each Cleveland student will have visual art each week, including our off-site PreK students!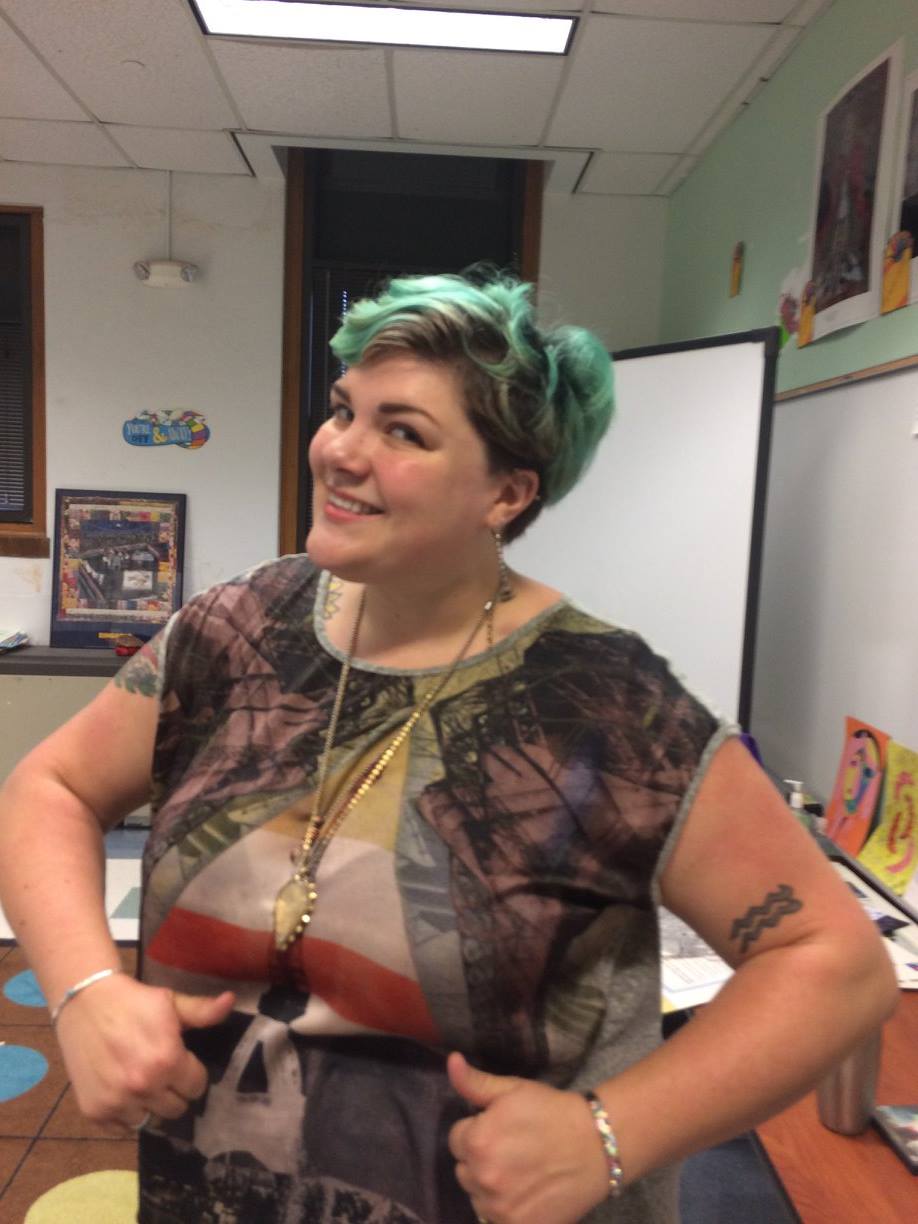 Ms. Haden  graduated in 2016 from the University of Central Oklahoma with a BFA. Her area of focus is printmaking. Her work has been exhibited in Momentum OKC 2015, 420 Art Studios in Norman, OK, and other venues.
She is a seasoned teaching artist with Arts Council Oklahoma City since 2013, serving at Lee Elementary, in the STEAM program at F.D. Moon Elementary and Eugene Field Elementary, and in several city recreation centers. Kristina has a passion for arts education, and hopes to foster a lifelong appreciation for the arts in her classes. Welcome Ms. Haden!  
Thank you for your support for our students.
We are now working toward our $20,000 goal
so that we can provide for next school year's visual art program. We want to be prepared. With more time and your help we can keep our school enriched with fine art! More info will be coming soon...
***********************************************************
This is an
urgent
appeal.  Due to state revenue failure, Oklahoma's funding to public education has been drastically reduced.  Schools in Oklahoma City, as well as the rest of the state, are facing massive budget cuts.  As a direct result of these cuts, Cleveland Elementary school in Oklahoma City has had a reduction in "specials" teachers (Visual Arts, Music, Violin, and P.E.) for the 2016/2017 school year.   The school will now only be able to offer Music (without Violin) and P.E.  As a long-standing A+ school,
visual arts integration
has been a vital and enormously beneficial part of Cleveland's curriculum. We are determined to try and salvage as much of the program as possible, but we can only do so if we raise enough funds.
We, the parents of Cleveland students, are reaching out to you, our friends, family, neighbors, community leaders, and all who see this message, to help us raise
$45,000
.   With your help we can ensure that our children continue to have access to the
arts enrichment
necessary for the quality education that they all deserve.
The arts are an integral part of a successful, well-rounded education. 
Study after study has proven that skills and expressive abilities learned in visual arts classes lead to improved academic performance in all other subjects.
  Arts education is fundamental for our student's development of creativity, innovation, collaboration, accountability, confidence, and visual-special and fine motor skills.  The loss of an art program in our school would have long-term impacts that will surely reach every student, every teacher, every staff member, every parent.
YOU can help us avoid this.
There are many other schools in Oklahoma being affected in exactly the same manner, and often much worse. It is our hope that a successful campaign will
help us send a message to our legislature:
Oklahoma cares deeply about education; not only for the sake of our own children, but for all, and for the future of our great state.  The current budget crisis and public education funding cuts are a complex and dire problem.  We must all come together and make it our top priority to provide children with the best education possible.  
Your donation is fully tax deductible
and will go to our account, specifically designated for
Cleveland Elementary Arts Enrichment
, with the Foundation for Oklahoma City Public Schools.  The Foundation for Oklahoma City Public Schools is a 501(c)3 charitable organization.  The Foundation's express mission is to advance excellence, create champions, and build strong community support for lasting change in Oklahoma City public schools.  
Any donation, big or small, will help us achieve these goals.  Thank you so very much for your support for our children and for arts education!
Sincerely,
The Parents of Cleveland Elementary
Organizer
Jenny Grigsby 
Organizer
Oklahoma City, OK
OKLAHOMA CITY PUBLIC SCHOOLS FOUNDATION INC
Registered nonprofit
Donations are typically 100% tax deductible in the US.