I
I have fought back against US Bank, one of the many large banks preying on our community and I am winning! But, I need your help and support to buy back my home to keep my family and our community together!


This is my story. My name is Candejah Pink. I brought my house and moved in Springfield, MA in 2005. I did not know it at the time, but I was given a loan that had an adjustable interest rate starting at 8.99% and that could rise as high as 15.99%. I also did not know I was one of the millions that got a predatory loan from one of these large banks that preyed on our communities.
I was employed as an Emergency Medical Technician and a 911 Medical Dispatcher for the New York Fire Deptpartment for 14 years.Life cirumstances forced my children and me into a basement apartment in the Bronx, NY. It was owned by a slumlord. The roof above was callapsing and rodents roamed the building at will. I could literally see my neighbor's apartment through my bedroom ceiling.
A friend told me I should look into buying a house in Springfield, so I did. Moving to Springfield was not just a choice for me, I moved because I had to. I had to get out of the city and find a safe and secure place for my children and me to live.
I lost my job in Oct 2009 and ultimately fell behind on my mortage. US Bank foreclosed on my house on Oct 22, 2010. The night before the auction I cried like a baby, I gave one last cry to up above and went to sleep. The next morning, still feeling down, I managed to give myself some inspiration. I made a vow to stay in my home and fight back. I told myself, "I AM NOT GOING ANYWHERE!" and I meant it. I was walking out on Faith. The auction was going on and I looked out my window tending to my chores as if they were not there. My phone rang and the person said a woman name Betty Agin had a flyer for me about a meeting about foreclousre in the area. I called Betty and she told me where this meeting was located so I went. It was the best meeting I have ever attended. They were asking for help canvassing homes to people that might be in danger of losing their homes to foreclosure as I did. The organization was called Springfield No One Leaves Organization. Even though it did not solve my problem, I was very excited to pitch in and help. I know how it feels to look for help and find there is no help available. I just did not want anyone else to have that experience.Since then they have molded me into a leader and I have been on the frontline for almost every event Springfield No One Leaves has sponsored.
For the lat three and a half years, I have been fighting for my home alongside other leaders, other Springfield No One Leaves members and all their famlies, friends and allies. We have  been working hard to save our community. This was in spite of the fact that I did not know if I would win my home back. I have always wanted to be there for anyone and/or families who were sad and had lost hope. I wanted to be that bug in their ear saying "I am here to give moral support." I ask for nothing in return, I just wanted them to smile and know together we would thing things through.
I must add that because of the crisis and the throught of more families losing their home due to corporate greed, Springfield No One Leaves Leaders, allies like such as,  Arise for Social Justice and individual allies have put together the two strongest anti-foreclosure ordinances in our country. We addressed them to our city councilors and got it passed in 2011. I thank all our allies for this support and much more.
My fight has been going on for nearly four years, I am exhausted but what keeps me going is knowing we all could make a difference if we put our foot down and take a stand. I am now reach out because I need your support. Twice, I have defeated US Bank in housing court and stopped the evictions. We have held vigils, rallies and have had more than 1500 people sign petitions to demand that US Bank negotiate with me. Finally, after all the fighting,and the pressure we put on them. US Bank has agreed to sell my home back to me. But, because of the foreclosure on my record, finding financing is difficult. That is where you come in. I am asking for your support to raise $20,000. This will free our home from the clutches of the bank as well as allow my family and me to make necessary repairs to stay in our home. Once the bank is off of our backs and the roof is repaired, my family will be able to afford all payments, taxes, services and further repairs. This will allow us to stay in Springfield, a city we have grown to love. I will continue to stand and fight alongside our neighbors to improve our community. Alone, we do not have much, but together we can Fight and Win.
Please share my story, not only to help me, but to also let others know if you are struggling with anything and about to throw in the towel to tell themselves: "To NEVER GIVE UP!!!  I didn't. Thank you for reading my story. Here are some pictures of my family, friends and me.
My Daughters and granddaughter at a eviction blockade.
I had a vigil at my home asking for support in my struggle, I am wearing boxing gloves to push back the banks. My sponsor/coach is standing behind me for support. 
Even at 8 degrees we stand outside to say let this family stay is their home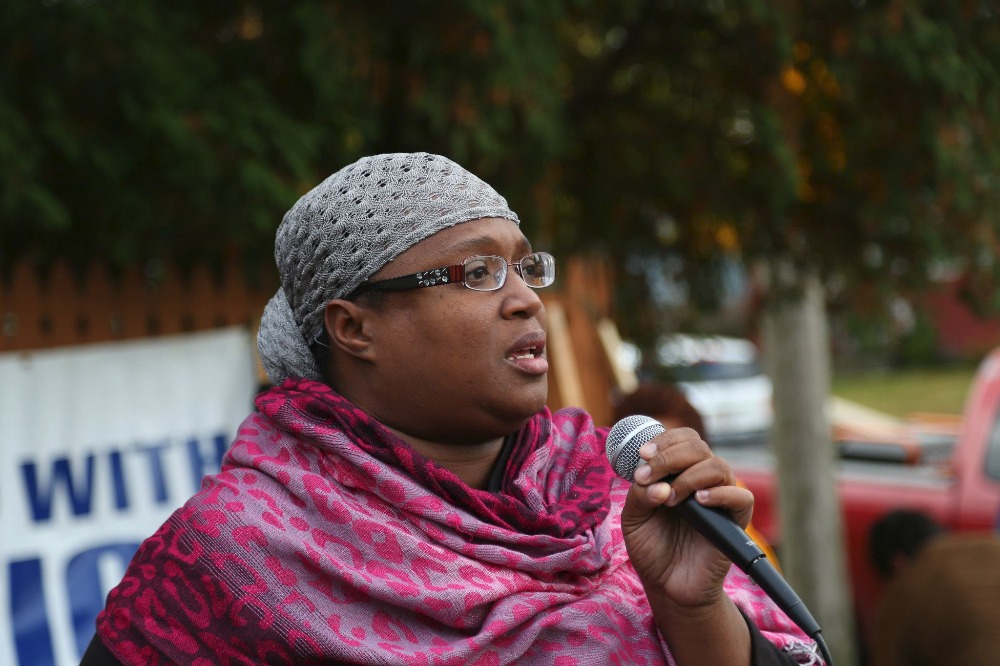 A plead for what's Right
Amen
Fight Back
Celebrating two years in the Struggle. These are the Heroes that did a sit in with one of the banks. They did a Civil Disobedient and got arrested. I love them all. Thank you again for supporting us. (the tears always come when I look at them)
We were waiting for our heroes to come out of the bank escorted by the police. 
Community organizing
Even though I am foreclosed on I still smile with my friends
Happy New Year's 2014 we are still in our home!
At city hall ... Housing is a Human Right we wrote the strongest Anti-foreclosure Ordinance in our country and I help write it. It was passed but the banks tried to sue our city. We took a stand!
I think it was in 2011/12 but the week of Thanksgiving we marched that Monday i was inthe frontline. and our heroes did the Civil Disobedient. 
This is my community we gave a tour to our city officials to let them know we cannot live like this. There are too many homeless people and too many boarded up houses. Let's Clean Up. I do not want my home to look like this. 
Look at my grandbaby. She loves her home. 
My son and two granddaughters. His niece and daughter 
Now why should she leaves while making a master piece. 
Still smiling my daughter and I

Organizer
#1 fundraising platform

More people start fundraisers on GoFundMe than on any other platform. Learn more

GoFundMe Guarantee

In the rare case something isn't right, we will work with you to determine if misuse occurred. Learn more

Expert advice, 24/7

Contact us with your questions and we'll answer, day or night. Learn more