SAVE EXOTIC HOARDER BREEDER ANIMALS


OCT. 22, 2016


The video above shows the wolf pups that were born in WLA shelter to a wolf/husky mix named Nushmua.
She is one of the 23 wolf dogs and dogs seized in a hoarder /breeder case in the Hollywood Hills (story below).
The video shows the  beautiful
Wild Spirit Wolf Sanctaury
the pups and 3 high content wolf dogs now live thanks to your donations and a village of hard working people who cared enough to make this happen.
22 dogs and wolf dogs have been rescued in all and we are not done. There is still one to go in WLA I will never give up on. There are 6 hybrid/feral Northern breeds we are still rehabilitating in order to even place .  
Boarding and training fees are accumulating faster than we can keep up. No one knew it would take so much to save them, but, even knowing wouldn't have stopped us.
It has been exactly 9 months since I started and we are still doing it. With your donations, the rescues, non-profits, sanctuaries, vets and volunteers we have saved one canine, one dollar at a time.
I am just a neighbor and below is my story....it is all of our story because this can happen anywhere.
HOLLYWOOD HILLS HOARDER-BREEDER 
In January I was inducted into the world of breeder's, hoarders, exploitation of illegal exotic animals, neglect and abuse of the innocent when I looked out my window and saw a wolf on my little street nestled in the canyon.
Soon, at least 60 dogs, cats, wolf hybrids and exotic birds were seized from the abuser's house, a neighbor who lived around the corner from me and my son.
The animals were taken to Los Angeles Animal Shelter's, where I quickly learned about the usual fate of animals in cases like these!
My neighbor Joanna Krupa and I were compelled to help give these beautiful helpless animals a chance to live.
As soon as they were released from evidence, we started  working urgently to find rescues and homes, concentrating our efforts on the dogs, wolf hybrids, and Sphinx cats. Most of the birds have been taken to a sanctuary, but honestly, we are not done there either. There are African Grey babies  and others that I wll make sure are accounted for!
Right now, today , it's about the dogs and wolves !
These animals are suffering from conditions such as giardia, anemia, malnutrition, tumors, infected masses, cancer, worms, ear mites, kennel cough and broken teeth. 
And now from being isolated in cages at LAAS for almost 3 months without exercise or human contact they are depressed, traumatized and scared.
Many are "Medical Rescue Only". Only a certified LAAS rescue partner can get them out. 
With rescues in Los Angeles being overburdened, getting
qualified rescues for the intensive care these neglected animals need has been hard but not impossible.
One rescue took Boo, a sweet Bouvier Des Flanders to the hospital where he died riddled with cancer. His bills totaled over $1,000. He is the only death so far, but some are dangerously on the line.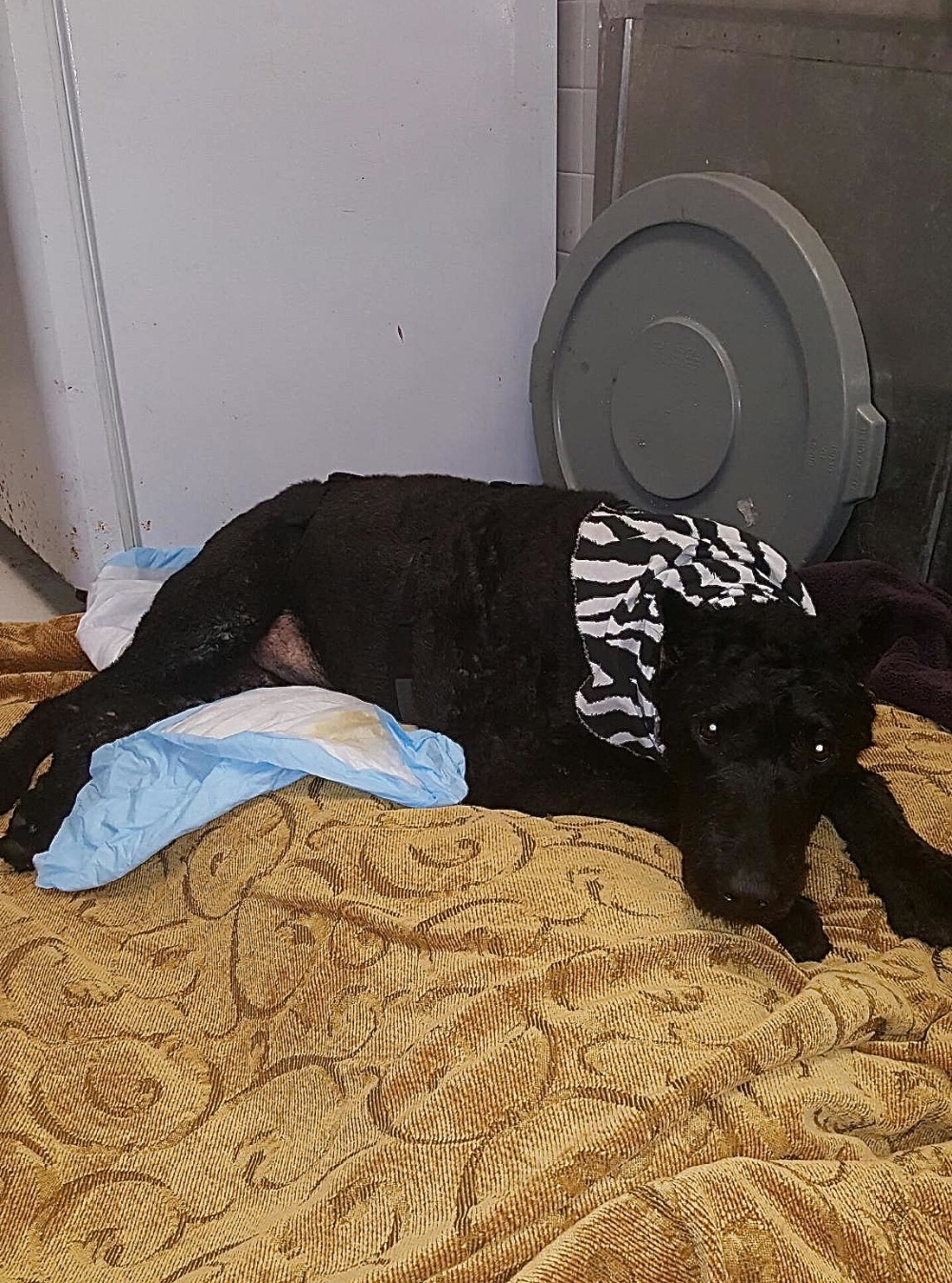 Several rescues took 5 Sphinx cats with Giardia and skin infections they need on going medical treatment. One had to have emergency surgery where they found a dead kitten inside her. Her bill alone was over $1,000.

Then we have Randi the miracle Mastiff. (pic at top)
A 10-year-old 200 hundred pound Mastiff with tumors, diabetes, and thyroid problems. Randi is sweet, loving and happy to get belly rubs. Randi's medical bills are staggering and will be until her death, which we are planning humanely for.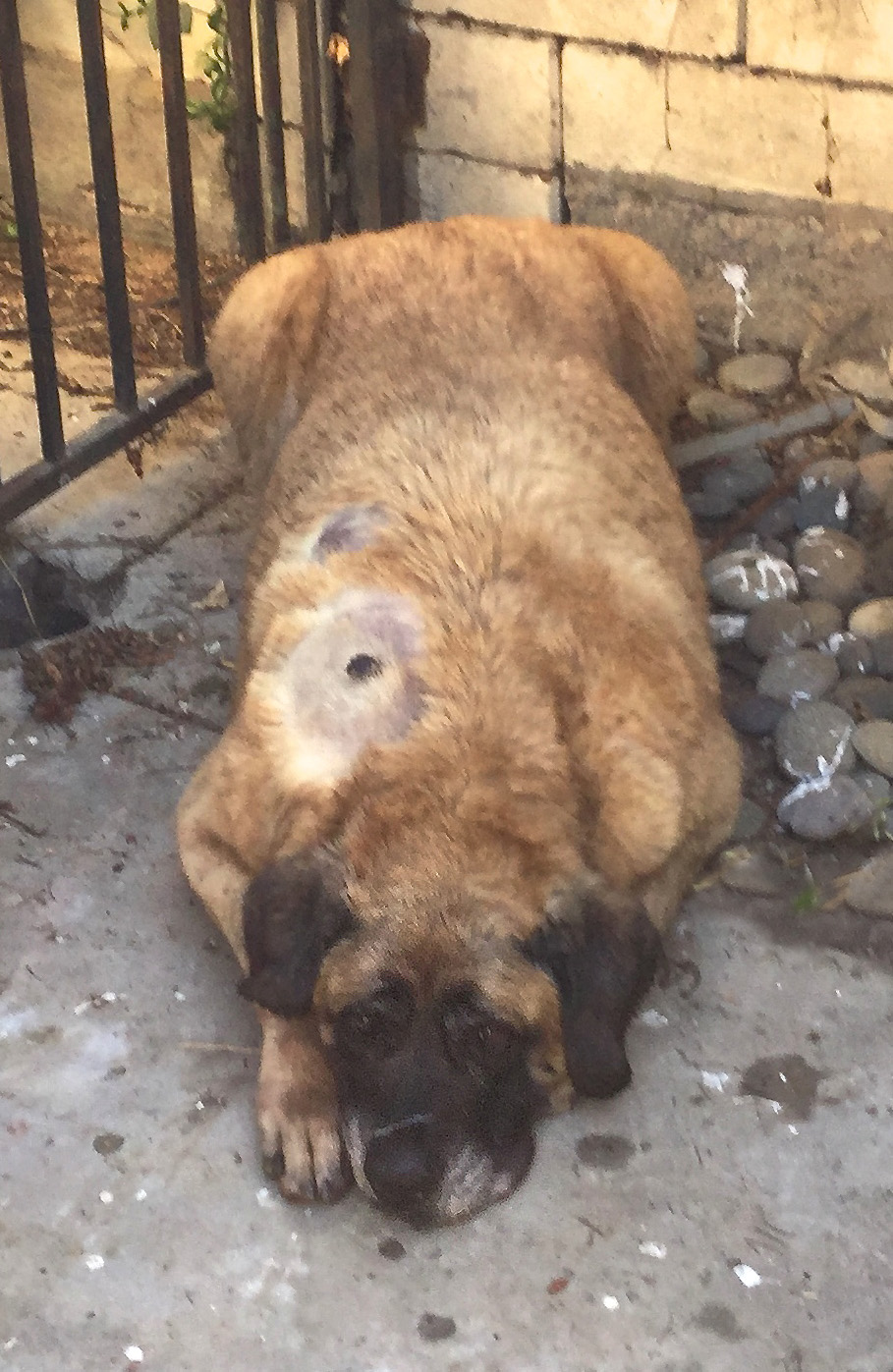 Some of the wolf hybrids are being placed at a wolf sanctuary. It costs thousands for each wolf to be transported, quarantined, seen by a special vet, and cared for one year. These donations do not include lifetime care. We still have wolves lock up in LAAS!
The amazing rescues we have enlisted have sacrificed much to save as many of these dogs as possible including a long hair German Shepard, a 3 year old Malamute Husky and her 4 brand new babies, from certain euthanasia.

BUT...
We are not done and can no longer do this without your help !
I have created this campaign in order to raise the funds needed for immediate medical bills and care so our rescue groups can continue step up and
SAVE THEIR LIVES. THERE ARE STILL 8 "RESCUE ONLY"  EXOTIC HYBRID DOGS LEFT IN LAAS!!How the funds will be spent and delivered
Donations will be divided amongst the rescues and sanctuary for shelter fee's, urgent vet care, ongoing medical care, boarding, re-socialization care, meds, necessary grooming (Randi needs medicated baths 3 times a week) and food in order to heal and match them with their forever homes.
The funds for rescues and the sanctuary will be delivered through their donation pages. Medical bills and boarding will be paid  by check or by the rescues thmeselves. 
Please donate
toward their care and share this campaign with your friends, family and animal lovers.
Together we can provide the support needed to give these dogs real homes, human kindness, love, care and to be seen for the sweet beautiful companions they are.         

Organizer
#1 fundraising platform

People have raised more money on GoFundMe than anywhere else. Learn more

GoFundMe Guarantee

In the rare case that something isn't right, we will refund your donation. Learn more

Expert advice, 24/7

Contact us with your questions and we'll answer, day or night. Learn more