Save Tasha's Life- conquer this torturous disease!
Don't let Neurological Lyme Disease end Tasha's life – help this new mother defeat this debilitating illness!


This is a story about a new baby girl living without a mother. A story about a young, healthy, and community centered woman who has always lived a life of service and went from being a top notch healthcare professional to the patient unable to care for herself, stripped of her dignity and livelihood, and is now at risk of dying. She made friends with everyone and is a healer at heart who was devoted to helping others.
Tasha Rayburn was born in the state of New Mexico and soon after was brought to the beautiful San Juan mountains in Colorado after having been adopted by her biological grandfather and his wife. Tasha has always lived a unique and fulfilling life. Growing up in Colorado, she developed a love for the outdoors at a very early age. She had an imagination that was on fire and a knack for creativity and adventure.
Tasha was Valedictorian at her high-school and started college classes with aspirations of helping others. She became a hospice and hospital volunteer.  When she wasn't traveling, volunteering, researching, or reading a good book, she was adventuring outside. From the time Tasha was a child until falling ill, she loved rock climbing, mountaineering, rafting, backpacking, mountain biking, snowboarding, hiking, and camping. Her favorite place was the woods. Throughout every summer and fall she would hike 13-14,000 foot peaks on a weekly basis.  She was impeccable with her health, including diet and exercise, and was known by all she encountered for having a never-ending reservoir of energy and stamina, as well as a personality that shined in all directions. Little did she know her love of nature and the outdoors would be her and her loved ones' worst nightmare - compromising her quality of life and ravaging her body, mind, and spirit.
Tasha started nursing school when she was 18 and graduated with Honors at the top of her class just after turning 21. During this time, she worked as an English tutor at the college. When Tasha was 19, she lived in Ghana, Africa in between semesters and did medical volunteer work at an orphanage. Upon graduating from her nursing program and taking her board exam, Tasha got accepted into a rigorous residency program she applied for that would provide her with the specialized training required to be an Intensive Care Unit nurse. She loved her career and was living the life of her dreams. When she was not caring for people within her fast paced, well-earned job, you could find her running in forests in the mountains, Salsa dancing, writing inspirational blogs/poetry, traveling overseas, and organizing and participating in community events.
While working as a RN, she also worked as a Sexual Assault Nurse Examiner in addition to completing her Bachelor's of Science in Nursing degree and obtaining her national Birth Doula Certification. Tasha wanted to pursue Midwifery and become a Family Nurse Practitioner; she was in the process of researching graduate schools. All of this came to a sudden halt in March of 2019 as Tasha started feeling physically 'off.' 
Tasha became pregnant in May of 2018, looked forward to being a mother, and was elated to give birth to a healthy and beautiful baby girl named Ashaya at the end of January, 2019. She had a natural childbirth without complications; bonding and breastfeeding were going splendid until about a month and half later when Tasha noticed something felt very different with her body.
It started with extreme sensitivity to light and eye floaters. Shortly thereafter, a myriad of other unprecedented symptoms gradually emerged: heart palpitations, chest pain, debilitating fatigue, inability to fall asleep or stay asleep, a loss of 15 lbs and muscle mass in a matter of two weeks, nausea and vomiting, headaches, muscle twitching, joint pain, burning up and down her spine, difficulty putting thoughts into words, numbness and tingling in her extremities, anxiety, and several others. She had planned to return to her nursing job in the Intensive Care Unit after 12 weeks of maternity leave, however, it was clear to her after a few hours into her first shift back that it wasn't going to be possible.
After multiple visits to the ER for bizarre and frightening symptoms, Tasha was tested for autoimmune diseases such as lupus and HIV, and an MRI, CAT scans, and multiple EKGs were conducted to rule out what the ER physicians thought may be a brain tumor, stroke, multiple sclerosis, and/or a cardiac event. She received consults for a number of specialists from her Primary Care MD who was perplexed by her physical presentation, including an optometrist, neurologist, cardiologist, psychiatrist, infectious disease specialist, OB-GYN, and gasteroenterologist. When their assessments came back "unremarkable", they diagnosed Tasha with postpartum depression, anxiety, chronic fatigue syndrome, migraines, insomnia, an eating disorder, and constipation. She was prescribed a slew of antidepressants and sleeping pills and was told that her physical symptoms were psychosomatic (imagined and subsequently felt by the body). Tasha's condition continued to deteriorate at a rapid pace in which she was having frequent episodes of seizure-like activity, memory loss, blurred vision, excruciating pain, and intermittent paralysis to the right side of her body. This escalated to the point where she was crawling or being carried back and forth from her bed to the bathroom. 
This is a fun-loving, ambitious woman who had been a staple of health and was known for her joyous and peaceful demeanor amongst her coworkers, family, friends, and community. Tasha went from trail running, rock climbing, mountain biking, hiking long distances, and working as an ICU nurse— before and throughout her healthy pregnancy, to being bedridden for 15-18 hours at a time and unable to perform basic tasks, such as cooking meals, washing dishes, answering phone calls/messages, carrying on a conversation, writing, or reading, as she was unable to interpret material and organize her thoughts. 
It was during this time that a friend recommended Tasha make an appointment with a naturopath in the area. After Tasha answered 'yes' to almost all of the naturopath's questions during their first consult, she said, "I strongly think you have Lyme disease, especially due to the outdoor lifestyle you've led for your entire life," and ordered the necessary tests. Tasha's labwork came back positive for Lyme, as well as other tick-borne co-infections including Babesia (a cousin to malaria), Erlichia, and Bartonella. Tasha began a treatment regimen that was formulated by the naturopath and her primary care physician consisting of antibiotics, herbs, supplements, and other adjunctive therapies. Weeks passed, and no improvement was noted. Tasha's mental state and 40+ fluctuating physical symptoms continued to worsen. It reached a point where suicidal ideation was a serious threat to her life and family and friends alternated staying with her and provided a watchful eye over her 24/7; she expressed that her anxiety levels were so high she felt as if she were being chased by a tiger almost constantly. 
Through her unwavering tenacity and resolve to get well and find more answers, she set out on a mission to locate help elsewhere and found a functional medicine facility on the East coast. Sponaugle Wellness Institute is well-known for successfully treating neurological Lyme disease patients whose brains and nervous system have been invaded by the bacteria. The clinic is spearheaded by two MDs and a Nurse Practitioner with a background in Critical Care Medicine and are certified as Lyme-literate providers who are aware that Lyme disease has the potential to cause symptoms that can be extremely debilitating and severe, leaving sufferers feeling like it has stolen their lives. Upon contacting them and faxing her medical records that had accumulated over the previous few weeks, as well as a letter from a therapist detailing her severe neuropsychiatric symptoms, she was leapfrogged to the top of the waiting list.
It was an immense challenge for Tasha to make the flight; she was accompanied by family and shortly thereafter, a long-time friend traveled to FL for a month to help out. A PET scan of her brain and blood/urine analysis showed that Tasha's infection levels and numbers were some of the worst the MDs at the clinic had seen. She was diagnosed with malabsorption syndrome secondary to the Lyme and other infections affecting her GI tract and nervous system, explaining why she had lost so much weight and had difficulty eating/digesting food. The severity of her illness was apparent and deemed multi-systemic. She had a PICC line inserted through a vein in her arm leading into her heart so she could immediately start receiving IV infusions; bloodwork and urine tests began being collected regularly.
For the last couple months, Tasha has been receiving life-saving treatment and has noted many positive changes. She feels she is in the best place for treatment, yet it is an arduous road to recovery and it doesn't come without a cost. Due to being unable to return to work after her maternity leave elapsed, she was deemed ineligible for financial assistance from her insurance provider and beyond a 28 day course of oral antibiotics, Lyme disease treatment is not covered by insurance plans in the United States. Treatment including IVs, bloodwork, and sterile dressing changes, combined with living expenses, transportation, supplements, medications, etc, averages approximately $7,000.00/week. She has decimated her savings and has relied on financial assistance from family, but is now at a point where she is reaching out for help in order to continue. 
Tasha's beautiful child, Ashaya, who is currently 11 months old has hardly known a mother who is well. Tasha is unable to care for her due to the extreme severity of her illness and Ashaya's grandmother has stepped in to help while concurrently care-giving for her extremely ill daughter as she goes through treatment. This, as you can imagine, is very challenging for everyone. Especially for Tasha, as she battles the grief of being unable to actively mother Ashaya. Instead her energy and time are focused on treatment and making it through to the next day. Tasha maintains faith that she can recover, and that she will be there for Ashaya. She desperately wants her daughter to grow up with a mother.
Tasha is also staying strong for all those who love and believe in her. She hopes to someday be a voice and an advocate for those struggling with Lyme disease while raising awareness to the public and healthcare establishments, and providing support for those who are caregivers for the affected. 
It is important to be aware that any one of us or our children who spend time outdoors could find ourselves in a similar situation. 
Please consider making a donation to this campaign so that Ashaya can have her mother back and healthy —
don't think that any contribution is too small as every minuscule bit adds up and makes a difference.
Even with $5-10 each, we will still make an impact and help her succeed in her ultimate goal of healing and fully recovering!
If you are unable to make a financial donation, there are other ways you can provide assistance - through spreading the word about Tasha's story and the existence of this fundraiser, and offering moral support/encouragement to she and her family during this difficult time.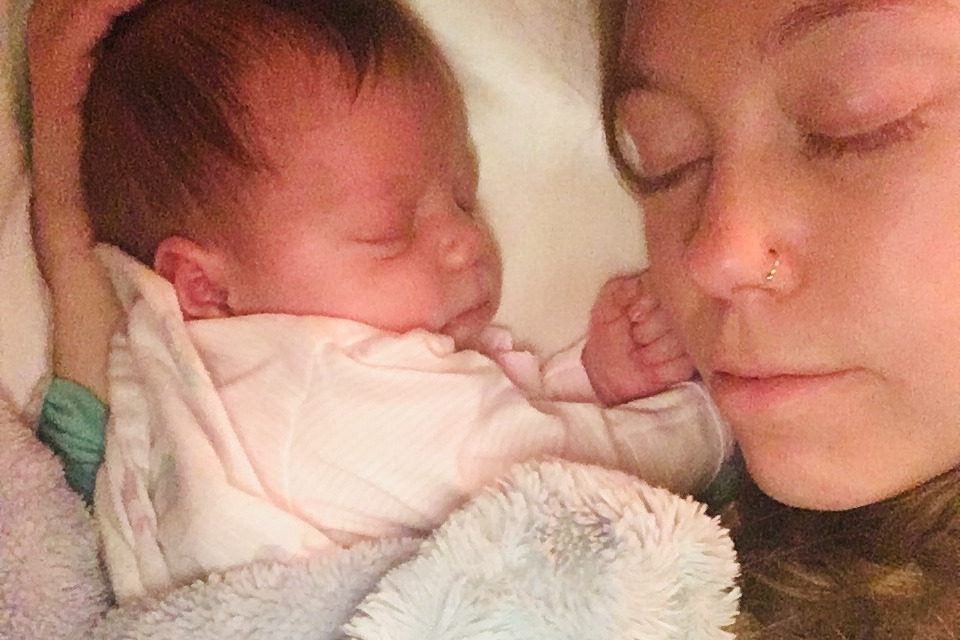 Tasha and her loved ones appreciate anything you can give. Thank you so much for your time and consideration. 

Organizer
#1 fundraising platform

More people start fundraisers on GoFundMe than on any other platform. Learn more

GoFundMe Guarantee

In the rare case something isn't right, we will work with you to determine if misuse occurred. Learn more

Expert advice, 24/7

Contact us with your questions and we'll answer, day or night. Learn more