This family needs our help!
Back in 2011, while at work as a graphic designer, Bless fainted. It's hard to imagine something that doesn't seem too serious, such as fainting, could trigger such life changing events.
Bless was diagnosed with Cardiomyopathy. The doctors quickly inserted an ICD (Implantable Cardioverter Defibrillator). Just a few hours after discharge, Bless was having difficulty breathing and returned to the ER where they discovered fluid in her heart sac, which turned out to be blood (cardiac effusion). She was released again after the fluid was drained. All this was extremely shocking and stressful, and turned out to be just the beginning of her medical challenges.
Subsequent testing revealed the cause of Bless's issue, Hypertrophic Cardiomyopathy, a fatal condition in which the heart muscle becomes weakened. Her condition worsened to the point of her having a significant risk of heart failure and death. A normal heart ejection fraction is 80%, Bless's had sunk to only 25%.
Her PCP referred her for a heart transplant at Tufts Medical Center. Her world shattered as the inevitability of a heart transplant sunk in. She mostly thought of her family, her son JR, who was 16 at the time, and her partner Scott and his son Joshua.  How would this impact them?
She had nightmares of how little time she may have left with her family, and who would pay for the transplant.  She was devastated, but she was determined to LIVE. Bless contacted Tufts Medical Center, and spent the whole summer of 2012 completing the pre-transplant determination examination, a battery of medical procedures to determine if she would be healthy enough for the surgery. She waited for the committee to issue a YES. It was grueling, painful and at times a lonely wait. Finally, she was told by the doctors that she would be put on the list. Bless's ejection fraction was already down to 15%. She was elated and nervous at the same time. She excitedly asked for a timeline, she was told "It's now in God's hands". She took it as "good news" and told herself, "I'm not going to die…" but prayed to God for time and a miracle.
Every day was a roller coaster of emotions, but she remained positive even though her health was failing fast. Chronic fatigue and depression became part of her daily routine.  In spite of this, she was determined to live a normal life, even though she was losing steam. Unable to work full time, she began working as a substitute teacher. 
Valentine's Day 2014 brought the fateful call, "We have a heart for you, come now!" The 45-minute drive to Boston was the slowest drive of her life, her brain went numb. There was no time to think about anything.
Bless survived a successful heart transplant in the early hours of Feb 15th, her gift of life, or "Medical Miracle" as the Doctors called it. She was euphoric beyond belief. Bless was sure she was going to live. That was all that mattered! She was determined to live everyday like it was her last because she knew the feeling of what that felt like.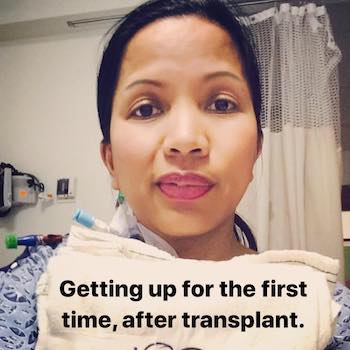 These were happier days, Bless was going to live! Unfortunately, she, nor her loving family, had any idea how taxing the physical journey and the impact of the medical costs were going to affect her post-transplant life.
Out of pocket expenses became insurmountable! Deciding which bill to pay first was painful. To them, Bless's medical needs were as essential as breathing and had to be prioritized. She had additional health issues, like a genetic blood disorder called Thalassemia (the RBC are smaller than the normal size), severe Anemia, and chronic fatigue, which required frequent blood transfusions and Iron infusions.  These additional illnesses were extremely exhausting. Her increased risk for Multi-Organ Failure took a toll on the family's emotional and financial health.
The Thalassemia in particular came with great cost. The symptoms were chronic fatigue, dizziness and low white blood cells, and could potentially affect the heart. She couldn't catch a break. Frequent doctor visits were an absolute necessity for her health and well-being. Doctor visits became a staple in her family's busy lives.
Scott took days off and went with Bless to Boston for almost every appointment, every biopsy, every blood test, and for every surgery over the years. Extremely large deductibles and co- pays hung over their heads daily and had to be paid. It is necessary for post -transplant patients to take anti-rejection medications every day of their lives, so Bless and her family had to shoulder this overwhelming cost as well. Medicaid did not cover Bless's expensive medications. However, that's a burden they were willing to take to keep Bless healthy.
Fast forward to 2017, in February, Bless was diagnosed with a CMV, a fatal virus that required a strong anti-viral infusion. After a three day stay at the hospital she decided to do the 6-week infusion at home. She can't work nor go outside because of the risk of low white blood cell count and its side effects.
As a result of this incredible journey, Scott and Bless are now struggling to maintain their mortgage and are a risk of losing their home. Bless was deemed ineligible for Federal Disability at the beginning of 2017, despite her already debilitating symptoms associated with her heart transplant. Then came a car wreck in July which absolutely totaled their car, forcing them to invest in another. Sadly, Bless's mother passed later in November.   Her ongoing battle with Thalassemia and her absolute need for daily post-transplant medication remains a constant, expensive challenge. Now Scott and Bless are on the verge of losing their home, their mortgage company is excruciatingly hard to compromise with, and Bless's health is again in jeopardy without her medications.
Despite the trials and tribulations of Scott and Bless's lives, it's evident that they handle every hardship with QUIET persistence and resilience. The loss of their home would be a crushing blow not only for Scott and Bless, but for their two boys.  Scott and Bless feel that their home is all that they have left in this world (apart from Josh and JR). Between Bless's staggering medical bills and all of their other bills and expenses, they tried to live life like nothing was happening.  Their mortgage company has refused to compromise. Their insurance has refused to cover Bless' important life-saving medication in full.  She will DIE without the medications. The co-payments amount to thousands every month. She is still trying to find a foundation to cover this huge cost.
This loving family needs your help! They sincerely appreciate any amount you can contribute.  it will be a tremendous help, so they can have a roof over their heads and some relief of the burden of Bless's medical expenses.

Organizer and beneficiary
Sean Murphy
Organizer
Newton, MA
BLESILDA VILLANUEVA
Beneficiary