Sarah's Recovery from Meningococcal
*** For current updates on Sarah's progress, please visit:
https://www.facebook.com/SarahsRecovery2016/
***
30 year old Sarah spent over 2 months in the Intensive Care Unit of Gosford Hospital, and nearly 80 days straight in hospital after being struck down with the W Strain of Meningococcal Disease. She is still currently dealing with the damage left behind as she continues to have more surgeries and ongoing treatment and care. Her life has changed forever and for now - consists of being in and out of hospital.
On Tuesday 9th August, Sarah was rushed to hospital with extreme flu symptoms and deteriorated rapidly. She shut down before our eyes over a 12 hour period and we were told she might not make it, having to enter her room at each critical phase and see her in case she didn't make it.
After 5 days we were given a diagnosis- meningococcal. Luckily, when Sarah was first admitted- she was given the right antibiotic to treat meningococcal and the teams at Gosford Hospital worked rapidly  to assist her - they have been, and continue to be amazing. It's unknown how she caught it, and we will never know.
After 8 days, on life support with a room full of machines keeping her going Sarah beat all odds and woke up. She's now off life support, awake and communicating with us and facing a very long and slow road to recovery.
She's had nurses and doctors in tears, shocked and relieved at her progress and she's fought this with everything she has – barely a complaint. She's extremely strong willed and is the toughest girl we know.
Her kidneys will not repair and she most likely faces life on dialysis with the hope of a kidney transplant.  She has had surgery to insert a catheter in her stomach so she will be able to have dialysis at home when it heals.
She has had some finger and toe amputations as well as reconstructive surgery on her right hand and both feet. She will need to slowly learn to stand and walk again and is now building strength with physio each day. She has needed assistance with breathing and she has needed blood transfusions.
She is having ongoing trouble with a lot of her organs and will be seeking treatment for her heart and liver.
She has also major surgery to remove her spleen.
This bacterial infection is a horrible, debilitating disease and has caused more damage to her body than we can comprehend or process – but being the hero she is, its hasn't weakened her spirit.
As she copes with the physical pain and ongoing emotional stress, we are now also facing the lifestyle changes that lay ahead for her and the financial realities ahead. She will need dialysis every 2 days at hospital  pending a transplant - until she is ready for home dialysis. She requires intensive on going rehab, physio and full time care initially - and aides such as a walking frame and a wheelchair to help her till shes strong enough to walk again.
It is unclear if or when she will be able to return to work and in what capacity and has had to move back hom with her parents who are also making huge life sacrifices to give her the care and love she needs.
We've had so many people offering support and asking how they can help her, so some family members have now suggested this page for people who wish to donate to her recovery and assist her in getting back on track.
We thank everyone for all the love, and joining us in helping Sarah in her fight to kick this things butt!
**For most the current updates, please see the 'UPDATES' section on this page, tab above.
Or go to Sarahs Recovery Facebook page here:
https://www.facebook.com/SarahsRecovery2016/
http://www.dailytelegraph.com.au/newslocal/central-coast/after-eight-days-on-life-support-sarah-joyce-wakes-up-determined-to-make-a-difference/news-story/aa03ae797b3562474a9c4b319b2f4e8b
http://www.seafm.com.au/centralcoast/thisiscentralcoast/local-news/2016/5/young-wamberal-determined-to-beat-meningoccoccal/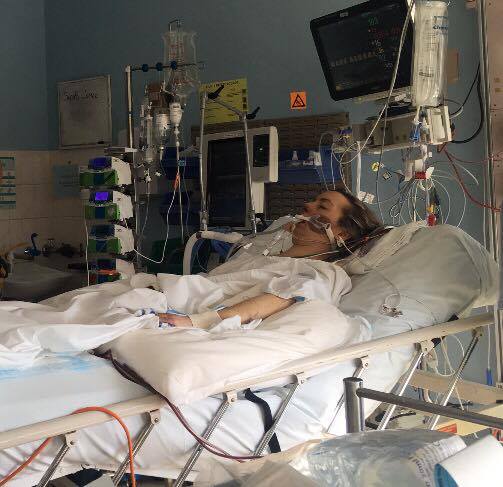 Organizer