STOP THE DROWNING IN CAMBODIA!!
Drowning is the leading cause of death among children in Cambodia. It is estimated that over 1,900 children die from drowning every single year
(UNICEF; special repost on child injury 2012). Most children drown before age four in rural areas within 20 meters of their homes.
SAFE Waters Cambodia
https://www.safewaterscambodia.org/
 aims to combat this widespread and relatively unknown drowning epidemic by teaching
Water Safety Education, Survival Swimming, Resuscitation (CPR) and Safe Rescue Skills
, while simultaneously campaigning for community and global awareness and support. We are working with local schools and organizations to reach children in need of these important life skills.
Since I can remember I've loved being around and in water. As a teenager i spent my summers lifeguarding  and later on becoming a swim instructor with over a decade of working experience. While in university, I stumbled upon information regarding the drowning crisis in South East Asia and specifically in Cambodia. That discovery and the Khmer peoples tragic history, suffering and resilience drove me to set my sites on the majestic kingdom. I first traveled to Siem Reap while backpacking in Asia for six months in 2014 and fell in love with the people.
I arrived in Siem Reap in October 2016 and started the first water safety and swimming workshop by January 2017. That workshop began in a very small private pool with some equipment i managed to find locally and a bit of financial support from friends and family. It's been an incredible and challenging journey.
(January, 2017)
First Water Safety Workshop
Week 2: just a recap of some skills that were introduced last week before we jump in. need to work on my Khmer... Thanks to Long Chhut ABC's and Rice School!!
From its start till now our program quadrupled in size. In order to keep spreading and promoting water safety education and to reach as many children as possible we desperately need your help to raise funds.
SAFE Waters Cambodia receives no government funding and all of its work depends on the generous financial support of donors.For as low as $36.00 USD you can save a child's life!
Your generous donation will go directly towards providinig teaching equipment, swim shirts and shorts, kick boards and pool noodles, etc. Your contribution will also allow us to create a SAFE Center that will house our training pool and volunteer living residence. This facility will allow us to keep running our programs efficiently while providing the kids structure and consistency.
Proudly sporting our new shirts and learning in the beautiful big pool of the spring palace hotel!!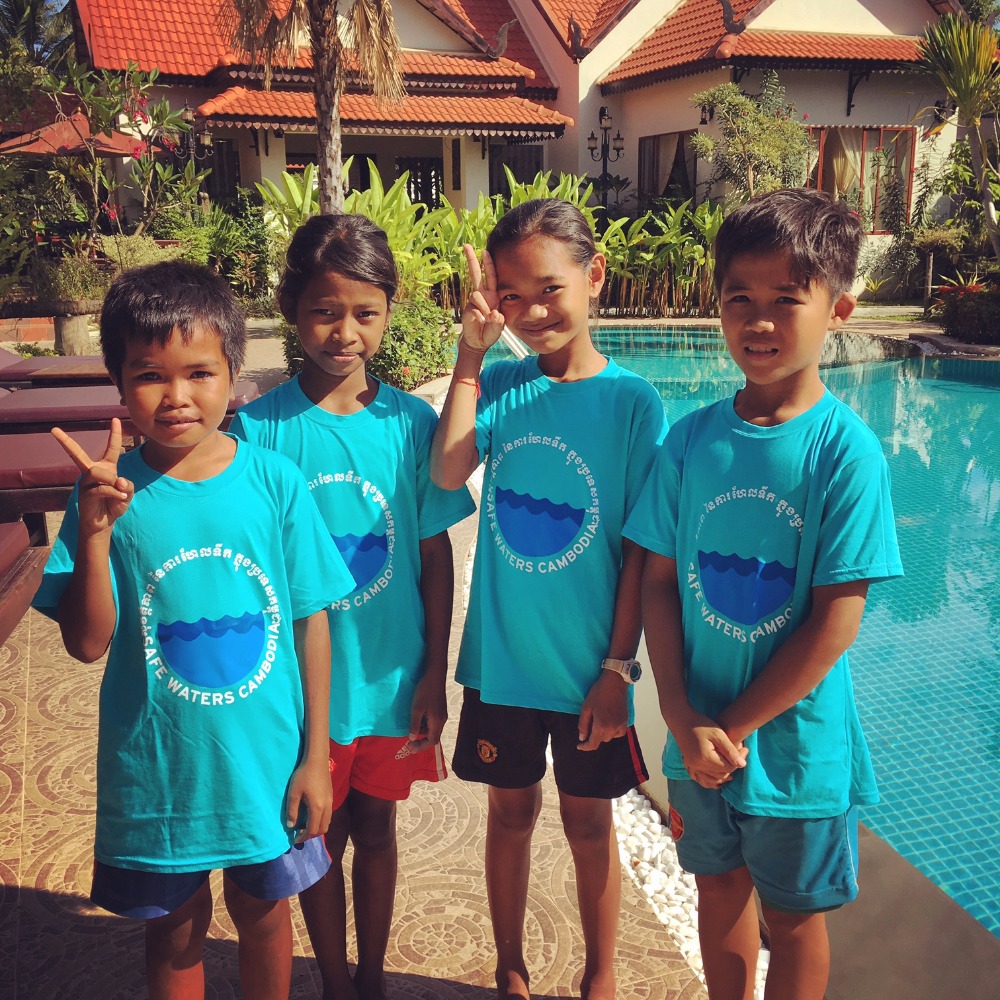 Our goal is to teach over 2,000 kids how to survive in the water each year. We are off to a great start and are on our way to making that a reality and significantly reducing the number of children who die each year from drowning related accidents.
All of our work is not possible with out your help! Please share our fundraiser with your friends and family and consider making a contribution today.
Like us on Facebook to follow our progress: 
https://www.facebook.com/safeswimcambodia/
Thank you in advance for your support!!
Organizer