Help create Theresa's Legacy
Theresa-India Young (1950-2008), fiber artist, teacher, and griot devoted her professional life to studying world cultures, nature and the practices of European tapestry, Ikat, Kente, Backstrap, and Navaho weaving.  She taught these diverse cultural and artistic skills at the Museum of Fine Arts, Boston for twenty years.  Prior to her appointment at the MFA, she taught costume/textile design at the Elma Lewis School of Fine Arts and Roxbury Community College. 
I am Theresa's friend of 22 years.  I  established the Theresa-India Young Scholarship committee, which has presented The Theresa Show at United South End Settlements since 2013. Monies raised from show sales funded Theresa's six scholarship at MassArt in the Fibers Dept.  I deeded her papers to University Archives Joseph P. Healey Library at UMASS Boston.
T
HERESA'S GIFTS 
Theresa willed her outstanding fibers book collection to the Godine Library at MassArt, her ceramics collection to Wheelock College, and her Native American collection to the Tozzer Library of the Harvard College Library and Mashantucket Pequot Museum & Research Center in Connecticut.  She bequeath her books on African art to Dr. Reginald L. Jackson, art education to Karen Eutemy, artist/teacher, Egypt/Kush and her loom collection to the National Center of Afro-American Artists, special books and journals to the Allan R. Crite Research Library, and  her jewelry making workshop to the Sudanese Women of Boston.  
USE OF FUND

I am requesting funds to clean and to  re-frame works,.    We used recent funds to photograph undocumented work and to pay web site update expenses for our 2021 Invitational Theresa-India Young Show at the Piano Gallery, rescheduled due to our current COVID -19 emergency.    Previous funds raised were used to support The Theresa Show 2019 at United South End Settlement.
All donations will greatly impact my effort to achieve these goals regarding Theresa's legacy and relieve me of financial burdens.
 DOCUMENTARY
I also request funds to complete a documentary utilizing footage from four videos:  the Artist Talk in conjunction with Theresa-India Young at the Mayor's Gallery, City of Boston (2018), a Memorial Tribute at the Piano Gallery (2010), a narration of Theresa's Sketches of Ghana at the National Center of Afro-American Artists (2010), and Museum cultures/practices from ATNN (2000).
VIEW THERESA
Theresa's life work has been archived at University Archives, Joseph P. Healey Library at UMASS Boston, made possible thru a $2,000 grant from Mass Humanities.  You may visit her collection online to learn, in detail, about her work as a fiber artist, educational consultant, and interdisciplinary arts teacher:
http://openarchives.umb.edu/cdm/ref/collection/p15774coll8/id/427
Please follow Theresa-India Young on Facebook and "Like" our site.  On the site click www.theresaindiayoung.com/ which will take you to our basic web site to read more about Theresa and to view her work.
YOUR ARE INVITED
Please visit  the Frances E. Thompson Gallery, formerly the President's Gallery at MassArt.  The inaugural show displayed work of Theresa and her five fiber arts scholarship recipients and ran from September- November 2018. 
https://www.wbur.org/artery/2018/09/25/theresa-india-young-legacy-massart-thompson-gallery
.  
View below Theresa, two of her recipients and their work.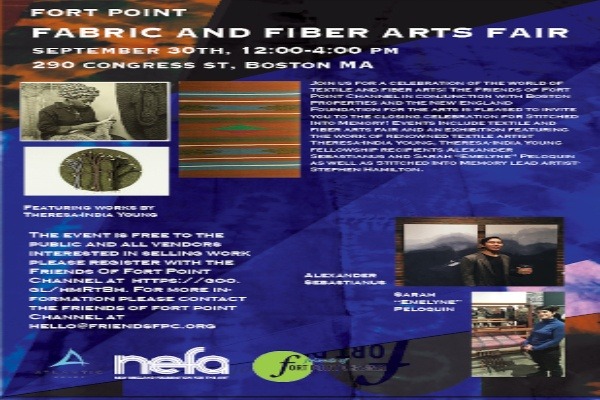 Thank you for your consideration and support toward all of our efforts.
Organizer
Jackie McRath
Organizer
Boston, MA