Victim of Basement Technologies
This is hard for me to ask for money.   I was one of the flood victims from the Jan and March 2018 storms.  I purchased my home in October 2017.  The ocean came into my home damaging my whole first floor and underside of my house.

This is my driveway

As I waited 7 months for Flood Insurance , my underside of my home stayed wet from my first floor floor boards to in between the floor and blow in insulation.  My house smelled like mold, mud and Dead Sea life for months.   I decided to hire BusyDog Basement Technologies to ready my house for a lift and place on pilings.  Purpose... take me out of the flood zone... protect my little house and family.  They were the best price for me.  Their staff was so nice and helpful. Two of the gentleman that came out to my property were genuine.   Long story short I signed a contract for $89,000.  
The work began May 21, 2018.  
My propsed lift date was June 15, 2018.  
BusyDog Basement Technologies subcontracted the work out.  Right away I noticed they weren't showing up for work on a regular basis.  When they did they'd work 10-12, take lunch and leave at 2 maybe 3 if I was lucky.   They ran into some snags with the blown in insulation and some damaged sills and joists.  That's another story.   My home inspector failed to notice that all but 2 of my sills were destroyed by old termite damage.   The Home inspector failed to see this: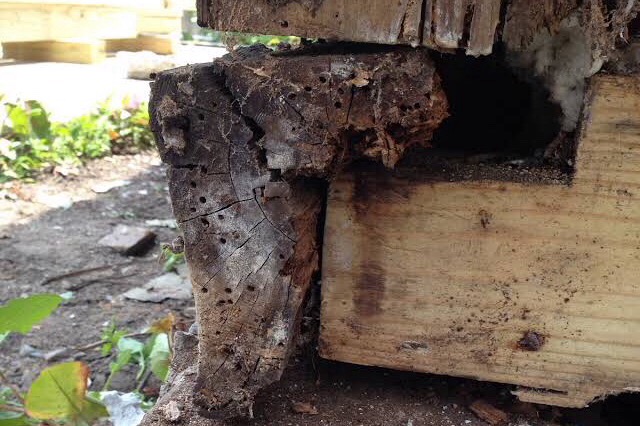 So with new sills, etc. the price went from 89,000 to 95,500 plus some added construction time.   
June 15 came and went, July, August and now in the middle of September and my house is still on the ground succumbing to the elements.  My heart is broken.  My kids and I have been out of a home since June.  Basement Tecnologies got $61,833 from my family and I. That's not including the money I spent on flood repairs before that, electrical, plumbing, engineer costs and upcoming Attorney fees....I'm $80,000 in and homeless.  I've been living out of three homes  since the beginning of June.   I have living expenses and a mortgage.   I'm looking for an apartment but in my heart I know I can't survive financially on what I make.  I feel terrible for my kids putting them through this.   The anxiety and fear that I feel daily is almost too much to take.   I have a wonderful lawyer and I know we have to do this in a specific order but time will break me.  
I'm losing my home because of Basement Technolgies.  They left me high and dry.  My house is so damaged now from shifting that the money it's going to take to fix it is astronomical if it makes it through the next flood season.  



There is so much shifting.   They left my house unlivable and unsafe.  It won't survive the winter.   
Here are a few pics of the damage the shifting is causing. 

All my walls are cracking, the floor is separating for the walls.  Rodents will be able to get in. :(. 

The front of my house is tipping downward now and I'm frightened for the upcoming flood season.    I can't believe a large company would take my money and leave my home like this, leave my kids and I without a home.   
It has taken me a lot to come on here and ask for help.  I need to find an apartment to live in while this gets settled.  I can not afford to pay my mortgage and $1700-2000 a month for rent too.     I will be most grateful for anything.  I pray that Basement Technologies does the right thing. Believe it or not I'm trying to remain positive.
Thank you ❤️
Alyssa

Organizer