Brian's journey to the Paralympics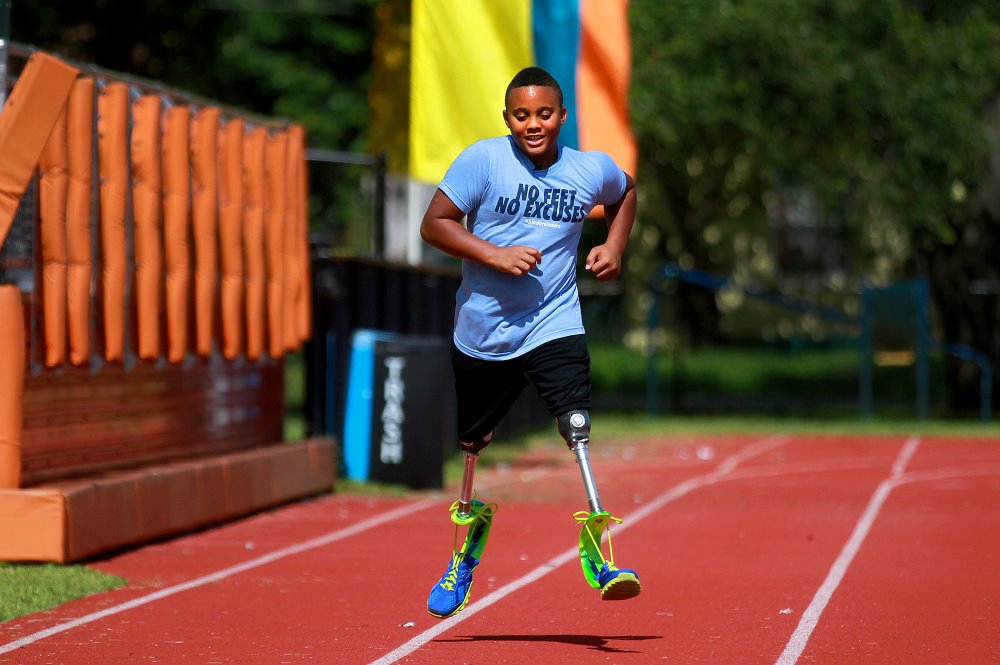 Brian Douglas is an eleven year old bilateral above the knee amputee aspiring Paralympic Athlete.  He has been swimming and competing since the age of six and he seems to have always known that this is what he wants to do.  Just last year Brian received his first pair of running legs and he has never looked back.  Now he fallen in love with another event, track.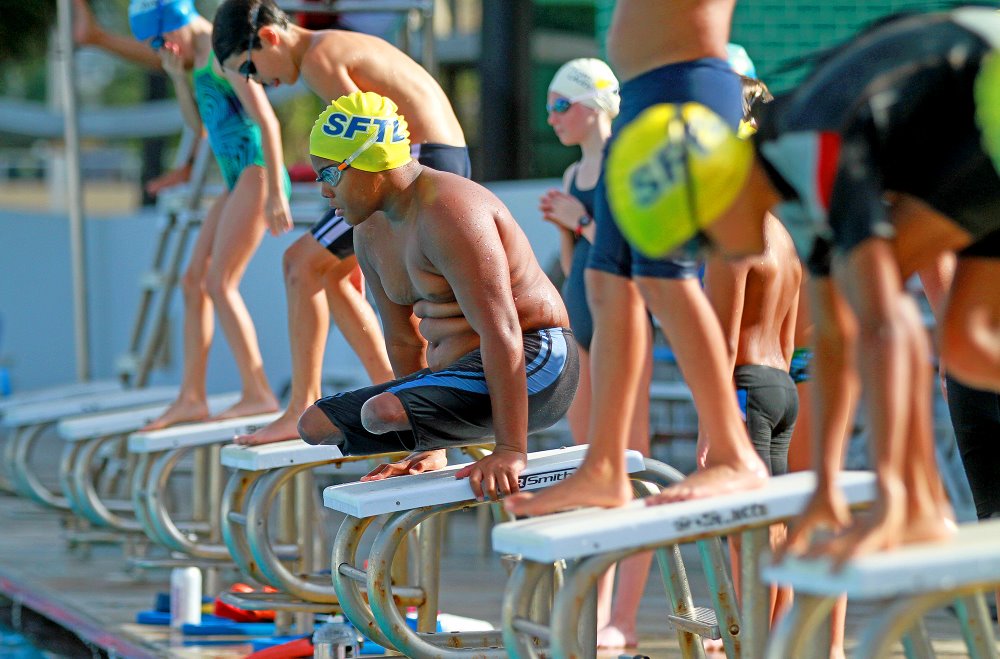 When Brian was born he was completely unresponsive and as blue as a pair of jeans, the umbilical cord wrapped tightly four times around his neck, weighing less than five pounds, with his legs obviously not normal.  We found out later that he was born with Bilateral Tibial Hemamelia which is the absence of the Tibia in both legs.  Initially we were devastated however as little as he was he soon showed us that he was fighter and he was here to make a difference. 
We made the extremely difficult decision, to amputate his limbs above the knee so that he would have the opportunity to be fitted with prosthetics as well as to be able to walk on his residual limbs.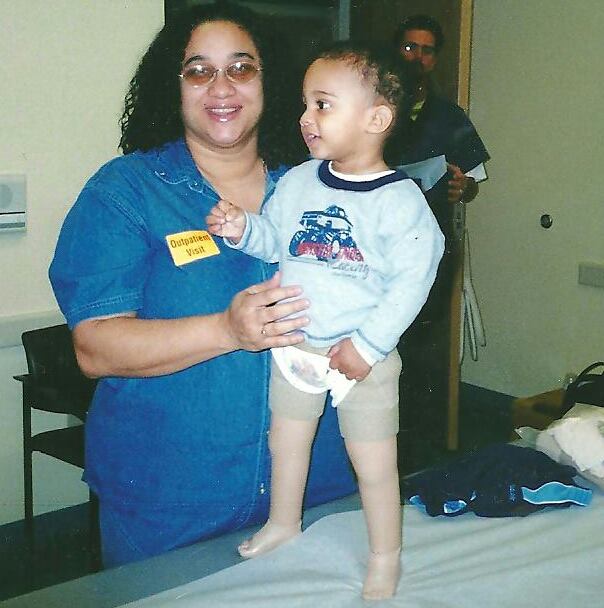 He was fitted was first pair of prosthetic legs before his first birthday and for ten years we travelled to Shriner's Hospital for Children in Tampa to change his legs at no cost to us. Brian has never looked back. 
Brian  has become an inspirational eleven year old. He is mature beyond his years and continues not to be swayed by the challenges he has faced in his life. Brian not only excels academically but his thirst for knowledge is inspiring and his enthusiasm for learning is contagious. He encourages, and is encouraged by, his peers to go above beyond in all facets of life.
Brian is determined to move beyond his challenges and pursue anything he put his mind to. Over time that has led to a passion for athletics, specifically swimming and running and he has dreams of someday competing in the Paralympics.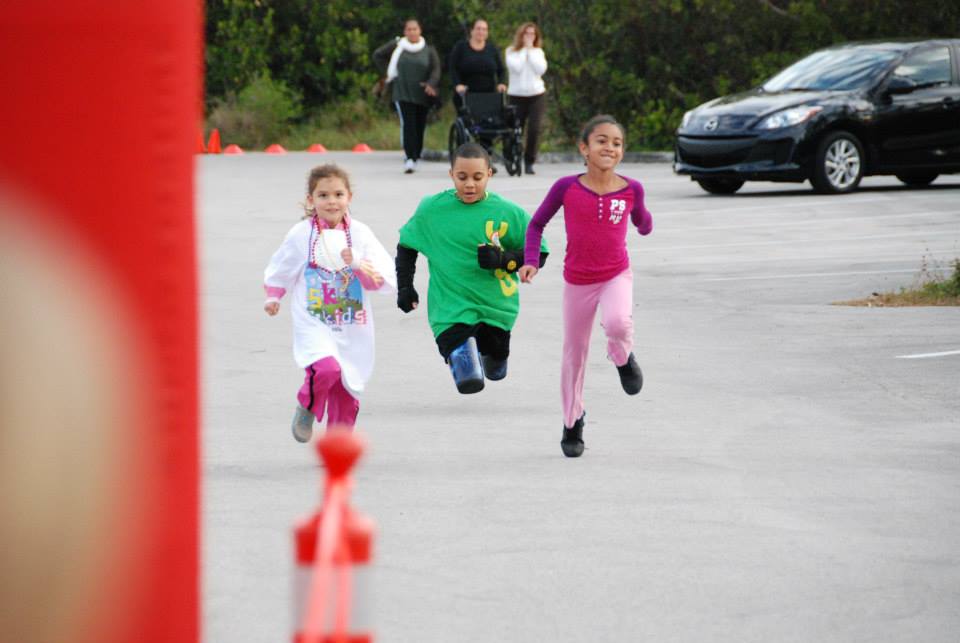 In January 2014, Brian completed the St. Anthony's Knights of Columbus 5K 4 Kids by alternating between running on his 'stubbies' and pushing himself in a wheelchair. His determination to give back to the Children's Diagnostic & Treatment Center, and raise awareness for the issues faced by other children,
took precedence over his nerves and discomfort. Following the race, when asked about his future by a reporter, Brian indicated that the most important thing to him in life is to one day have the ability to care for his mother and sister.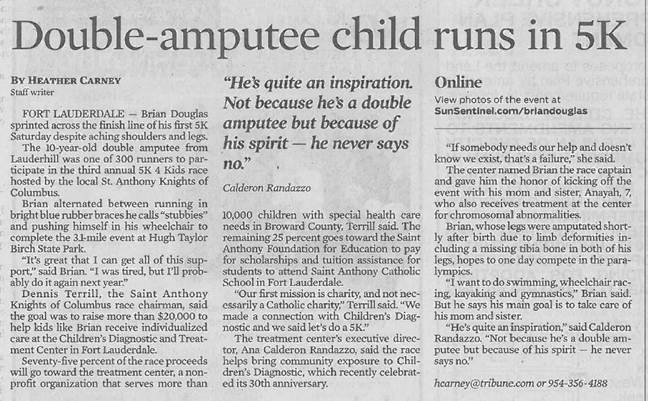 We were blessed when out of that race Brian was awarded a grant of $1500 from the Challenged Athletes Foundation which we used since then to to cover all swim fees.
challengedathletes.org
 Last summer we were also invited by CAF to participate in the San Diego Triathalon.  It was an amazg experience for Brian as he got to interact with other double amputees who are also Paralympians.
http://www.challengedathletes.org/site/c.4nJHJQPqEiKUE/b.6449147/k.2719/San_Diego_Triathlon_Challenge.html
Brian was able to swim his first open water long distance event.  He swam a half mile in less than twenty-five minutes.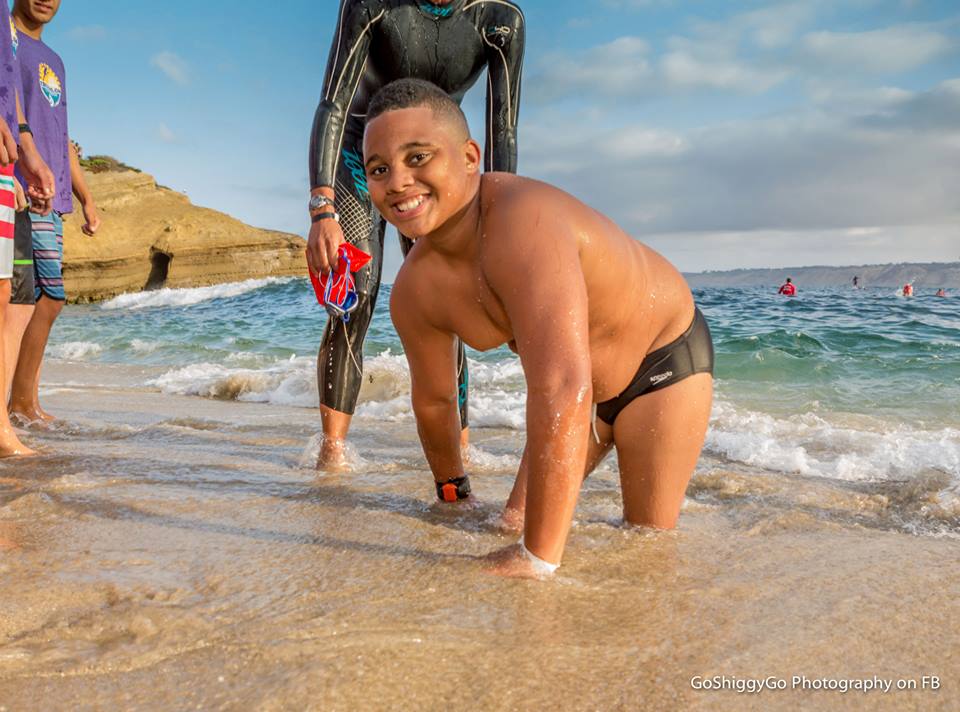 In addition Brian was given his first pair of running blades and a new pair of prosthetic legs from which enable him to be much more active from Amputee Blade Runners a non-profit organization based in Nashville, Tennesee.   
amputeebladerunners.com
http://www.sun-sentinel.com/news/broward/fl-amputee-gets-running-legs-20140803,0,2392773.story
In order for Brian to take any serious steps towards realizing his dream of participating in the Paralympics in swimming and track we have to start taking part in official paralympic meets and increase his training as well as get some specialized training. This will be an ongoing and costly process and although we are confident that in the near future Brian will have the opportunity for sponsorship in the meantime we have to take the first steps.  This is why we have decided to reach out to anyone who can to donate towards Brian's journey, to share his story, to follow his story and to give him positive encouragement as he starts his journey to the Paralympics......his journey to Gold
This is link to the endeavour games copming up in June:
http://www.uco.edu/wellness/sr/endeavor/eg%20event%20info.asp
Following is a link to all of the scheduled Paralympic events for this year:
http://www.teamusa.org/US-Paralympics/Sports/Swimming/Events.aspx
Contact us:
Brian Douglas
7431 NW 33rd Street
Lauderhill, FL 33319
For reference inquiries contact: 
Amanda Mitchell
Children's Diagnostic and Treatment Center Director of Development
954.728.1019
 [email redacted]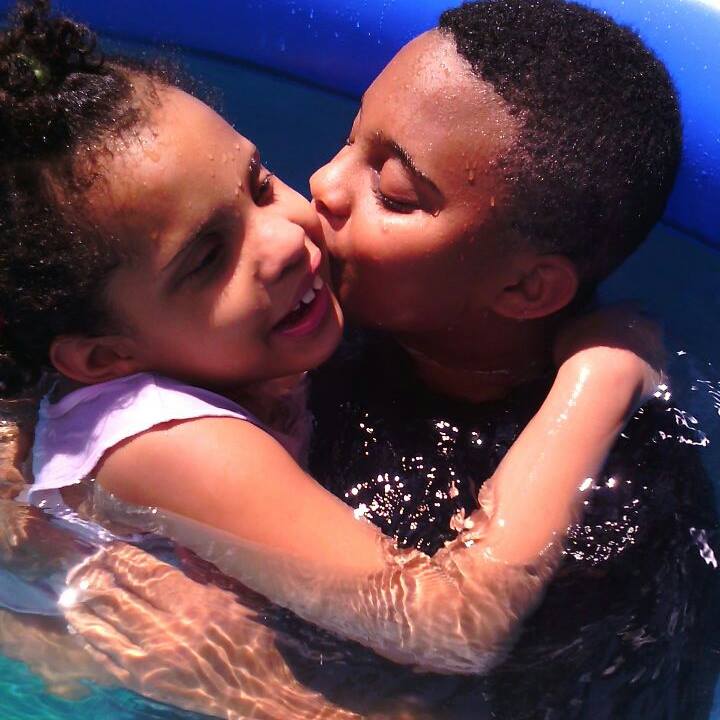 Become the first supporter
Your donation matters
Organizer
Sami Cools-Lartigue
Organizer
Winter Garden, FL