HELP COMPLETE DOCUMENTARY: HEROINOHIO
NEW TRAILER 


UPDATE:
After a year hiatus of hustling to barely pay bills and becoming increasingly disheartened from working endlessly, by myself, in a struggle to finish this documentary without a light at the end pulling me forward, motivating me through all this unknown haze of late night edits, grant writing and exhaustingly pitching the story at networking events, without a signal that all this work would be worth it and the documentary would be finished changed in a single serendipitous moment when I met Jamie Conner.

HEROINOHIO
now has an
editor, Jamie Conner
, who is a top—level pro and just as passionate to tell this story. I gave him the 37 days of footage without showing him a single edit I had came up with. I already knew Jamie was the guy after the first meeting him, but when he showed me the first few scenes he put together I knew I had found the editor of this film. We are riding the same wavelength. 


With Jamie, a sound mixer and engineer signed on named
Walter Bianco sound mixer
and engineer. Walter is the one who makes everything sound great and helps pull some of the voice of the film. They say that audio is sometimes more important than visuals when it comes to film and this guy is the real deal. After Jamie told him of the story, Walter reached out and was very enthusiastic to help. 

The new trailer is edited and mixed by Jamie and Walter. 
These new members have lit a new found fire beneath me. I will continue to direct the story, write grants, hustle the networking events and film a few more days to finish this documentary to ensure it's seen by as many people as possible. 
We still need some elements, such as music, a colorist, film festival submission fees and a few more elements to finish this documentary. Your continued support is very much appreciated.
Without all of you this story would have never been told. 
Thank you.

The Gist:
 Emerging from prison and drug addiction, twins Chuck and Mike Rollins attempt to mend Springfield, Ohio – a community they once helped destroy when drugs controlled their lives.
Now they live to guide recovering addicts to sobriety on the front lines of a heroin epidemic. Together they buy abandoned dope houses to transform the buildings into sober-living homes for recovering addicts to provide a solid foundation.
[Mike Rollins three days after he lapsed from 7 years of sobriety.] 
The Story: 
Last year, as heroin-related deaths sky-rocketed, Chuck and his twin brother Mike bought dope houses to transform into sober-living houses in the Midwest, mid-sized city of Springfield, Ohio – an area devastated by the epidemic. 
To maintain their four sober-living houses and their recovering residents, Chuck and Mike also manage Many Pathways, a rehab community center, securing their roles as leaders in a city fighting the heroin epidemic. 
Through the houses and the center, we are introduced to many people and problems within the rehab community – once people leave these sober sanctuaries, they often plunge back into the environment and the life with drugs that they had left.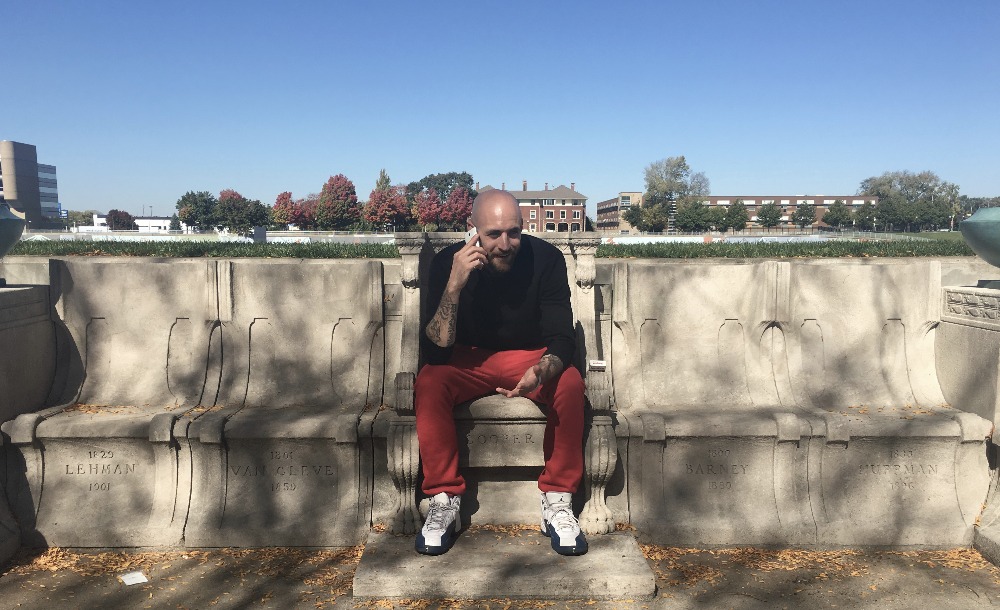 [Daniel, one recovering addict HEROINOHIO follows]
On the surface, this is a classic story of David and Goliath – a man fighting a seemingly unbeatable opponent, an opponent much larger than he is. Look deeper and we come to realize a story in which Chuck is not only fighting internal conflicts with his past, but also bureaucracies, financial burdens and a community seemingly built to lose. This is a story of a fight for the greater good with an almost stubborn determination.
Ultimately, this film is a unique twist away from the classic presentation of heroin addiction – needles, police raids, and emaciated addicts.  Foregoing any syrupy happily-ever-afters, the film focuses on the reincarnation of dope houses into sober-living houses, the transformation of addicts, and twin brothers waging small battles in a giant war. 
( 
http://www.cnn.com/2016/09/23/health/heroin-opioid-drug-overdose-deaths-visual-guide/
)
The Objective:
  The main objective of this documentary is to inspire anyone struggling with addiction to find help, anyone involved in the rehabilitation community to maintain hope  and anyone fighting that something impossible.
I also want this documentary to be used as a tool to guide state and federal funding allotted to fight the opiate epidemic towards efficient and effective programs. As with most things government, a lot of this funding gets lost in bureaucracy and in this case, that can be deadly.
This observational film will give an inside look into the life of twin drug counselors, Chuck and Mike Rollins, who go above and beyond their duty. Through the twins we will learn what they have done to overcome their own drug addictions to become leaders in the drug and rehabilitation community.
Daily they attempt to change the lives of people struggling with addiction through building a positive, solid and sober foundation from which a person can prosper.  By feeding them inspiration, guidance and positive reinforcement all without bullshitting them– put into their own words.  Even though the twins fail many, many, many times they maintain their fight, evolve their technique, and they never give up.
In this documentary they will shed light on the difficulties addicts face in receiving treatment, but also the policies in place that hinder the drug and rehabilitation community.
The film could help policymakers better understand the problems within the drug and rehabilitation community, but also inspire people across the state, nation and even world to start programs, much like the twins to better their own communities.  
There are many films surrounding this epidemic, but I haven't found one with this unique angle or these characters.
Main Characters, Chuck Rollins (Left) and Mike Rollins (Right)


Brief Info:
  In Ohio, it's old news that accidental drug overdoses topped the nation in deaths – with car accidents now in second place. In the nation, one in nine heroin deaths across the U.S. happened in Ohio and the state recorded the most deaths from synthetic opioids.
Before leaving office, President Obama asked Congress for 1.1 billion to fight drug abuse in America over the next two years. According to NPR, most of the money would pay to expand treatment to help people kick their opioid habit.  As $28 million of that budget is soon to be distributed across Ohio the potential of this documentary could be monumental in starting effective programs to help fight this epidemic.
(Graph of Ohio from the Ohio Department of Health provided by the Columbus Dispatch 
http://www.dispatch.com/content/stories/local/2015/04/30/OD_deaths.html
)
My hope is this money goes to effective solutions rather than postpone the problem with additional drugs and giving more to pharmaceutical companies. According to a report by the Daily Beast, the price of Naloxone under the brand name Narcan, a lifesaving drug that stops the effects of an overdose, has grown 4,000 percent since it has come out in 1971 – tripling since 2016. The spike has lead healthcare workers to ration the opioid overdose antidote and caused states to ask for additional federal grants due to demand.  According to the Columbus Dispatch, Ohio is the only state to negotiate a price freeze for Narcan at $75 for two 4- milligram doses throughout this year.
These antidote drugs are great for saving lives temporarily, but only temporarily sedate the problem. These and other drugs  don't fix a person's desire to escape reality.
Funding:
The funding I receive will go towards the production, post-production and distribution of this film. I will use the funds gathered here according to the current state of production. 
The $10,000  I'm attempting to raise will help this documentary come to life. The funds will also help me secure grants I have been applying for as it shows a community supports the idea of this documentary.   
The only certainties in funding are the funds I gather here. 
I need your help to get this story out.

Production:


I am currently in the production stage of this film and hope to be finished filming at the end of September.
The production stage includes the cost of cameras, camera operators, lenses, audio recording equipment, and other costs of recording the story, such as transportation, rental cars and the time it takes to capture this kind of story. I currently have 20 days in total of filming over the course of a year.
Post-production
is the cost of editing or forming the hours upon hours of footage into a 45-60 minute documentary. This is where the magic happens. To keep my vision of the film, I need to be with the editor and other technicians as they work. 
With editors rates over $2,000 per week for 3-5 weeks then add in a colorist, audio technicians and music composers on top of the boring legal stuff like titles and copy rights this part of making a film can get pricy. 
Note that unless something wildly insane happens, The Black Keys will not do the music in this documentary. I am in the process of producing original music for this documentary and their tone was the sound I was looking for. That being said, if anyone knows The Black Keys let them know we can talk. 
Distribution
is the cost of the documentary being pushed into the market enabling the people we want to see the film see it to increase the potential for impact.
This includes graphic designers, packaging, film festival application costs, paper for flyers, rights, broadcasting, publicists, and advertising. Without a budget to distribute the film this story could be lost.  
About me:

I consider myself to be the best person to film this documentary because my experience has led me to this story and I feel lucky to be here.
Growing up in Fairborn, Ohio, a suburb of Dayton and 30 minutes away from the setting of this documentary,  I was raised in a lower-income single-mother household and attended a high-school with a main objective of keeping you out of jail.  My friends and others with my similar background are the ones most affected in this epidemic. I could say it was because of my amazing mother pushing me in school, a passion for music and a nerdy obsession with video games that kept me from falling into addiction, but that would be untrue and unfair. There have been many amazing parents who have lost sons and daughters who shared my passions. Like most things in life and the world, there's something that goes on that no one really understands, unless they've been through it. I was lucky on the draw.
Since leaving Fairborn, I have become a journalist traveling the globe looking for interesting stories. I have lived in Cairo, Egypt as a reporter, filmed a documentary series across Europe, and lived in Beijing, China for three years as a documentary producer. Below is my last documentary I produced, which won two awards for Best Social Documentary and Best Direction. CHINA'S FAKE BOYFRIEND'S
While living in China, I read about the heroin epidemic through friends on Facebook.  Friend so and so is locked up, friend's children's mother/father is in prison for possession and or dealing, and too many RIP's. The story this time was at my doorstep.
During The Production of CHINA'S FAKE BOYFRIEND'S
Returning home to cover the 2016 election, I looked for a way of telling my hometown's story that was different and more positive than the local news nightly reports. I wanted to get away from the cliché heroin documentary that followed police officers kicking in doors and needles going into veins of skinny sunken-eyed addicts. I believe these portrayals perpetuate the stigma surrounding addiction and do nothing to better the situation.
Camera Operate Paul Morris and I during the Production of CHINA'S Fake Boyfriend's
As I started my initial research, everyone I talked with could give me a list of people they knew who died, overdosed or were currently struggling with opiate addiction. I was bombarded by the endless outpouring of personal accounts. The project began to get disheartening and overwhelming. Then I found Chuck and Mike in a local newspaper and reached out. Their positivity, despite the seemingly endless battle, was uplifting and inspiring. They truly believe they can beat this epidemic and become leaders to a devastated community.
Their story is important to shed light in this dark story -- to tell an uplifting account amid an ugly epidemic. 
THANKS:
Thank you all for anything you can give to help support this documentary.
Become the first supporter
Your donation matters
Organizer
Jordan Terrell
Organizer
Dayton, OH