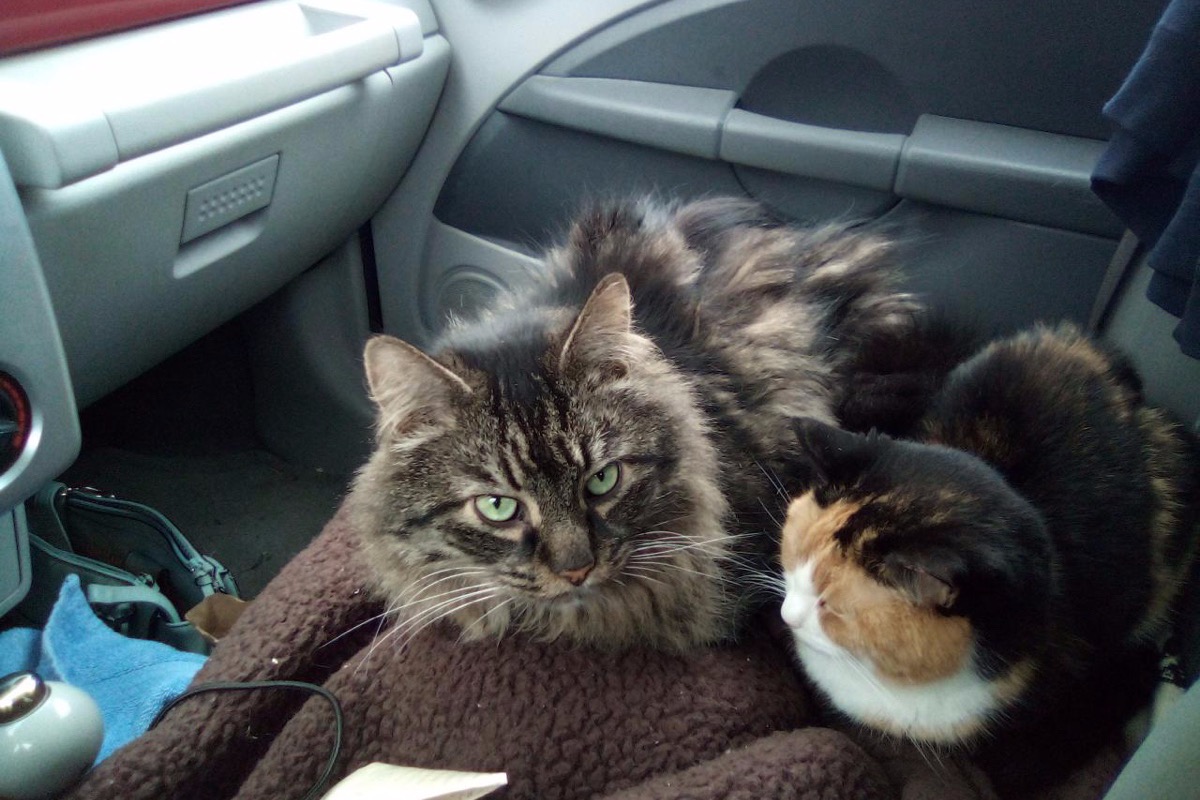 This is not my story, but the story of a new friend named Ruth who needs a little help. Recently, Ruth fell upon hard time and lost her home. The only thing she had to her name was her car and her 2 beloved kitties. Without anywhere to go and unable to afford housing, Ruth moved into her car and began her new reality with her 2 cats. Ruth is a 59 year old woman without the means or family needed to get back on her feet. I met Ruth in my work parking lot after my team notified me that she was staying there. She has been receiving food, water, items for the cats, and at times, money from those within our office and in the near surrounding area. Ruth has been in her car for 2 months and 10 days and the Chicago winter is beginning. I personally worked with Ruth for a few weeks to find a shelter that would ideally take her and her cats in, but I personally was unsuccessful. With the pandemic going on, many shelters were full and even overcrowded not to mention many did not allow pets. Ruth would not abandon her cats for anything and was too afraid to bring them somewhere unknown for fear they would be put down. She didn't want her misfortune to put her cats in a dire situation. She decided to stay put in her car for as long as possible and was prepared to brave out the winter with her cats. 
She continued to call shelters and pray for a miracle and by a blessing from God, one shelter had availability for Ruth but pets were not allowed. At this point, I realized that some of the connections I had from volunteering with animal shelters and the rescue communities I was apart of could potentially help in this situation.  I immediately contacted an animal rescue I've been involved with, Forget me Not Animal Rescue, and one of the leaders of the rescued referred me to Felines of Chicago, which is a rescue dedicated to feline rescue for the city of Chicago. They currently had capacity to help with this. I posted about Ruth's story on the page asking for guidance and help and in a manner of HOURS, we had found our foster hero (Janine) through Forever Fortunate Felines who was willing to take on both cats and get them ready for adoption. This amazing thing came with one unbearable decision that Ruth had to make: Relinquish her cats...her friends...her babies and move into a shelter of her own or stay and ultimately put herself and her two fur babies in danger. Ruth made the extremely difficult decision to surrender her cats so they could have a better life. Janine has already made them feel at home with warmth, comfort, and safety. She truly saved these cat's lives.
Ruth's beloved cats, her fur babies are now taken care of and in good hands. But, our poor Ruth is going to be moving into a shelter for the winter with nothing at all. She needs HELP. Ruth has so much hope that God will provide for her and we KNOW that He will. We aren't asking for much, just enough to keep her afloat. Enough to keep her warm and fed. I don't want Ruth to be stuck out in the cold once again and I know that our community can come together and provide some care for her like we did for her fur babies. This money will be used for her basic necessities for the long term care she needs. 
Right now it is evident that many people have been impacted by the pandemic in ways that are unfathomable and many times, unknown to those around us. I believe what they say that
what we do when faced with adversity will reveal the character that we hold
. Thank you to anyone who can give a little extra during this difficult time. I know Ruth would accept anything you are able to give and prayers are always extremely appreciated during this time. :)
Organizer
Katie Murawski
Organizer
Bolingbrook, IL