Elementary School Kids Deserve More!!!OUR AFTER-SCHOOL PROGRAM INTRODUCES THEM TO THE JOYS OF RUNNING AND PARTICIPATING IN A 5K WALK/RUN
After training all year long, it's RACE DAY!!!!!

Any parent or teacher can tell you that kids have more energy than they know what to do with. We believe that with a little bit of guidance and supervision, almost any  student can channel that joy in a way that benefits themselves, their families and their community.
RUN3RD 5K -- GROUP SHOT -- A LOT OF HEART!!!
We have designed a simple after-school running program for elementry school students. Supported by the Districts and championed by their schools, kids have a chance to learn about running, about themselves and about the world around them. 
-------------------------------------------------------***POSTER PRIZES ARE NOW CLOSED***People who donated $100 or who's name was picked out of the hat by February 1st, will receive an email to work out shipping details.———————————————————————-
----------------------------------------------------------------

FRIENDSHIP. TEAMWORK. ACHIEVMENT. FUN.

It's really fun to see a kid realize that they can participate in a 5k and then dedicate their run to others. Our goal is to help nurture healthy individuals and engaged citizens.
PROUDLY DISPLAYING THEIR DEDICATIONS!!!

This is a relatively inexpensive program and the return is immediate and life long. The kids will remember their experience with this activity for the rest of their lives. Most people never attempt a 5k. These girls and boys do it in style. 
FELLOWSHIP!!!!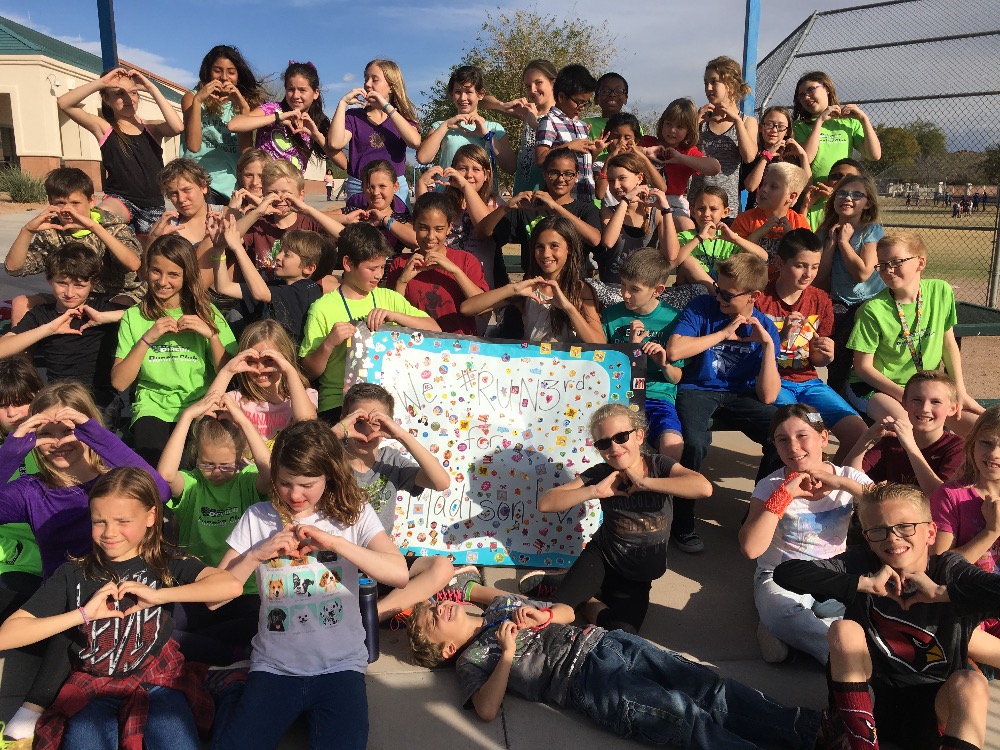 So far, we are in 13 schools in 3 states (Arizona, Florida & Arkansas) and growing all of the time. 
This is our 4th Annual Run3rd5k
run3rd5k.com
SPONSORS, ORGANIZERS, ADMINISTRATORS!!!

You can visit the site and sign up for this year's run:
April 7th, 2018 -- or -- if you can't make it in person, you can sign up for what we call a "virtual run." This just means that you REGISTER ONLINE
run3rd5k.com
 (easy enough) and will recieve in the mail, a Finishers Medal, a Race Bib, a Tee-Shirt and other little goodies. You can run or walk the 3.5 miles at your own pace in your own time. Some folks time it to cooincide with the terrestrial or IN PERSON race (Mesa, Arizona), I did that last year...or they just do it whenever. We've had elderly folks register, and they "run" it in spirit or count their steps over time. The goal is to have the registration money support the creation of new programs and manage the ones we've got going.
IF YOU WANT TO KNOW MORE....
You can visit the Official Run3rd website:
run3rd.com
There are videos and pictures and you can read all about the history of run3rd. It started many years ago and thousands of people have participated. The mission statement is the core idea: I run 1st for myself. I run 2nd for my family. I run3rd for others.
THE TRADEMARK'D LOGO!!!!!!

In fact, now, we have started an official Non-Profit Organization called, The Run3rd Alliance.
Our Official EIN # 82-0962991
We waiting for our final approval from the State of Arizona, which is why GoFundMe can't list it yet as such. 
THE NON-PROFIT RUN3RD ALLIANCE
You can visit our web site to get a sense of how our organization is shaping up. 
run3rdalliance.com
That's all for now. This particular GOFUNDME Campaign is simply designed to compliment our 4th Annual Run3rd5k. 
The money will go directly to the charity which facilitates these programs. We are changing lives each semester. 
WE #RUN3RD FOR YOU!!!

On behalf of the parents, teachers, communities and myself, I must thank you so much for your generosity!!!
Yours,
Sean Astin
Founder of Run3rd
Organizer
Sean Astin
Organizer
Los Angeles, CA