Royjan's Legacy (James Ashe Antivenom Trust)
The World Health Organization calls snakebites "arguably the world's biggest hidden health crisis", with one person dying from a bite every four minutes. Royjan Taylor lived his life to serve the victims of snakebites in Kenya. Tragically, at the age of 44 and on the verge of exciting projects that will greatly expand the impact of this work, Royjan passed away on 12 June 2019 after a short battle with cancer. While Royjan battled for his own life, he selflessly pled for the important work of caring for and saving snakebite victims to continue. To honour his memory, the Global Snakebite Initiative is appealing for support to help us ensure that Royjan's life-saving legacy continues.THE JAMES ASHE ANTIVENOM TRUST STORY

The 
James Ashe Antivenom Trust
 is a Kenyan non-profit organization established to save the lives of snakebite victims by making effective antivenoms available at no cost to people who otherwise cannot afford treatment. It fills a crucial gap in access to antivenom caused by the difference between the large numbers of cases and the relative availability of antivenoms in government-run health centres where financial barriers and a myriad of health issues make it very hard to ensure that nobody falls through the cracks.
Founded in 2004, and named after the late Kenyan zoologist, 
James Ashe
, whose life-long fascination with reptiles, and in particular venomous snakes, lead many people to seek his help after snakebites, the Trust raises money through various activities and purchases of antivenom that it then supplies to hospitals that need it. This safety net has saved hundreds of lives and we want to ensure that it continues to do so long into the future.
Royjan and Clare Taylor
 have run the Trust, which is based at Watamu on the Kenyan Coast near Malindi, with assistance from a Board of Trustees and local benefactors, for 15 years. During that time they have also raised two children who are now in high school.  
Together, the Taylor's have saved hundreds of lives and improved the outcomes for hundreds more who might otherwise have been left permanently disabled after a snakebite. 
In Royjan's own words ... a story of success ...
"This little girl stole our hearts! 
Giney had been bitten in her rural home in Hola, Tana River County, by a Red Spitting Cobra. 
Sleeping in her bedroom on the first storey of her family home the snake made its way into her bed and bit her on her right hand. It wasn't until five days later, when her condition began to deteriorate that relatives brought her to hospital, where she received two vials of antivenom - vials that had been donated through our local fundraising. 
My wife Clare and I went and met her the next day - as you can see, she was all smiles and looked like a different girl from the one who had arrived in dire straits the day before. And her smile was completely infectious! She is one of countless success stories of what we're able to do on the ground. 
What a blessing!"
WHO BENEFITS FROM YOUR SUPPORT?
The main beneficiaries of the Trust are men, women and children just like Giney - residents of Kenya's Kilifi and Taita Taveta Counties. Many come from very poor communities and scrape by on incomes of just a few dollars a day.  
Snakebites are common in these largely agricultural communities, and bites from mambas, puff adders, stiletto snakes and cobras are an ever-present threat. Indeed, snakebite is such a big problem in tropical and sub-tropical countries around the world that the World Health Organization has placed it on its priority list of neglected tropical diseases, launching a global strategy in May 2019 that aims to reduce the levels of death and disability by 50% over the next 12 years. 
Across Kenya there are more than 15,000 snakebites each year, resulting in more than 700 deaths and 850 amputations. For every person who dies, four or five more are left permanently disabled, with problems ranging from wound scar contractures to loss of limbs, blindness and post-traumatic stress disorders.
Faces of snakebite in Kenya



WHAT YOUR DONATION WILL HELP ACHIEVE
Royjan and Clare made it their lives' mission to do something to turn the tide of tragedy that snakebite produces in Kenya. While providing antivenom to those who need it is a central priority, they and their team work in communities themselves to educate people about snakebite risk, how to prevent bites, and what to do when someone does become a snakebite victim.
During his last days, Royjan insisted that everything possible be done to continue this work after he was gone, and Clare, with true grit and determination was back at work, delivering antivenom and keeping things on track less than two weeks after his death. Supporting Clare to achieve Royjan's dreams will ensure that his legacy endures and continues to save the lives of Kenya people every day.
Donations to this cause will go entirely to the James Ashe Antivenom Trust, and will be used to:
1. 
Provide life-saving antivenoms
 to another 150 Kenyan snakebite victims who would otherwise lose their lives or be left permanently disabled: 
US$80,000;
2. 
Deliver community education services
 to hundreds of communities throughout Kenya, particularly in Kilifi and Taita Taveta counties: 
US$25,000;
3.
 Discover new ways to treat snakebites
 and improve their outcomes, while at the same time training health workers in the treatment of snakebites: 
US$35,000.Providing life-saving antivenoms


Effective antivenom for the bites of snake species found in Kenya costs approximately KES11,500 (about US$110) per vial, and depending on the species of snake involved, a patient may need 2-3 vials of antivenom as an initial dose. With a single treatment potentially costing as much as US $220-$330, it is easy to see how impossible it is for a Kenyan farmer, herdsman or a village labourer whose monthly income may be as low as US $30, to be able to afford to buy antivenom if someone in his or her family is bitten by a venomous snake. 
The Antivenom Trust aims to help take this financial burden away from the victims of snakebite and their families by delivering as many doses of these antivenoms to hospitals and health centres as possible. Currently, available funding allows the Trust to purchase and distribute 150 vials of antivenom a year.
Royjan's dream was to expand this effort substantially, so we are seeking funding to increase the antivenom supply efforts of the Trust. US$12,000 raised here will buy new vaccine refrigerators and vaccine cold-chain delivery boxes to safely transport antivenoms. Another US$18,000 will hire additional an additional staff member to handle expanded distribution and reporting. And then of course, there are the antivenoms themselves. 
The goal is to purchase at least 450 vials of antivenom at a cost of US$50,000 with the funds raised here, and then by working with corporate sponsors and philanthropic donors eventually be able to supply more than 1,000 vials a year.


Educating and engaging with communities


As the old adage says "prevention is always better than a cure", and when it comes to snakebites, recognizing behaviours that increase the risk of a bite, and learning to take proactive steps to avoid snakebites is crucial to reducing the need for expensive hospital treatment, and the chances of long-term disability or even death.
The team in Kenya visits dozens of communities and reaches people of all ages. They teach people how to recognise activities or situations that can increase the risk of snakebites and how to avoid them, or modify behaviours to reduce the likelihood of an encounter. They also provide an invaluable service removing snakes from areas where people work and live, educating them about the role of snakes in the natural world, and the importance for living alongside animals and conserving them for the future.
As part of the fund-raising drive to ensure the continuation of Royjan's work we are aiming to expand his community engagement projects, develop special programs for school-aged children, and make wider use of social media and mobile telephones to reach even more people than ever before with messages that prevent bites and save lives. Training seminars for health workers and first responders will continue with the help of an international team of snakebite experts who give their time freely to help improve outcomes for patients. Funds raised here will support the costs of these activities. 
Discover new ways to treat snakebites
At the heart of Royjan's dream was the goal of turning the James Ashe Antivenom Trust into a centre for local research on snakes, snake venoms, antivenoms and other treatments for snakebite. Just a week before he died, he had attended a meeting in Nairobi and, together with colleagues from other organizations active in tackling snakebite, they had agreed to set up an East African branch of the Global Snakebite Initiative to advance a research and community engagement strategy throughout countries in the region.
A partnership with the Australian Venom Research Unit at the University of Melbourne in Australia had been under discussion for 12 months. Plans to develop a clinical research centre in Kilifi County where new treatments for snakebite could be tested a team of local and international team of doctors, in parallel with work to develop new antivenoms were all on the table. The goal is to turn the antivenom trust into a local centre of excellence supported by international partners who could solve some of Africa's snakebite problems for once and for all.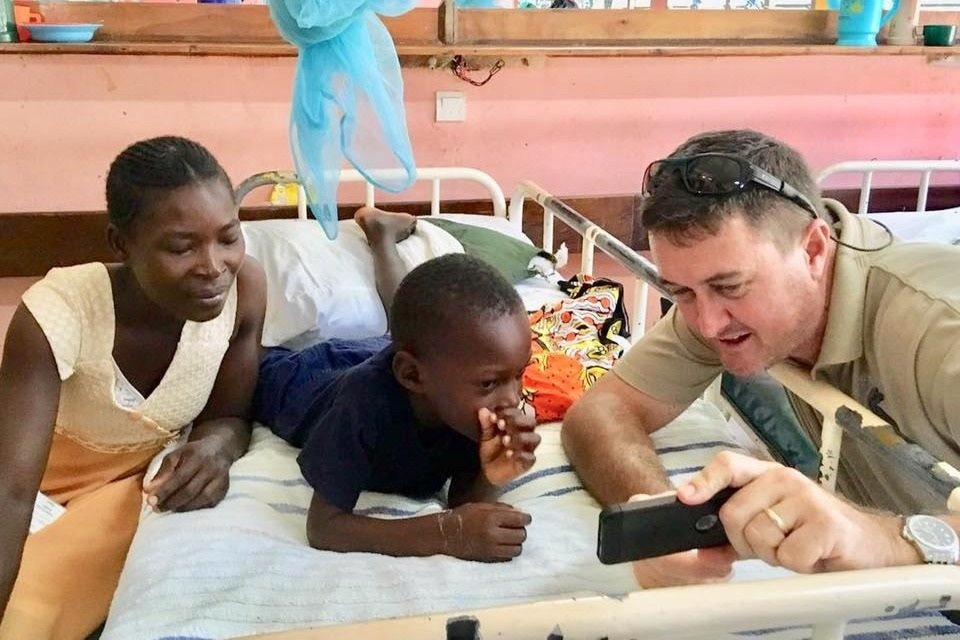 US$35,000 of the funds raised here will provide support to Clare and her team as the planning and design of Royjan's research centre is finished and philanthropic funding is secured for construction and operations. It will also ensure that training for local health workers continues to ensure they have the right skills to successfully manage snakebites.
HOW URGENT IS THIS APPEAL?
Every day more than 
40 
people are bitten by a snake in Kenya. 
That's nearly 
290 
people every week.
13-14
 die and another 
16-17
 have limbs amputated every week.
The  survivors of snakebite don't get off scot-free either. Dozens of them suffer horrific injuries that see flesh rot from their arms, legs or bodies. Wounds that they cannot afford to treat properly fester and take months or even years to heal. Families sell livestock, land, borrow money they can never repay, or even take their children out of school because they can no longer bear the cost.
Snakebites are a tragedy that can be prevented. They cause illness that can be treated. All it takes is your support and generosity. Royjan Taylor committed his life to helping the victims of snakebite, and indeed he risked his own life every day protecting villagers from venomous snakes. 
Antivenom urgently needs to keep flowing to people in critical need. Every day is a new emergency.
WHERE YOUR MONEY GOESAll of the money received will go to the James Ashe Antivenom Trust in Watamu, Kenya.
Donations of any amount are welcome, large or small - any amount will help to ensure that Royjan's dream of a day when nobody in Africa needs to die from snakebite, or be left disabled for life, comes closer to fruition every day.
We will post regular updates to this appeal as time goes by to show you how your donations are being put to use and are helping to save lives. 
Thank you for your support and kindness. 

Become the first supporter
Your donation matters
Fundraising team: Team Bio-Ken (6)
David Williams
Organizer
Raised $4,510 from 13 donations
Parkville VIC
Clare Taylor
Team member
Raised $9,860 from 11 donations
Emma Childs
Team member
Raised $560 from 2 donations
See all