Help Me Continue My Education !!!
Hi, my name is Rodney Jones. I am making this site with the humble intent finding financial aid for the 2015 fall and 2016 spring semesters. I am no longer receiving scholarship funds for the Fall 2015 school year. The school claims that I no longer have a need for funds. So being put in this unfortunate situation I will not have enough funds without causing extreme hardship for my mother and I have no one else to rely on financially for help. I am truly grateful for the Financial Aid, which has been offered in the past, but now perhaps a more personal elucidation of my ambitions as a student striving for an education will help you to view my endeavor as worthy of more of an investment.
Here are my current grades from the past semester, showing that I didn't lose aid from low grades.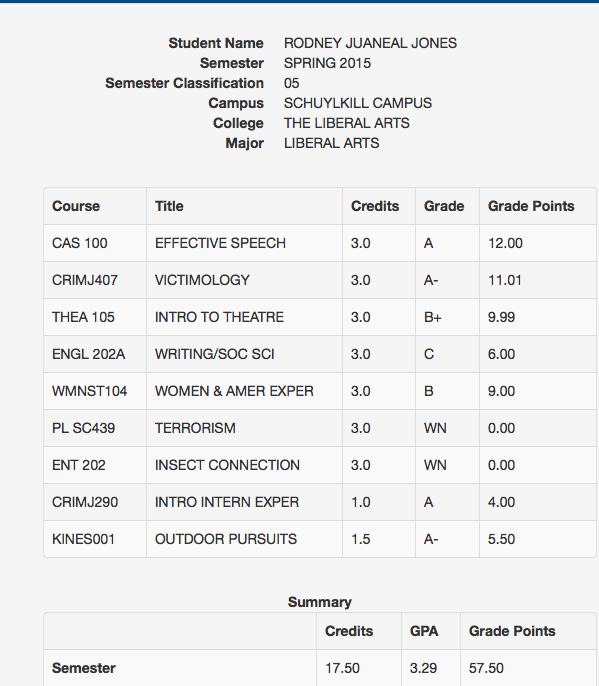 I am currently entering my Junior year at The Pennsylvania State University in Schuylkill Haven, PA, working towards a Bachelors degree in Administration of Justice with a minor in Psychology Because I was highly impassioned by my chosen course of study in the Legal Field, and an avid student in the fields of Law and Public Safety throughout high school I was told by my academic adviser and program director that I am able to graduate one whole year earlier. This upcoming school year should be my last year as an undergraduate. I plan to follow my undergraduate degree with a Masters Degree in Criminology hopefully of the University of Pennsylvania.
In addition to my studies, I work a part-time job to aid my mother in providing for a single-parent household and to help pay for necessities in school.
During my freshmen year here at Penn State I was active in many facets of the school, I participated in the Youth Empowerment Project, the Blue and White Society, the Criminal Justice Club, I gave tours for prospective students as a Lion Ambassador and I served as the Tech Team Overall Chair for Schuylkill Benefitting THON. I also have recently become a member to the National Society of Leadership and Success. Coming into my sophomore year, based on my character and dedication to the school I was selected to serve Resident Assistant's for the campus' Resident Hall's for the 2[phone redacted] academic year. I facilitated the social, academic, and personal adjustment of students to the residence hall and University, while also enforcing the rules and policies of the Residence Life and Student Affairs and the University.
A college education has been my utmost priority since childhood. These formative academic passions allowed me to graduate from my school with honors and will continue to en-kindle my educational pursuits. It is in the realm of academia where I will continue to excel and where my future success is ensured. My determination to succeed and continue with my college education is fueled by my proven abilities and accomplishments thus far and I find it unconscionable to accept that my ambitions be thwarted simply due to a lack of Financial Aid. The years of my hard work and determination to be rendered in vain as a result of a circumstance, which is entirely out of my control, becomes unfathomable in light of the fact that I have already been admitted to several schools of choice. I am so close to obtaining my dream.
Based on the success of my fundraiser, I hope to finish my last year of undergraduate studies at the Pennsylvania State University in Schuylkill Heaven. I am currently still applying and working towards getting more outside scholarships. As of now my financial aid award package is leaving me with an out of pocket cost of $32,066, without eliminating the federal student loans. I am seeking sponsorship from anyone who is willing to donate. I truly appreciate any help I can get! If you have any questions regarding my acceptance to Pennsylvania State University, feel free to contact me at [email redacted] with your questions or concerns. Also, feel free to contact Undergraduate Admissions at Penn State to verify my acceptance: my PSU ID is 976950959. 
Here is my Financial Aid Summary.

 Here is my estimated cost of attendance from my Student Aid Sumary.
I therefore implore you to consider your donation on the principles of pure generosity. Please assist by not allowing my successful, academic career to come to an abrupt end, due solely to finances and not academic aptitude and ambition. To do so would be the greatest travesty of both the "FAFSA" system and the rewards of merit, which we prize so highly in our country and to which I am solely dependent upon.
****If you would rather send your donation directly to Pennsylvania State University, please forward your payment(s) to the following address below. Please provide a note with your donation stating my full name (Rodney Juaneal Jones), PSU ID number (976950959), and Class of 2016. ****
Office of Financial Aid
200 University Drive
Schuylkill Haven, PA 17972
Office Hours:
Monday - Friday 8:00 a.m. - 5:00 p.m.
Room A-102 of the Admin. Building
Phone: (570) [phone redacted]
Fax: (570) [phone redacted]
 I would like to thank you in advance for any help that you can give me to make my dream of attending college a reality. I do ask that you provide your address, (PO Box Accepted) so that I can send you your gift of appreciation to you. Also if the donation amounts selected aren't what you would like to donate, (less or more) you can choose your own donation amount.
Thank you,
Rodney Jones
Personal Statement
Growing up for me was not as difficult as it was for others my age. I was not the child that did not get what I desired or possess the necessities to survive. My household consisted of me and my mother who insured I had everything I needed or desired. My mother stressed the importance of good grades and a proper education. I was put in numerous programs to help me stay on top with my skills in school.
As early as age nine, I did not care about anything other than my education. My mother put me in a Score! Educational Center. Score! helped me improve my skills in major subjects such as English, Math and Science. This added educational foundation helped me become above average in the majority of my classes. Moreover, I was also enrolled in the Saturday Youth Programs at Essex County College. Because of my enrollment in these two programs it aided me in graduating in the top ten of my 8th grade class.
My grades from elementary school qualified me for enrollment in all honors level courses upon my entrance into high school. I transitioned from one of the smartest students in elementary school to just an average student. I went from a smaller school of young children to a big school of people older and more advanced than I was. Early on in my high school career, my grades slipped, I did not excel as greatly as I did elementary school. When I reached my junior year, I was disappointed that despite the effort my mother put into ensuring I understood the importance of education, I was not reaching my full potential and my grades from the previous year reflected that. I was not taking my education as serious as I was raised too. A teacher of mine once told me, "You are an independent young man whose choices define your positive attitude which allows you to disregard failure as an option."
Now, in my senior year of high school, I will be the first generation in my family to attend college. Prevailing through obstacles has assisted me in becoming a stronger and more independent young man who is ready to excel in the world. My mother has helped me understand how valuable my future will be when I create it for myself. She is, and always has been, my number one motivation.
I plan to pursue a career in law enforcement. I endured pain throughout my life-watching friends and family members die from pointless violence. It is my deep desire to change that, to help people in need of guidance. While crime rates are rising, I firmly believe being able to interact with people and assist in decreasing crimes will lessen their burden; even a little will be immensely rewarding.
From my life journeys, I have discovered that it does not matter where you come from, but it does matter where you're going.

Organizer
#1 fundraising platform

More people start fundraisers on GoFundMe than on any other platform. Learn more

GoFundMe Guarantee

In the rare case something isn't right, we will work with you to determine if misuse occurred. Learn more

Expert advice, 24/7

Contact us with your questions and we'll answer, day or night. Learn more