Rochester Support for Manta Ecuador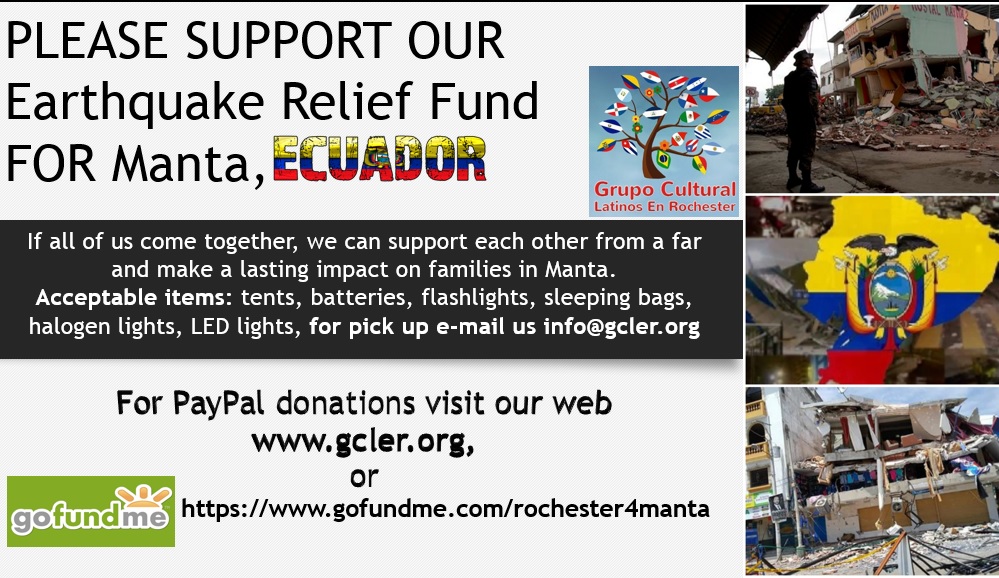 A powerful 7.8 earthquake hits Ecuador
, hundreds  killed. The city of Manta is one of the areas that saw the most devastation. 
Please help us to raise funds for the victims in the city of Manta, Ecuador
.  Some Rochester residents have family members that suffered fatalities as well as property losses.   We have been in communication with families affected in Manta who report  the vital needs due to the disaster. Food shortages, decaying bodies that remain trapped under collapsed buildings, and loss of power are just a few of the hardships that residents are facing.  Please continue to share with those around, as earthquake after-shocks continue to be felt. Many of the after-shocks have been reported to be  5 in magnitude but in the past week, a 6.2 and 6.0 magnitude hit the area. The disaster zones are becoming more and more dangerous due to  disease, infections and buildings suddenly collapsing. . 
HOW THE MONEY WILL BE U TILIZIED AND DISTRIBUTED:
Donations will be sent directly to Manta. A member from Grupo Cultural Latinos en Rochester, GCLER, will seek out victims with the most needs that have not been attended to.   GCLER will purchase as many critical supplies as required and hand deliver to those in need. Reporting will be done per our facebook.
If all of us come together, we can support each other from a far and make a lasting impact on families in Manta, Ecuador who are going through great pain and loss at this time. 
Thank you all for your love, support and prayers.  If you would like to make a  donation , please send a check  to Grupo Cultural Latinos En Rochester, 641 Kayloc Circle, Webster, NY 14580, you can also donate on-line to gofundme.com/rochestersupportformantaecuador.  Feel free to contact us.
Grupo Cultural Latinos En Rochester
Board Member
Organizer
Grupo Cultural Latinos En Rochester
Organizer
Webster, NY