Roan's Run: Help Fix Roan's leg!
Meet Roan.


The Cliff Notes:
Roan is an 11 month old German Shepherd Mix whose leg grew crooked as a result of the massive injuries he'd had when I adopted him. I've already done one surgery to stop the deformity from getting worse, but he needs a second one to fix everything up completely. As this surgery requires intensive equipment, it's not cheap. Please consider donating to Roan's road to recover and help him run without pain or deformities! All extra donations to Roan's Run will help me pay off the last bit I still owe on his credit card for the *last* surgery.
UPDATE: Roan's post surgical followup care (xrays, bandage changes, meds, antibiotics, etc) have ended up being much more than we planned. Any additional funding towards his post-op care is greatly appreciated!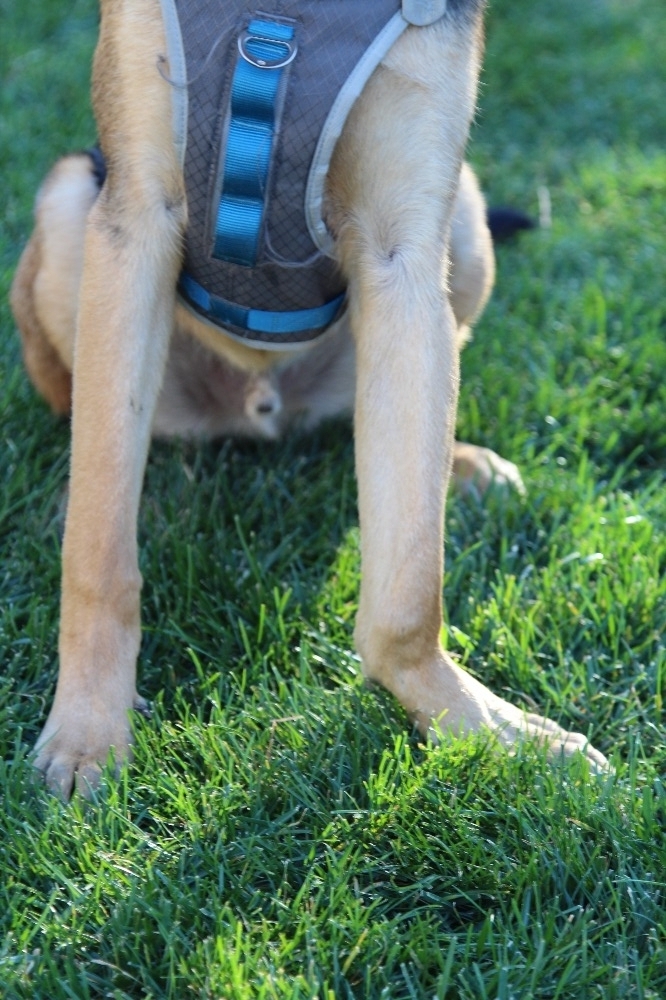 Read his full story below!

When Amy Met Roan
8 months ago, a small, emaciated little German Shepherd stray puppy came into the 24 hour emergency veterinary clinic I work at in San Diego. Covered in injuries ranging from small lacerations on his side to massive open wounds on his front legs, he looked up at me from across the room and his tail began flopping up and down. Our eyes locked like something out of a romance novel.
I was in love.
Roan had been found around a water tank on some property in North San Diego with his wounds suggesting he'd been hit by a car or attacked by something. After spending all night cleaning him up and cuddling him in his cage (and introducing him to canned chicken - yum!), I made sure that the San Diego Animal Control knew I wanted him. I called daily to check on his status and officially adopted him three days later. The volunteers at the shelter were astounded - even with all of his injuries, he was one of the most "good natured and forgiving" dogs they'd ever seen.
A week later, I took him home.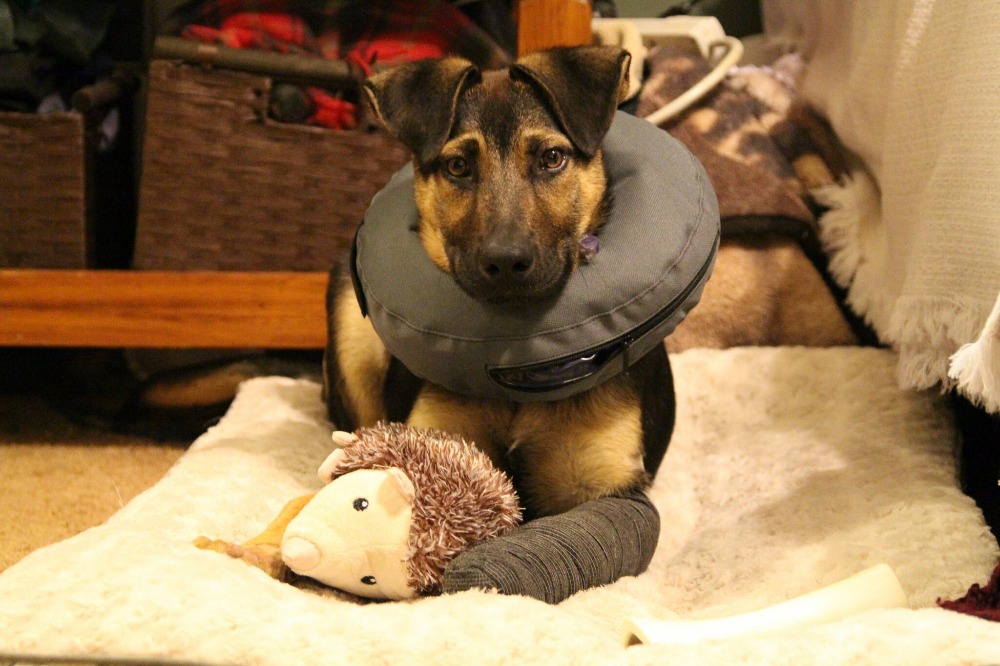 The San Diego Animal Control was incredible. By the time I took him home, they'd fixed most of his lacerations, nuetered him, microchipped him, and even potty trained him (their volunteers are *the best*).
One large wound on his front leg would require weeks of bandage changes to allow the skin and muscle to granulate enough to heal (before we can stitch up a wound, there needs to be enough healthy skin to do so). But that was a no-brainer for me. (I mean just look at those EYES!) While we still don't know quite what happened to him, the technicians at Animal Control said it looked like the bone at his carpus (wrist) had been gnawed on - by who, we don't know. The thought that he may have been stuck somewhere and tried to gnaw his own foot off to get out - or that he may have narrowly escaped the clutches of a wild animal - haunts me to this day.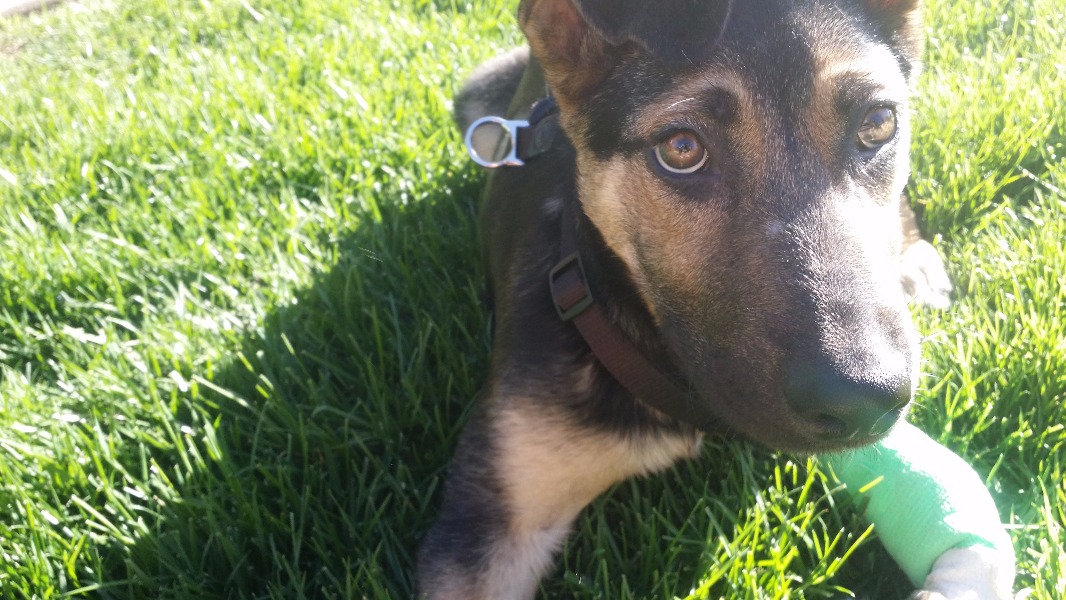 Soon he was home, warm, and happy. I fattened him up, changed his bandages, and soon all his fur grew back on the places where there had been cuts, leaving behind patches of white fur as battle scars. He grew to love Star Wars, his ears developed their own personality, and he learned that mommy's obsession with selfies was never going to go away.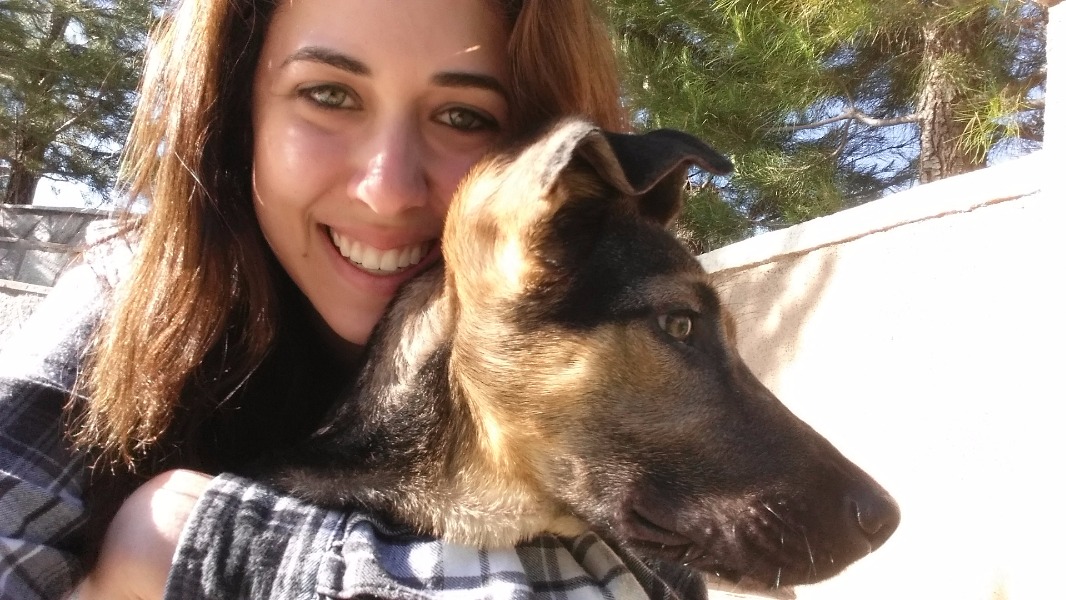 A Curved Leg 
While most of his wounds healed up fine, the severe wound on his left, front leg over the carpus (wrist) left a lasting impression. The skin and muscle healed up just fine and without any ligament or tendon damage. Within a few weeks after his final bandage change, however,  I noticed his paw was starting to look crooked and turn outward. In an alarmingly short amount of time, the whole leg had started to curve. 
Roan coudn't run.
In fact, he'd never run. With the bandages changes for the first month I had him, then this injury, my little baby boy had never run. I would have been too painful to even let him try.
This is what his leg looked like at about 5 months of age:

We took a few radiographs, and this is what we found:

The bones shown are the radius and the ulna. The red arrow is pointing the ulnar growth plate. A growth plate is the point at the end of the bone where new bone forms; until a bone is fully grown, new bone keeps forming at the growth plate. However, if damage is done *to* the growth plate, it seals prematurely as it tries to heal itself and the bone stops growing.
This is what happened to Roan. His initial injuries caused damage to the ulnar growth plate and the ulna stopped growrng. Unfortunately, the radius *did* continue growing. When one of the two bones that are supposed to grow together stops growing, the other one isn't able to spread out like it's supposed to and curves to make room. When you look at the xrays, you'll see that the radius had begun to curve. Left unchecked, it would also pull the elbow out of the angle it was suposed to be and his leg would have curved to the point where he couldn't walk anymore.
At that young an age, there was no point in fixing the curvature since he wasn't fully grown. What we could do was stop it from getting worse. 
To do that, we had to cut the tether. The surgery, called an ulnar osteotemy, involves us actually cutting out a few inches of the ulna so the radius wasn't tied down. This would allow the radius to stretch and grow naturally from then on. More importantly, it would help the elbow return to it's normal position.
So we did the surgery. Below are the post-surgical rads. You can see the missing piece of ulna (scary, I know) and you can imagine how it could now let the radius grow properly.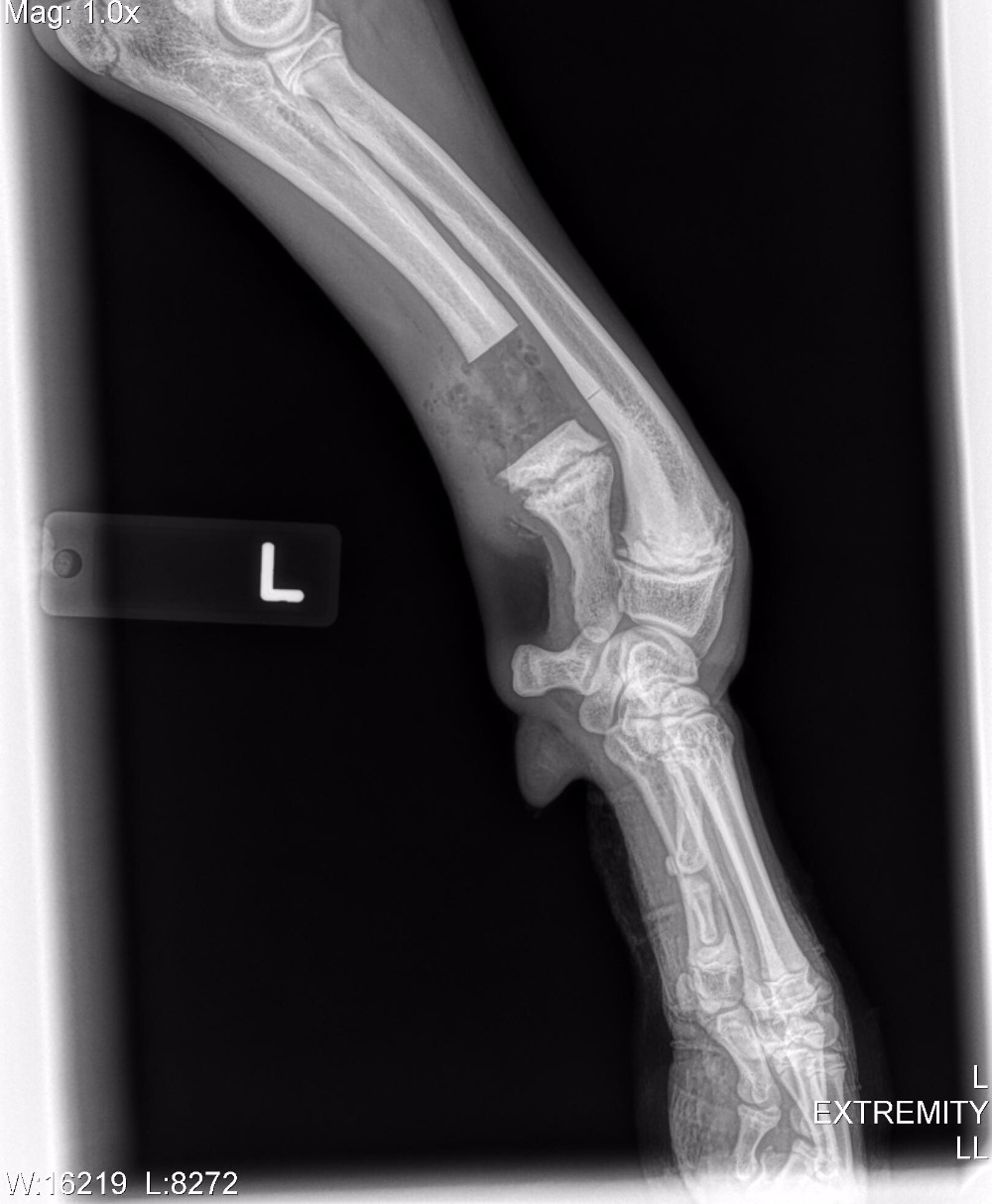 After 7 more *agonizing* weeks of strict confinement, he was finally free to (as the surgeon said) "be a puppy!". 
For the first time in his life, Roan could RUN! 
For the first time since I took him into my heart, he could hike, play in the rain, swim in the pool, and wrestle with his best friends Biggie the Frenchie and Cargo the Lab. He fell in love with the waves at the beach, learned all the best ways to climb on the bed, and discovered the romance of long sunset runs on the beach. (All while growing to be almost 75 lbs!)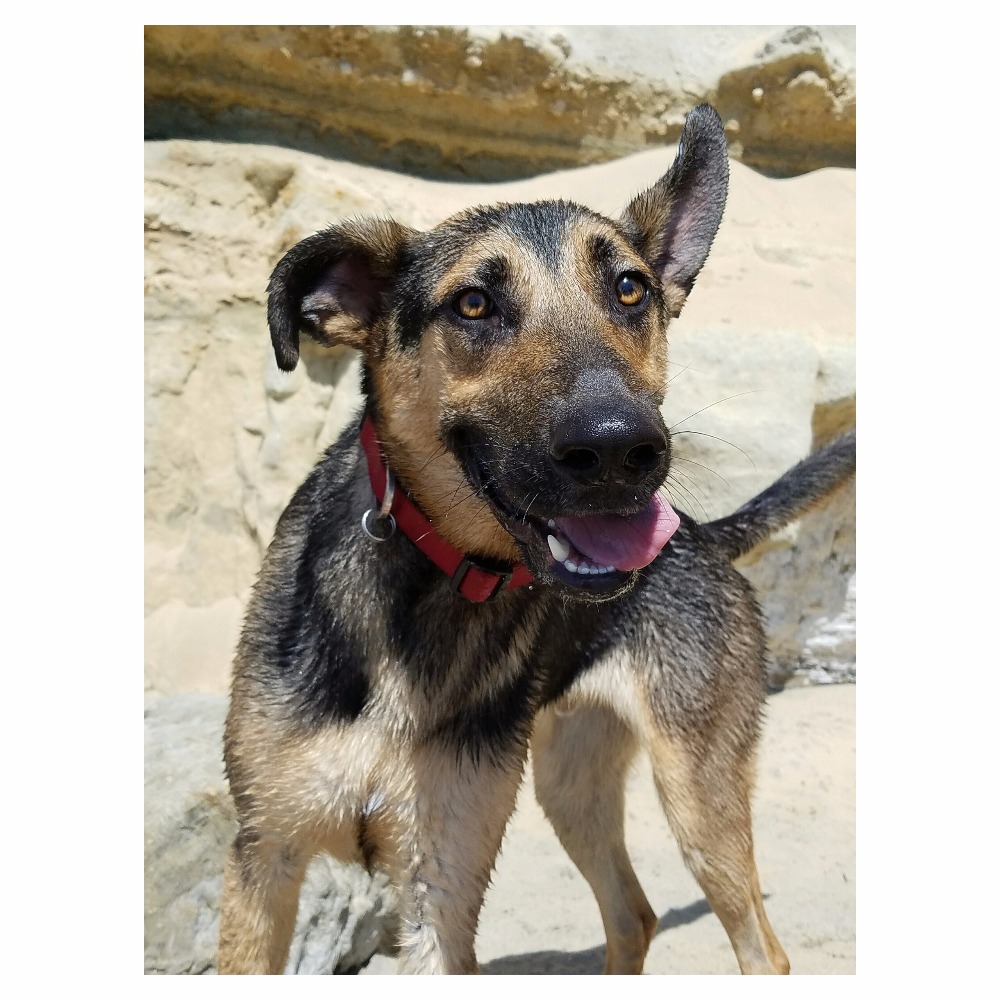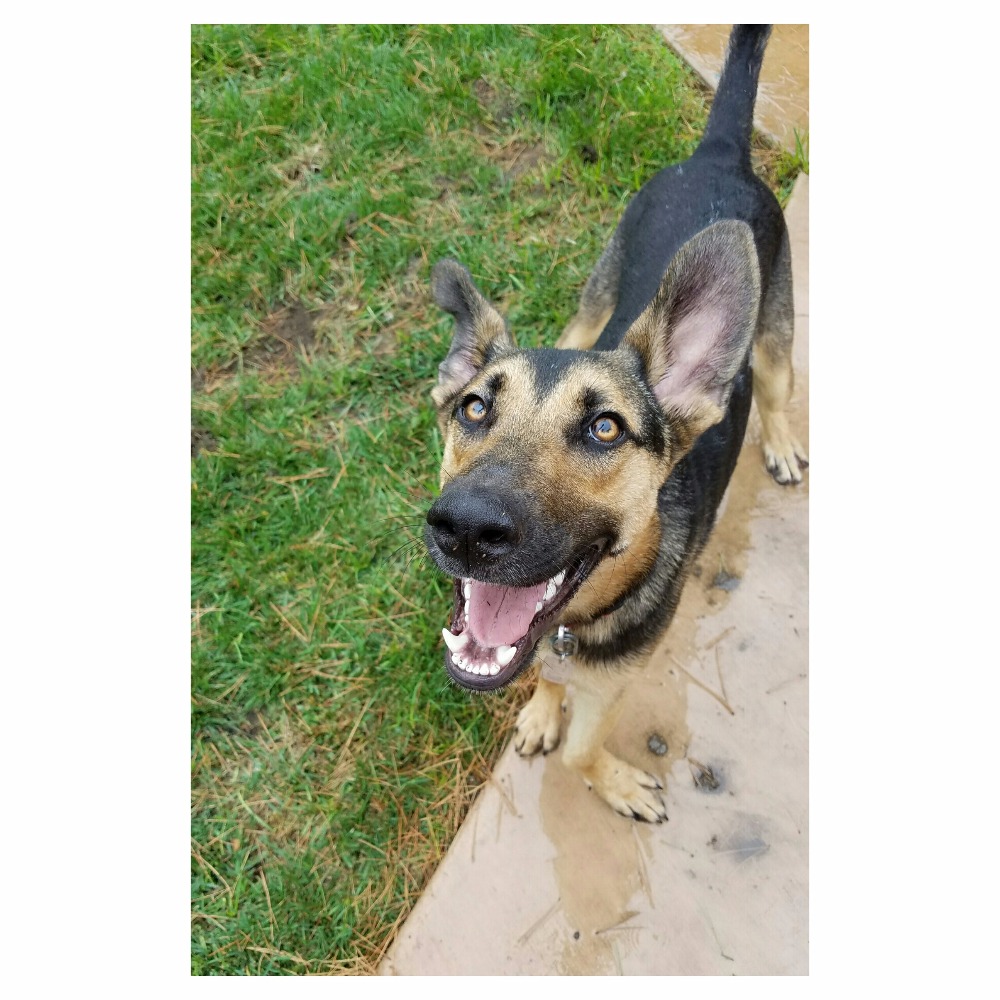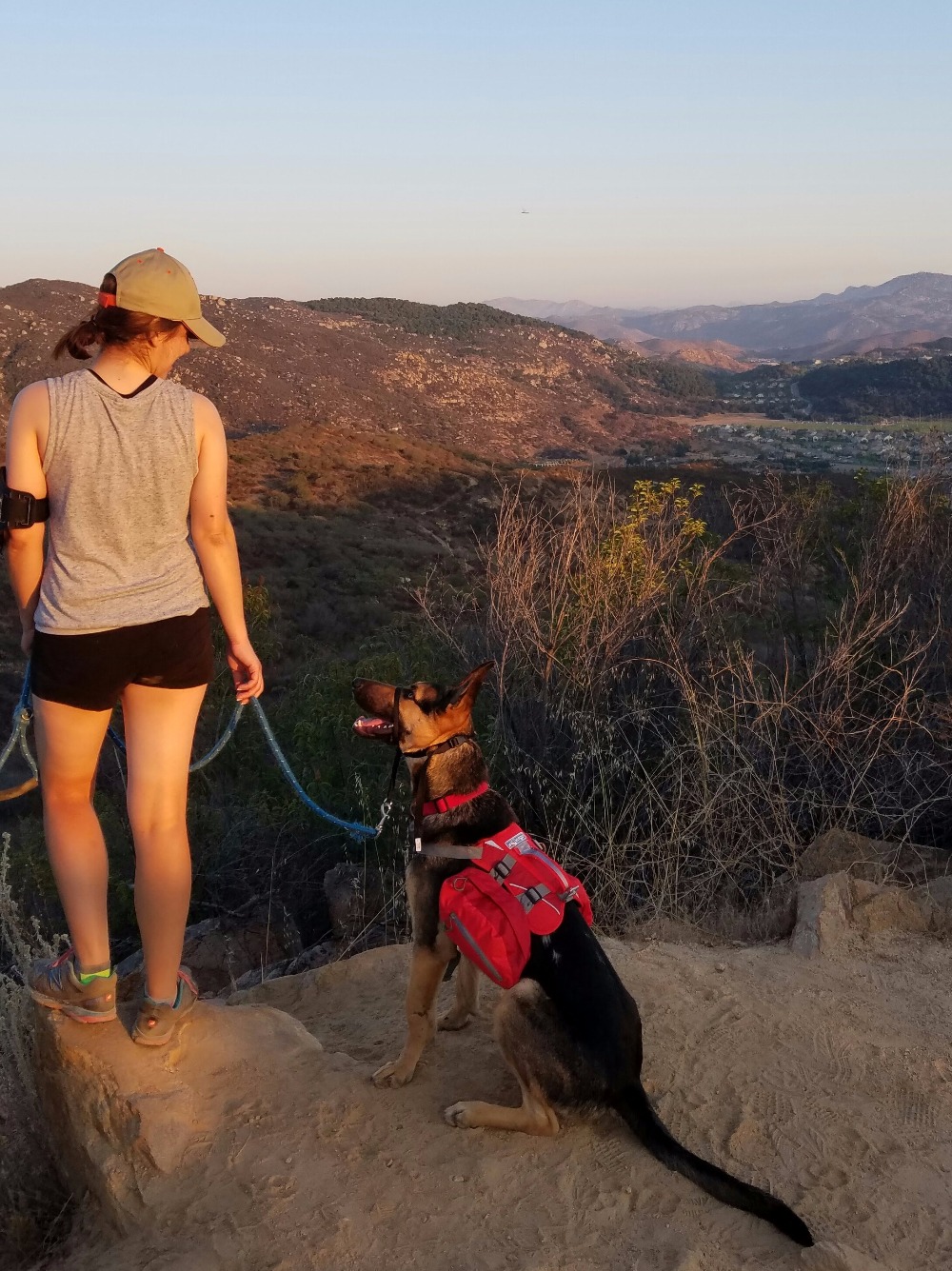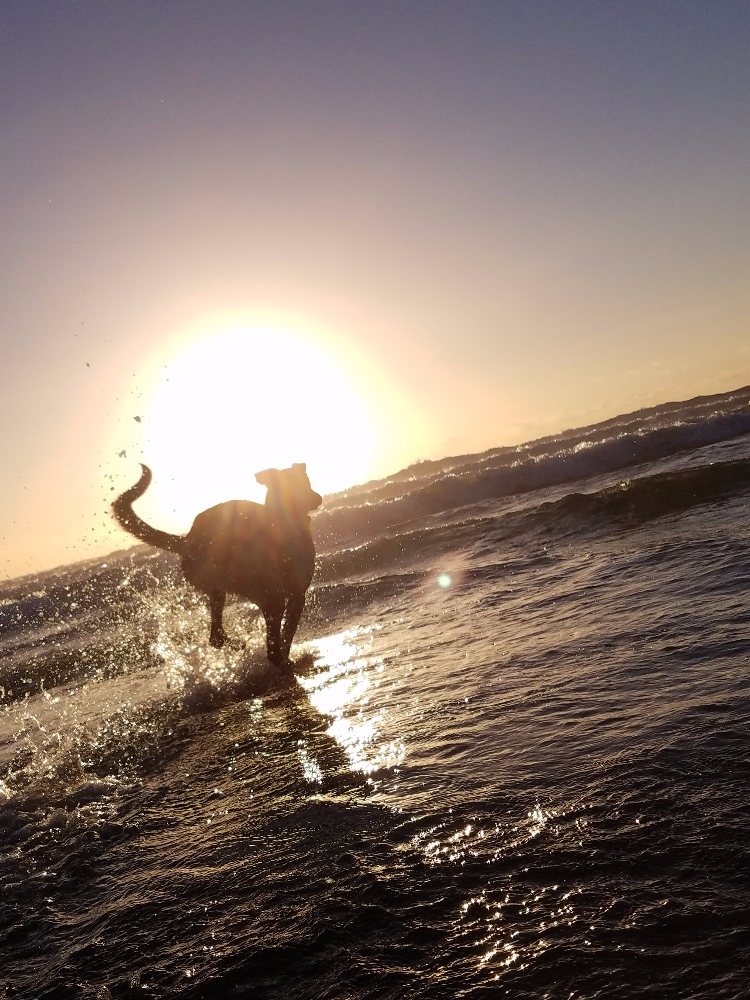 Where We Are Today
Through it all, Roan's leg still remained crooked, growing as it should, but still with a [freakishly] pronounced curvature. There is no pain, since there was nothing prohibiting the growth. The bone is just...well...crooked, giving his foot that signature 80 degree angle that is so scary to look at. He limps a little, but still runs faster than nearly every dog on the beach - with an attitude so forgiving that you wouldn't think anything could be wrong.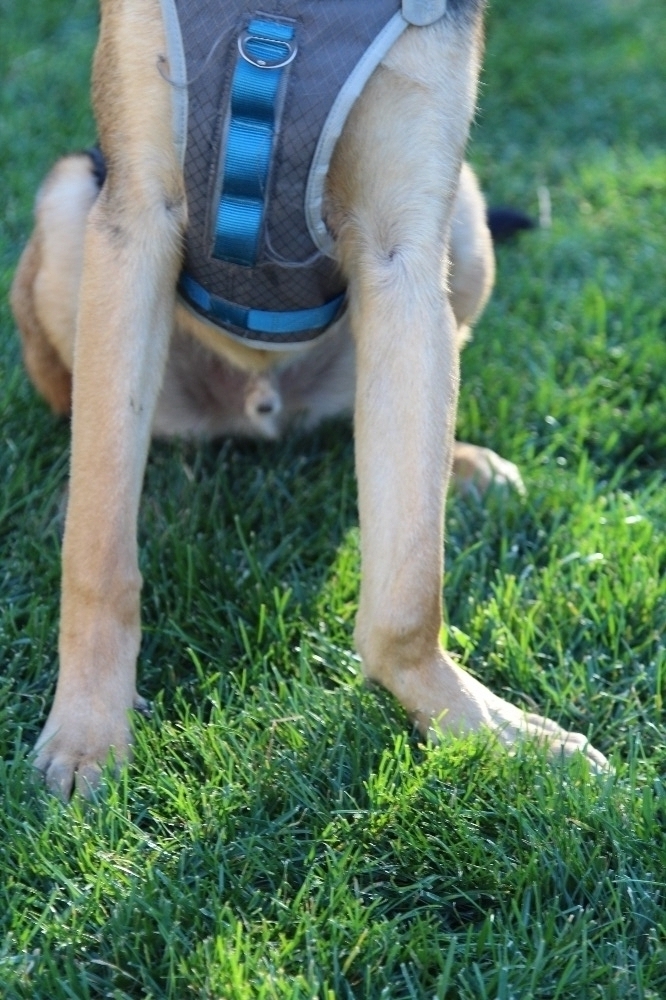 But the time has come to correct the curvature once and for all. He's at the perfect age to do the surgery, and the surgeon is pleased with his progress, especially as the elbow returned to it's normal angle (and stayed that way) just as hoped. 
While he's [clearly] doing just fine on that leg, the long term repercussions of not doing the surgery are scary. First and foremost, he's prone to injury, with his balance severly affected. Additionally, with one compromised leg, he would over compensate on the others, leading to orthopedic issues on his three good legs including osteoarthritis and increased risk for hip displasia. And on that leg, he could face future elbow or shoulder issues --- all of the above possibly leading to surgeries or mobility issues.
The surgery we're going to do is called a rotational osteotemy, and is even more intensive and scary than the first. In this surgery, we cut a wedge out of the radius, straighten the leg, then attach pins to an external apparatus that keeps it all in place while the bones grow straight.
For the next 8 weeks, Roan will be COMPLETELY out of commission, then will need to learn how to run again on a straight leg.
But we need your help. The surgery, even with my discount, is $1800 - largely because of the equipment and apparatuses needed for the surgery itself, as well as anesthesia, follow-up xrays, meds, and rehabilitation. I've been saving, but I'm still overwhelmed and am reaching out to family and friends to help become a part of his future.
Help Roan Run for life, unaffected by pain and deformity.
Each contributor will get personalized thank you note, and if you leave your address, we'll send you a thank you card with some of our favorite pictures. =]
Thank you so much in advance! (And we'll still keep working on those selfies.)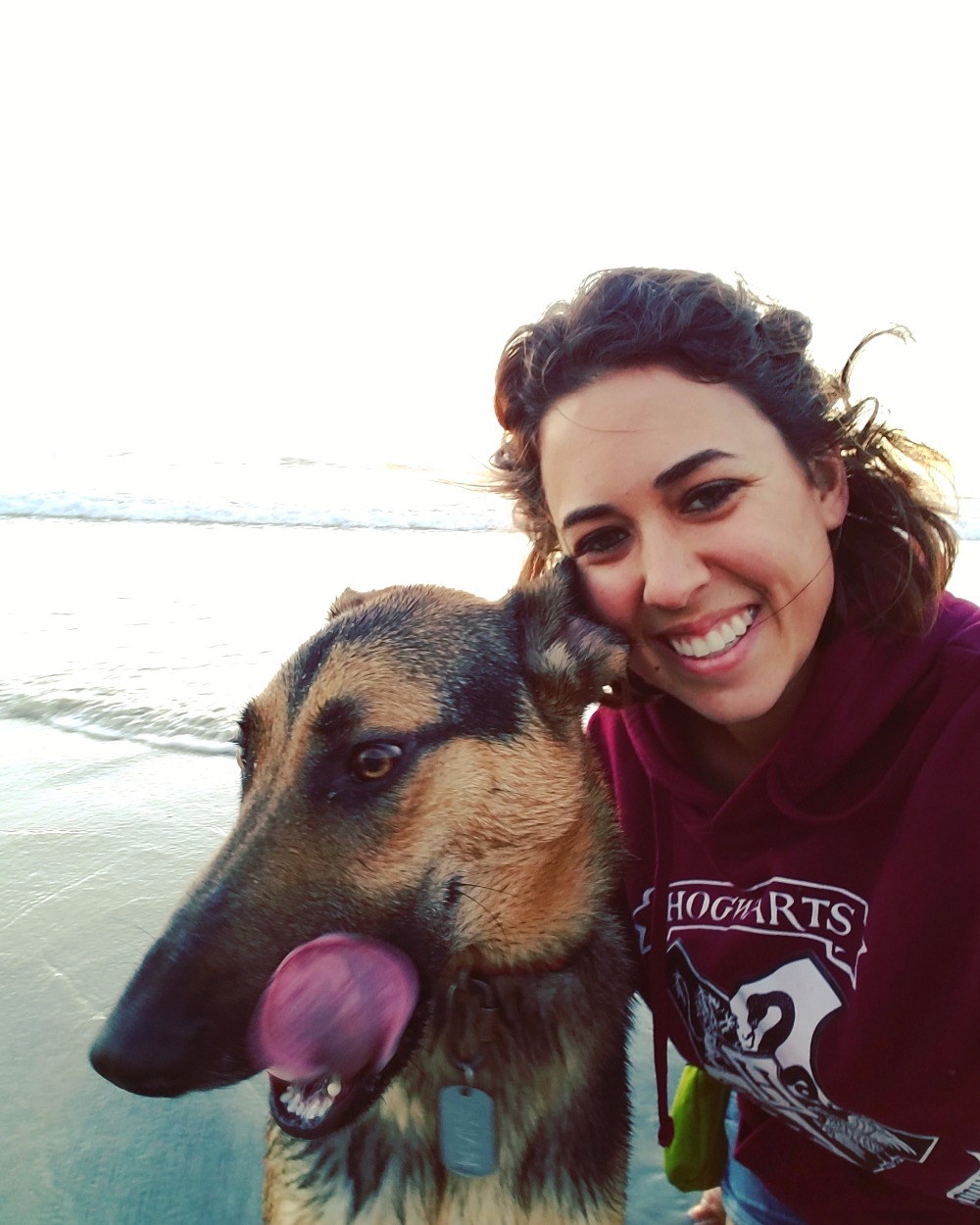 Organizer
Amy Hypnarowski 
Organizer
Valley Center, CA
#1 fundraising platform

People have raised more money on GoFundMe than anywhere else. Learn more

GoFundMe Guarantee

In the rare case that something isn't right, we will refund your donation. Learn more

Expert advice, 24/7

Contact us with your questions and we'll answer, day or night. Learn more