Our beautiful 16-month-old, Arjana Lilli, has been fighting neurological symptoms for the majority of her short life.  Although she had some issues since birth, at 7-months-old  she began having abnormal involuntary movements.  They looked a lot like some sort of spasm or large motor tic.  We took her to the ER at AR Children's Hospital where they ran a number of tests--all were normal except the MRI which showed Chiari I malformation with a tonsillar herniation of 9mm below the foramen magnum.  A second MRI when she was a year old showed it had grown to 11mm.  I don't want to speak too technical here, so feel free to ask questions.  Basically the hind brain (cerebellum) is squeezing out of the bottom opening where the spinal cord is and csf fluid flows.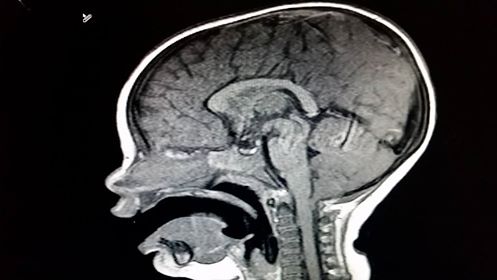 You can see in Arjana's MRI the tonsils (peg like structure) at the bottom of her brain/skull are pushing into her medulla/brainstem.  The tonsils are not supposed to come out like they do.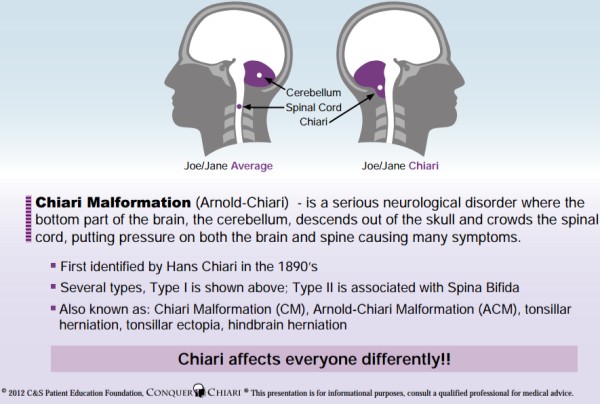 The medulla is the cardiac and respiratory control center, so as you can imagine this is very serious.  The brainstem and cerebellum also control so many other systems and actions, much is still unknown.  To complicate matters, her CINE flow study showed that her cerebrospinal fluid is obstructed in several areas.  This can lead to multiple symptoms also; for her I believe it's pressure headaches and dizziness.   She has temperature regulation problems, going from hot and sweaty to cold and clammy for no apparent reason. Blank staring spells persist, but after two 24-hour video EEGs, seizures have been ruled out.  Unfortunately, recently the abnormal movements started up again, this time manifesting a little different, similar to a shoulder shrug.  It's hard to know what she is feeling since she isn't verbal yet, but I have a pretty good understanding of her body language and she lets me know that she isn't feeling well.  
This is how Arjana spends a lot of her time.  She prefers bare skin on her face as a way of sensory seeking to help her find some relief.   She also spends a lot of time in the downward dog yoga pose as an attempt to restore CSF flow and alleviate symptoms.  It's amazing how adaptive she is without even knowing what it is she is dealing with.  Arjana is trying very hard every day to cope and carry on as the bright beautiful child she is, but she's fighting a very difficult battle.  It's time for her to get the help she needs, and only from one of the best neurosurgeons out there.
It is very unfortunate that Chiari is so poorly understood.  Many neurologists and neurosurgeons dismiss Chiari malformations simply out of a lack of understanding.  This has been a learning journey for all of us.  We are finally in good, knowledgable hands--though they are far from home.  We will need to travel to New York City to get her the proper care she needs and deserves.  There is no cure for Chiari.  The only treatment is "posterior fossa decompression" surgery which is where part of the bone at the back of the skull is removed. There are potential risks with watchful waiting, such as permanent nerve damage, paralysis, and rarely death.   Of course there are risks to the surgery, including the likelihood that she made need it again, possibly several times in her life.  
The neurosurgeon in NYC has recommended a sleep and swallow study which we had hoped to have done in Little Rock and then we would travel to NYC for the appointment with him.  However, it looks like the wait is months long if we do it that way.  The NYC team, however, has prioritized her--which is both awesome and scary at the same time.  Our goal now is to be able to get all the studies done up there and be evaluated by the neurosurgeon.  This would require a longer stay than we expected, and probably will mean that her two-year-old sister, Donjeta, will be traveling with us.  As you all know, I am a stay at home mom, so the attachment with my girls is strong.  I don't think Jeta is prepared for an extended absence.  
All funds from this campaign will be used for Arjana's medical expenses and travel expenses, whether it be this trip or another one down the road, as I am certain there will be many.  I will also be starting a Facebook page detailing her journey so that everyone can follow if you like.  Please share Arjana's story to help spread Chiari awareness even if you are unable to donate.  We appreciate every thought, prayer, share, and/or donation for our precious peanut.  Thank you all from the bottom of our hearts!

Organizer