Shaggy the Puppy's Surgery Cost
I'm Nick and I live in Long Beach California with my wife Kim, son Lukas, and two dogs, Sassy and Sookie. This story begins with a drive towards the Pacific Coast Highway where we noticed three cute little puppies walking along the sidewalk crossing in and out of the street. Kim pulled off to the side of the road so I could intercept the pups and search for the owners. After 10-15 min walking up and down the street in hopes of finding someone who recognized the little cuties, it became pretty clear that these puppies were displaced from wherever they came from. The good news, they were extremely friendly and seemed as though they were cared for. So, instead of leaving them to walk the streets, I scooped them up and we drove them home. Our plan was simple, post to our social sites, put up flyers, call animal control for any missing pets, check with our vet for implanted micro-chips, and lastly, call the shelters for information. We got them settled into our backyard by feeding them and providing water. Sassy and Sookie both seemed friendly but what we uncovered as a result of some of the interactions was a bit surprising. The white puppy is actually the mother of the two darker pups. All females.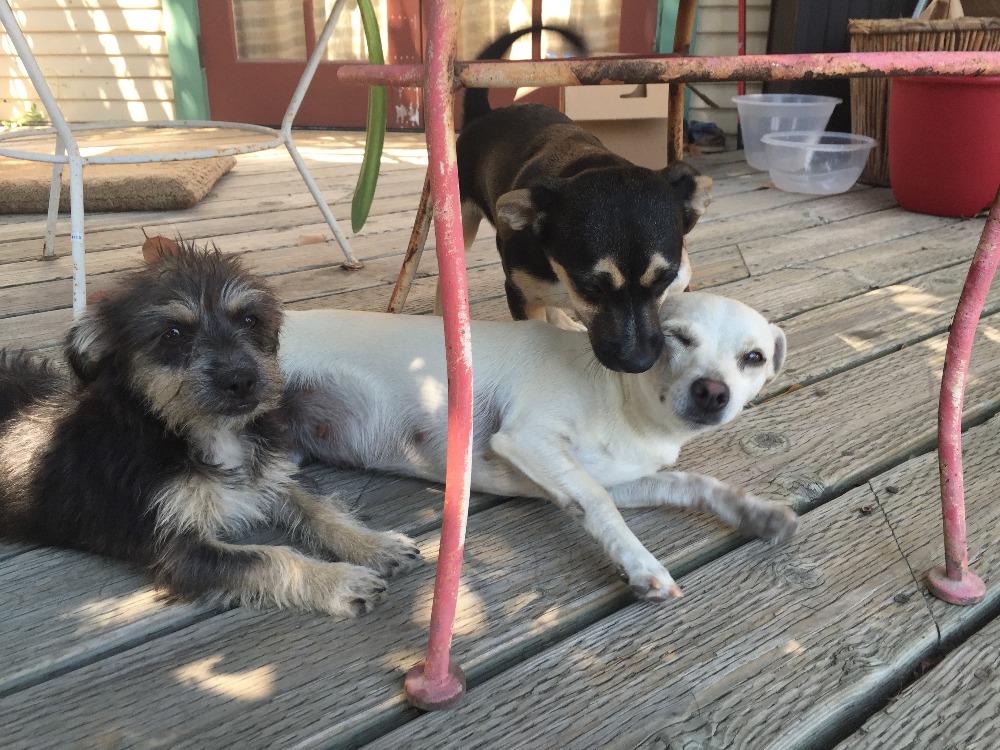 As the night fell upon us, we got them comfortable on our deck just off our bedroom around 8-9pm. Honestly, they settled in better than I expected.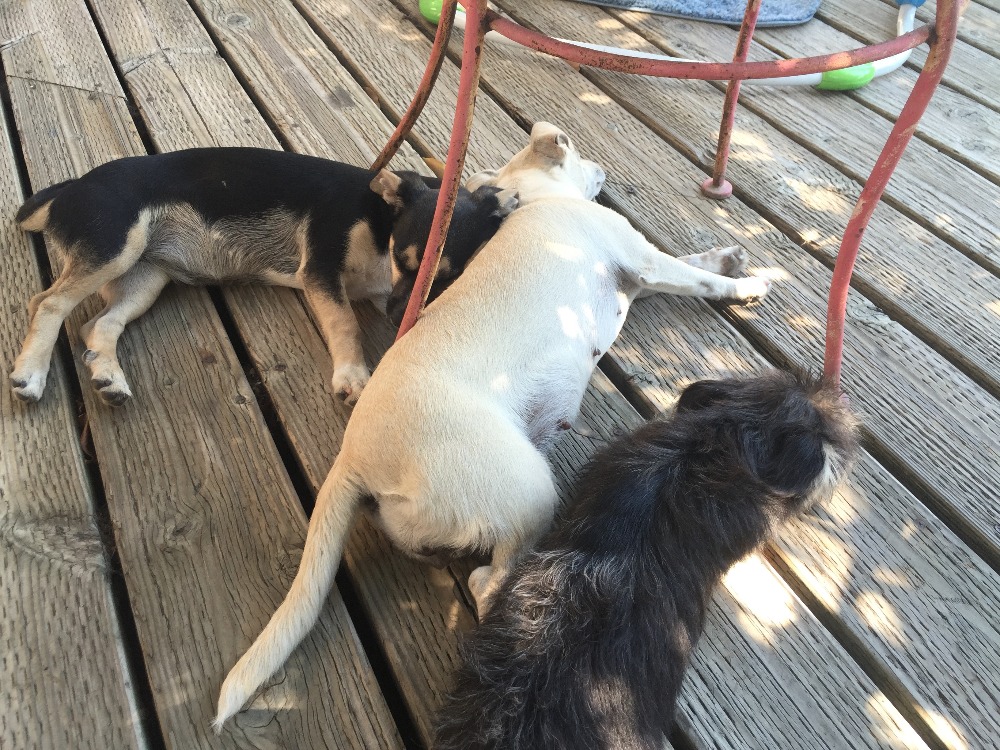 Now to the worst part of the story, at approximately 1:30am this morning the three dogs heard a skunk roaming our backyard and switched into pursuit mode.  Shaggy (placeholder) leaped from our deck (12-14" off the ground) and landed awkwardly in the yard.  She yelped, screamed, and was genuinely in a lot of pain.  Shaggy was inconsolable in the corner of the yard not able to bare weight on her right front leg.  Not a whole lot of options at 1:30 in the morning so we made the decision to take her to 24-hour emergency care facility.  From about 2 - 5:30am I stayed at the ER to help make the best decisions I could on behalf of little Shaggy.  
When I left the hospital I was told it was two fractures on her growth plates.  The good news was that they appeared to be lined up accordingly so a splint was appropriate.  I was told to go home while they get her wrapped up, I left thinking it was the best $640 I've spent to make sure she was no longer in pain and able to make a full recovery.  However, at 8am, I got a call saying that they did reveal a 3rd fracture on the elbow as they began to prepare the splint.  Sadly a splint is not an appropriate form of treatment for a fracture at the elbow.  This hospital also did not specialize in orthopedics for animals so we had to find one that was available to us on Sunday.  With the X-Rays in hand, I was able to reach out to Affordable Animal Care services to see about options.  What we learned was that a pin would be required to correct the fracture and this cost swelled to an additional $2,800.  Way more than what we have to spend, let alone for a dog that we simply just wanted to get off the street.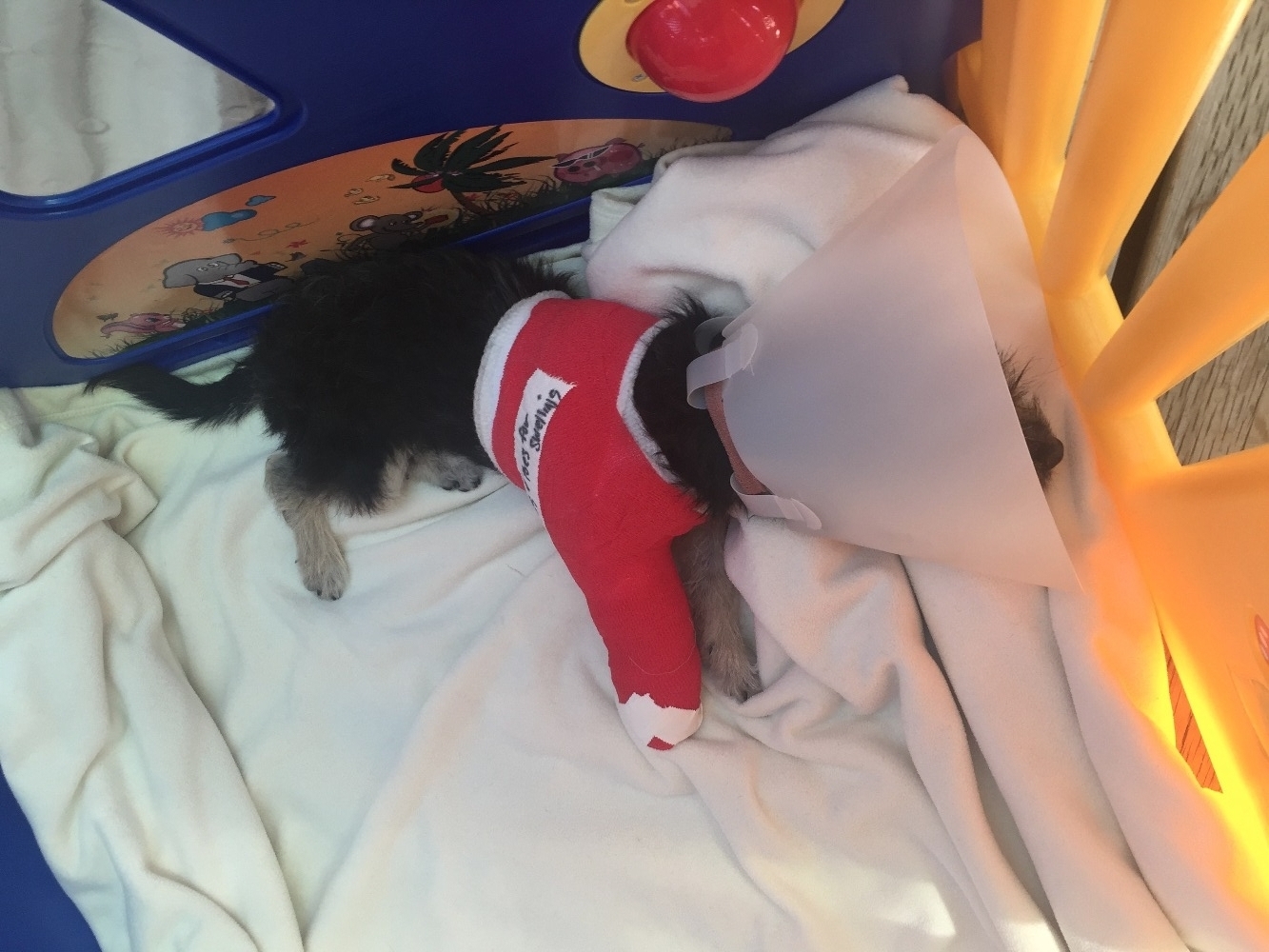 What is so difficult here is that we just wanted to do the right thing for those puppies and get them off a street that could easily have been some of their last moments.  In the end, we have three dogs we need to find forever homes for, one of whom is in a fair amount of pain and needs additional surgery, and on the hook for a sizeable vet bill.  I wish we had the money to spend on this little girl but we simply don't have that kind of money.  I'm using this resource to see about raising funds to get Shaggy the kind of care she needs to have a full and eventful life.  She deserves it.  If you love animals, if you have the means to help, please we really want to afford this surgery and get Shaggy back on all fours.  
Thank you so much for reading our story.