Riley Adams- Loss of sight in 1 eye
It is with much sadness that I write this page to let everyone know of the emotional situation that our family is facing at this time: Our 15yo son Riley had taken ill last Friday the 12th January on the cruise ship that our family was travelling on to New Zealand. What was just a headache when he went to bed that night and then awoke Saturday morning to a golf ball size bulge from his left eye , was confronting to us all.After being seen by the on ship doctors and still being out at sea for another 24hrs, panic did start to creep in.
The plan was made that as soon as the ship docked in Dunedin early Sunday morning we would make our way to the local hospital for them to check his eye. Once arriving at Dunedin Hospital and having a CT scan done our nightmare began...
An eye specialist came and saw us immediately after reading the scan and 5 minutes after introducing himself to us informed us that Riley would need surgery straight away to reduce the swelling to his eye.Trying to make sense of what he was telling us he then produced a scalpel and proceeded to cut into his lower lid- while we were still trying to process what he had just told us. It all moved so quickly from there and in a blur 3 hours later he again was undergoing surgery- this time in theatre for a couple of hours.
The outcome in the end was that he had contracted sinusitis and this in turn blocked the drainage holes in his sinus region. This in turn caused an infection to build up behind the left eye hence causing Orbital Cellulitis. This infection is quite devastating to the eye and the eyes sight, and devastatingly the outcome we all had to face was that Riley's optical nerve has been damaged in the time the infection took hold, and now our beautiful, charismatic, out going 15yo son has lost his sight in his left eye.Its a lot for a family in a foreign country to take in.Riley still had an infection behind his eye and the next risk was of it spreading to his brain and causing Meningitis.He was placed on heavy doses of antibiotics and steroids and anything that needed to be pumped into him. The care that we are receiving in this Hospital is absolutely amazing- he is there number one priority and for this we are forever grateful to the staff.❤️
The prognosis is until his infection is gone and there is no risk in flying we won't be home till then.Our lives feel like they are just spinning around as we try to take it all in.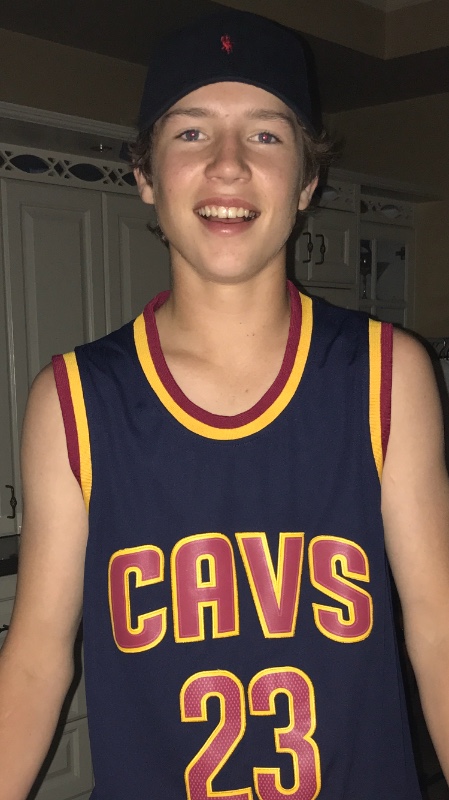 As parents we are just so sad for our beautiful boy at 15 to have lost his sight in one of his eyes- this tragedy is devastating at any age but at 15 it breaks our hearts. He now has to retrain his brain in his 2D perception as he has lost his ability to see in 3D. Depth perception and spacial awareness also has to be taught again on how to judge- his beloved Rugby League/Oztag and all ball sports come into play as well.
Riley approached us 2 days ago on starting a Go Fund Me page after he heard every specialist and doctor that visited him talk about the ongoing treatments that would await us when we returned home. He told us he realised the cost that was going to be involved in his rehabilitation and wanted to have a part in some way in helping. With tears in our eyes as parents we told him don't be silly but he insisted so we told him we would all sleep on it for a few days and process it. Today it was decided to get his story out there and we have told his story in our words and we are just so proud of our sons maturity. We hope that in just some small way people will decide to help in Riley's ongoing costs for his medical and mental care for his future....
Thanks for sharing in our family's story.
Jason and Jodi Adams
Organizer