We are in GREAT need of your help to raise money for our spring vaccines, vet checks, coggins and dewormer supplies for our rescue horses. Because of this year's harsh winter, we saw not only a significant decrease in the number of patrons able to participate in our Ride-A-Rescue trail riding program, our primary source of income! We also saw an almost 50% increase of incoming rescue horses needing our help over the winter! This combination of events has stretched our Rescue's funds.
Every year we have to purchase vaccines, dewormers, dental's and have each horse checked over by the vet along with pull annual blood work. With the increase in horses needing help and the decrease in ability to do trail rides and raise funds this winter, we are reaching out to others for a suportive hand! With winter ending and the weather getting nicer, we have started to see more and more people interested in riding but we are still in need of at least $5,000 to pay for annual vaccines and other necessary medical needs.
Winterfrost Farm, located in Radford, VA offers horseback riding, birthday parties, trail rides, riding lessons, and leasing options, using our wonderful rescue horses. Our unique equine rescue takes in and cares for abused, neglected and surrendered horses, providing food, shelter, training, medical care, and adoption services, while providing a job for the horses and a service for our community. In addition to offering trail rides at our farm, we will often trailer our horses to special events around the New River Valley throughout the year in order to host trail rides and spread the word about our rescue. Proceeds from the trail rides, lessons, leasing, and birthday parties, go towards the horses' care.
Please share with friends and family! No donation is to small, every dollar counts and is greatly appreciated!!
Thank you very much in advance for your love and support of this one of a kind horse rescue!
Please visit our web site 
Winterfrost Farm
 for more info about us, to see our rescue horses, check out our up coming events,  and even schedule a trail ride with our Ride-A-Rescue horses! 
Like us on Facebook 
Winterfrost Farm
Meet one of our many success story horses, Jedediah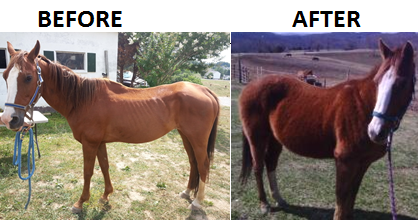 Thank you and God Bless!
"...I am he... I have made you... I will sutain you I will rescue you." -Isaiah 46:4
Organizer
Reagan Miles
Organizer
Radford, VA