Earlier this year, my husband and I had the opportunity and blessing to move out of our apartment into a beautiful single-family home. We had just also received news we were expecting our first child and were overjoyed about the changes happening in our lives.
On March 16th, 2013, my parents were in town visiting and we were on our way to see the progress on the home we were going to move into. My mom then shared with me that she had prayed for our new house to one day include a grand piano, so that not only would our home be a sanctuary for souls to rest, but that I would be able to provide worship and praise for souls to also be transformed through the continuation of music writing and our ministry. I jokingly told my mother grand pianos were very expensive and would most likely be a dream to come true down the road.
Later that day, as we stood in the sun-room of the house we were going to move into, my mom pointed to the corner where the piano would be. Not even five minutes later, I received a phone call from a friend who was visiting the state of Texas for work. He had just met a woman who was trying to give her mother's baby grand piano away to someone who would cherish the instrument and carry on her mother's musical legacy through their music. The house it was currently in had stood empty and rotting for the last 10 years and was about to be demolished. She explained she was desperate to preserve that last physical remnant of someone she cared dearly for, who had spent her life dedicated to teaching music. My family went to the home, met with the woman and her sister, heard their story, and despite knowing that the piano needed some TLC, received her gift and thanked her for the blessing. She, herself, wasn't familiar with pianos, she didn't know the condition it was in, but she knew she loved her mother and the things that she had loved, and with tear-filled eyes she gave me a hug and thanked me for taking the instrument.
On March 29th, we moved into our new home and placed the piano in the sun-room where my mom had gestured it would someday be. I named the piano Elsa, which means "God's promise" and every morning I would wake up and see her and be reminded of what God had done in our lives. Meanwhile, the months went by as we prepared for our little one's arrival and made our house a home slowly, bit by bit. On October 20th, 2013, our daughter was born into this world and it was then we decided it was time to get Elsa appraised and fulfill our promise.
On November 11th, 2013, a sweet, older man walked into our house and met Elsa. He told me he was a pastor and tuned pianos to make ends meet every month. He heard my story on how the piano came into my possession and did all he possibly could to give me an honest answer.
Elsa needs at least $4,000 in work done to her in order for her to be fully repaired and refurbished. He showed me a few sites that I could purchase other baby grands already restored, and although they were nice, I couldn't let go of the 100-year old piece standing in my sun-room. She was God's promise: Not only to me~but to those who would enter our home, our family and friends and to those sisters who let her go so freely. Before he left, he tried to offer ways to preserve her, but none of them could restore her. As the door shut, I felt my heart breaking.
As of today, the piano isn't playable, but it is repairable. There have been days I have just sat and stared at it, wishing and praying for God to just lay His hand on it for a just a few moments, just so I could fill the house with a song of worship.
However, every faith will not go unchallenged. After sharing this story with my father, he suggested that maybe this is where I am supposed to hold fast and start just start believing...believing that, just as the souls and hearts of those without God can be restored, Elsa can be a physical demonstration of that transformation and restoration that takes place in all of us. Hans Christian Anderson once said, "Where words fail, music speaks."
My dream is to hear Elsa play again, and be part of every song, album and recording that we produce from this day forward. I truly believe when she does, I believe this story will be enough to transform even the coldest of hearts.
Brendon and I are grateful for whatever we can raise to help restore her and are excited to see what God does as we embark on this journey. Please feel free to share our story with your family and friends! God Bless!
Brittany M. White
www.btvmusic.com
Here is what was quoted:
Magnus Piano Service Piano Serviced: 11/11/13
Ludwig Baby Grand - serial: 106213
- Rework Action : $600
- Regulate Action : $500
- Restring Piano : $1500
- Replace Pinblock : $700
- Rework Dampers : $250
- Repair Hammer (1): $50

Total: $3,400 (not including tuning ($125/ea), exterior refinishing & sales tax)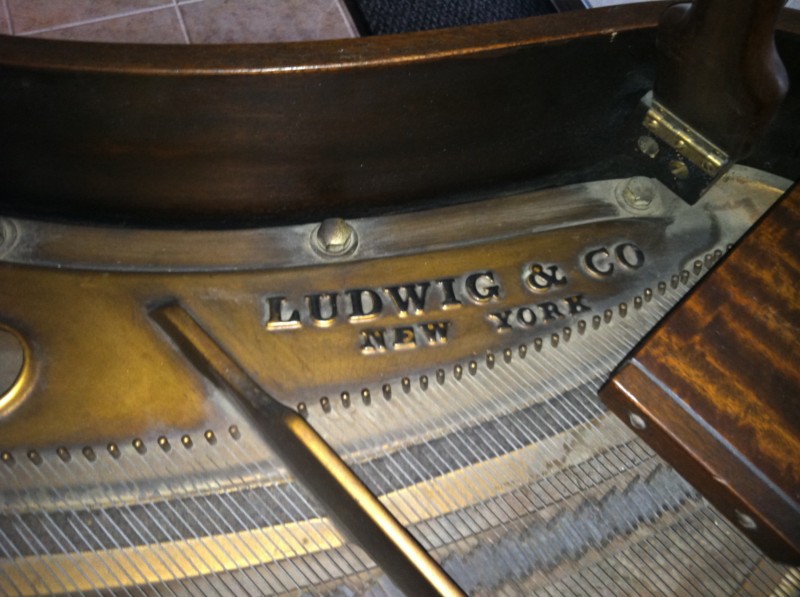 Donations

Organizer
#1 fundraising platform

More people start fundraisers on GoFundMe than on any other platform. Learn more

GoFundMe Guarantee

In the rare case something isn't right, we will work with you to determine if misuse occurred. Learn more

Expert advice, 24/7

Contact us with your questions and we'll answer, day or night. Learn more