*If donations exceed Tobie's medical bills, we will donate the rest to the Carolina Veterinary Specialists as a "scholarship fund" so that the next rescued animal brought into their care has a chance at life without money being a consideration.*




Costs to Date:


ER Admittance Fee - $104

Surgery and Inpatient Care - $1745.41

(Total = $1849.41)
Remaining Expenses/Estimates:
Daily Bandage Changes - $40-$100/each (estimate 7 @ $40)
Outpatient Care (Vaccinations, Medicines, Stitches, Etc) - ~$500
(Total = ~$780)


Grand Total = ~$2629.41




6-14-17 - THE DAY HE FOUND US:
No amount of ASPCA commercials could have prepared me for this. This fella found our home and then our pups found him. I figured he was malnourished, needed some love, and we'd work on finding him a home (already done that once this year). But when I got close enough to look at his collar, I realized it wasn't a collar. It was ripped, infected skin from being tied up by a rope (still embedded) and starved. He broke free and somehow found us.


We know nothing about this guy other than he has a sweet disposition, his previous owner is a piece of shit, and he's officially ours. We call him Tobie. 

He is having surgery tonight and will be spending at least tomorrow at the vet ER. So far, he is expected to recover. You can't say no to something so helpless and desperate for love.


6-15-17 - The Next Day:

We got to spend about 1.5 hours with him tonight. He's super scared but stopped shaking after being in our arms for several minutes. We brought him two "lovies" for his crate at the hospital and gave him my husband's shirt for comfort smells. They are concerned about the underside of his neck because it's the deepest. But he might be able to come home in a few days. Dressing changes require sedation each time due to pain, but they are keeping him doped up on the good stuff. He arrived at 33 lbs but is now up to 37 lbs. He is eating, but can get nauseated. No chip, so previous prick is unknown. However, they saved the rope from his neck and gave it to us. We will be filing a police report with it and asking them to check on an area near us that is suspicious. We just want to make sure there are no other animals in need of rescue. 

They did say they found pieces of the rope in his poopies and the rope around his neck was in tact. This means he chewed himself free and fairly recently. Think about it. That means his starvation happened while tied up, not because he was wandering.


They also took pics during his dressing change (consider this your warning). It is a large wound but it looks so much better than it did when he found us.


He is the sweetest thing and responds well to love and touch. The entire staff caring for him says he's a sweetheart. We're all learning his personality together. I could spend all night holding him. At least on meds, he likes to nuzzle.


6-16-17 - HE'S HOME!

This dog continues to amaze us with the amount of progress he can make in a single day. While he is still absolutely terrified at the ER and is apparently afraid of doorways, he surprisingly didn't need sedation for his bandage change today and he continues to eat. He is also walking now! So the vet thinks he will be happier at home at this point because he is so scared. We have noticed that he loves to be swaddled. 
We will need to bring him back to the ER daily for the next few days so they can change his bandage. After that, the regular vet can do it every other day or so. For how long? No idea. He still might need stitches once the inflammation and drainage subsides. So the medical visits and care are not over, he just gets to be at home as he recovers.
Speaking of, we made him his own little play pen area where he can feel safe and secure, from both doorways and the rest of our herd. We'll work on the potty training later.
Animal Control Update:
An animal control officer has contacted me. He is going to swing through the area that we THINK Tobie escaped from. But without a known owner, the officer cannot explore yards or homes. So hopefully the evidence is obvious. They have pertinent pictures, but I have no idea if this will actually go anywhere. Debating if we should do some non-invasive searching ourselves. 
He survived starvation, freed himself, found the strength to find us, fought through several blood pressure drops during surgery, and refuses to succumb to threats of disease. This dog has a spirit that cannot be broken.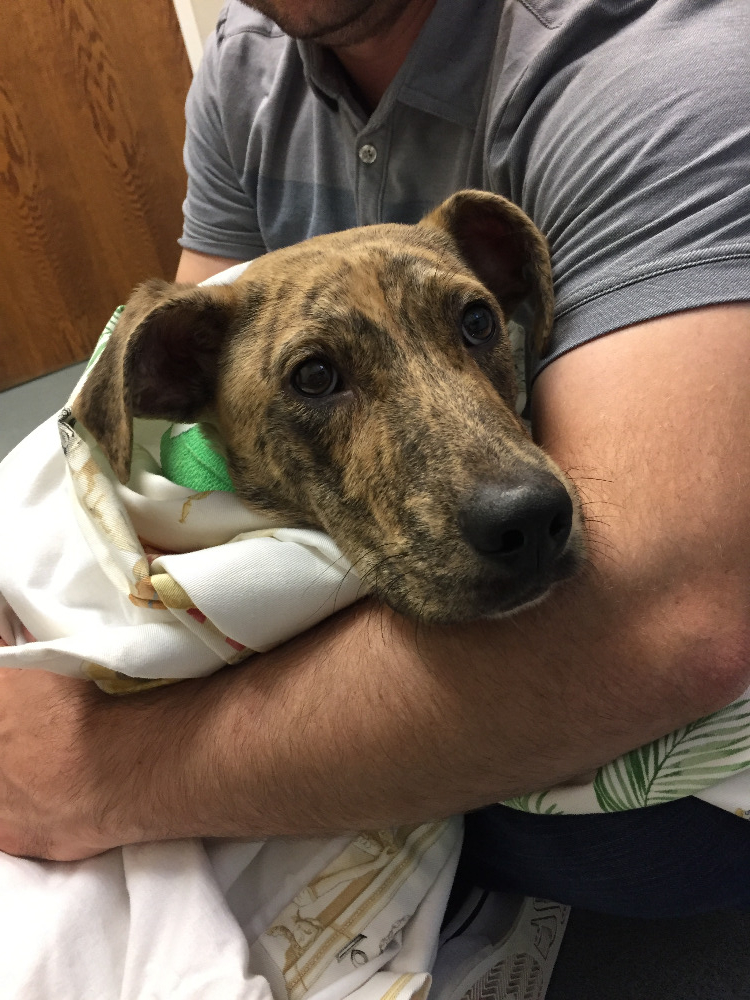 Organizer