Research for Maritime Clothing Book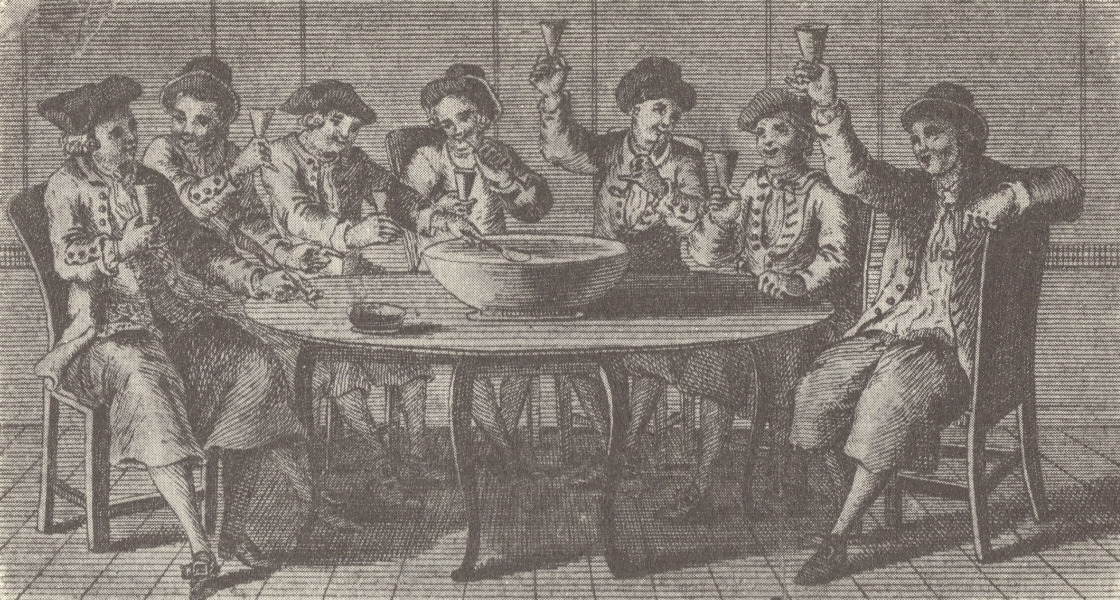 (Period Image of Mariners, c. 1738)
I am David Fictum, historian of colonial, maritime, and pirate history in the late seventeenth and early eighteenth centuries. I use my site, "Colonies, Ships, and Pirates" (csphistorical.com), to help bring high-quality research to academics and general audiences alike.

I wrote a thesis for the Maritime Studies Department at East Carolina University that explained what common sailors and pirates of my period wore.  It also explored what this attire said about their daily lives. At the time, I could not raise enough funds to make a trip to the National Archives in Kew, London, to conduct research. Now, before attempting to formally publish my thesis, I wish to fund a three-week research expedition to London and photograph documents in the archives relevant to my study of maritime clothing so I can bring the best work possible to those interested in maritime history, clothing history, and even pirate history. 

"Slops for the Tarpaulin Rabble" and the Research Trip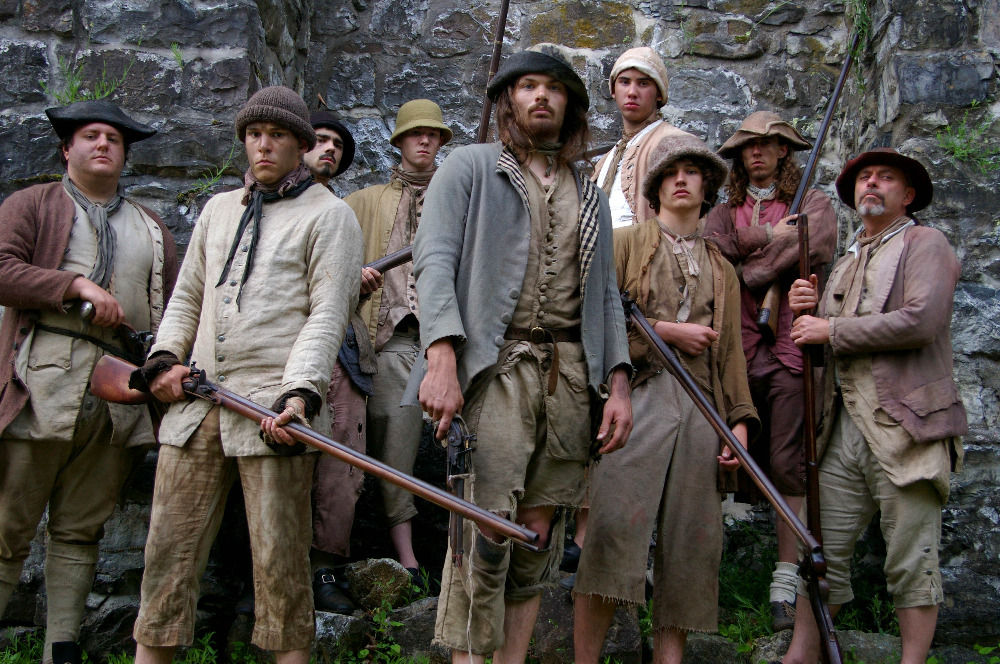 (Picture of my Living History Group I provided research for during my years at Gettysburg College. They inspired much of my early efforts to research maritime clothing.)

When I attended East Carolina University, I had to pick a topic for my thesis. I decided to do work on a subject I was passionate about, maritime clothing for the 1680-1740 period. My research for common sailor's attire, specifically for Anglo-American sailors and pirates, dates back to roughly the time I started my undergraduate work at Gettysburg College. I slowly researched what I could, and even wrote a small piece on maritime clothing for Jamestown Settlement when my living history group participated in that site's "Military Through the Ages" event. At that time, detailed information about what common sailors and pirates of this era wore was lacking. Many people still had plenty of unanswered questions about period maritime attire. Except for a small group of experts, most people interested in this only had minimal understandings of sailors' clothing in this era. Since I had a passion for this subject, and knew numerous people who wanted to know more, I decided to use it for my thesis.


(The Cover Page for my Master's Thesis on Maritime Clothing)

After about two and a half years of research and writing, I successfully presented and defended my Master's thesis regarding the subject, which I entitled, "Slops for the Tarpaulin Rabble: The Clothing of Anglo-American Sailors, 1680-1740." The thesis included chapters on:

-The Methodology and Context to Studying Historical Dress
-Defining What a Sailor of 1680-1740 Wore
-Comparing and Contrasting Sailors' Garb in 1680-1740 to Other Peoples and Periods
-The Early Royal Navy and Clothing Sailors for the Service
-Anglo-American Maritime World Life, As Seen Through Clothes
-Period Pirate Attire and Addressing the Legacy of Pirate Romanticism

There was also an appendix that included 62 period images of sailors and transcripts of relevant period documents. I used a variety of different sources, including probate inventories. The inventories of dead sailors during that period sometimes featured, in addition to the value of goods and debts belonging to the deceased, lists of what clothing these men had while at sea.  I gathered over a dozen probate inventories, taken from those transcribed in published books and those provided by Dr. Ed Fox who visited the National Archives in the United Kingdom to acquire them.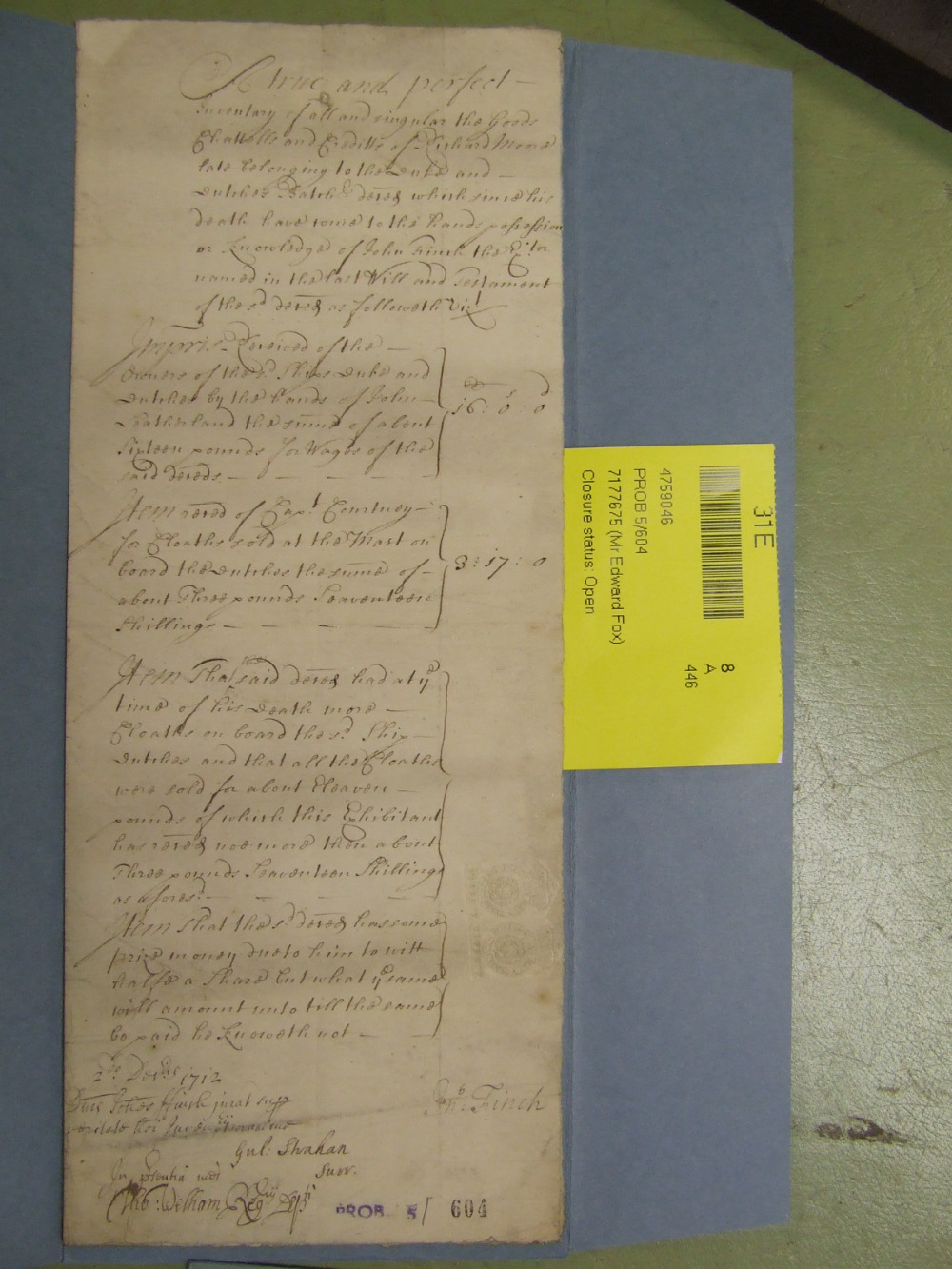 (Picture of a Probate Inventory from the National Archives in the UK, provided with help from Dr. Ed Fox)

While the documents I possessed provided good qualitative data, my work would be even better with quantitative data.  The sources I did gather demonstrate the variety of things a sailor wore at sea. However, having a smaller number of documents is perilous since the unusual among mariners could be overrepresented in this limited number of cases.  To overcome this obstacle, I need to go to the National Archives in Kew and acquire more probate inventories from the Records of the Prerogative Court of Canterbury (abbreviated as PROB).  Using the National Archives online catalog, I identified particular probates to target for photographing while visiting the archives. I specifically targeted cases with descriptions mentioning sailors who died at sea, since the objective is to examine specifically what mariners wore at sea.  As a result, I have targeted 320 probate inventories.  I excluded probate lawsuits, since it is less certain they will be relevant to my goals and take longer to process.  I will also examine other sources relevant to my study, including 47 documents from the Admiralty collection at the archives (abbreviated as ADM).  To photograph these documents will require many days.  This is why I have scheduled 16 days for work at the National Archives for this research trip.  This archive is open from Tuesday to Saturday.  On Mondays, I will gather documents at the British Library and London Metropolis Archives.  From the first day of research to the last is 22 days (with 3 Sundays when no archives are open), with 2 days of travel both before and after the research period.  With this kind of time, I should be able to photograph most, if not all, the documents that I have targeted for research. 

Afterwards, I will then transcribe and analyze the documents I obtain from this trip and use them for at least two purposes.  First, to improve the information I present in my thesis.   While some of the probates will not list the specific clothing sailors possessed at their death, if around one hundred of the probates I have targeted do list garments, I should have enough data to present a more quantitative perspective of what clothing sailors wore during this period.  These probates will also provide additional pieces of useful information. As I found with other probates, the contents of them can sometimes be surprising. The non-probate documents will help improve my work from a qualitative perspective.  Second, it will allow me to split this work into two volumes.  The first volume will be the core text of my work and include the period pictures of sailors from my thesis.  It will not include the section of transcribed period documents. The second volume will feature the transcribed documents originally featured in my thesis and many of the new ones obtained during the research trip.  This second volume will allow a wide audience who would likely never be able to go to London to see the documents themselves.  I will also move the first chapter of my thesis, regarding the methodology and historiography of my work, into volume two.  Once I have included a few additional pieces of information I discovered while working on other projects over the past year and a half, I will work on editing both volumes into a style accessible to both academics and history enthusiasts alike.  After editing my book, I will look for companies to publish my work. If I cannot find anyone to publish my second volume, I will self-publish it, since it is part of the rewards featured in this crowdfunding project. 

What the Funds Go Towards

The $3,611 for this 26-day research trip all goes towards expenses necessary to accomplishing the trip (besides the cost GoFundMe charges and other such expenses related to raising funds).  I plan to make the trip in February or March of 2017, so I will need the strong majority of the funds by Christmas Day (December 25), 2016.  (UPDATED, 01/26/2017: The goal used to be $4,400, when I had to factor in "worst case scenario" situations for funding, but since 70% of the funds were raised by 12/25, I was able to make reservations and purchases to reduce the goal down by $700. Thanks to a few further donations and finalizing the cost of the garment rewards chosen by some of the donors, the goal has been reduced down a further $89 to $3,611, bringing the percentage of funds raised to 87.65%).

The following is a breakdown of the expenses as a percentage of the overall funds raised:

Flight Tickets (16.94%) - I live in the Midwestern United States. Flights across the eastern half of America and the Atlantic Ocean to the United Kingdom are costly. I managed to minimize the cost of the tickets by using Bon Voyage World Travel Experts to find the best price possible.

Lodging (28.69%) - Since I will be staying in London for close to a month, I will need lodgings near the archives I will be visiting. A hotel for that length of time would be quite expensive, so I used Airbnb to keep the costs down.

Food and Other Travel Expenses (33.23%) - While I spend my days at the archives, I will need funds to pay for transportation between archives, food, and other minor incidental expenses. 

Photography Equipment (7.97%) - Transcribing 300-year old documents takes time.  Working with literally hundreds of documents will take a while to complete.  It is more reasonable to photograph these documents and to transcribe them later.  Archives seldom allow flash photography. For the best transcriptions possible, a photo's image quality must be high so a transcriber can more easily decipher the centuries-old handwriting that used ink that  gradually fades over time.  While there are companies that now rent out quality cameras, the cost of doing so for almost a month makes it more cost-effective to purchase a good digital camera that shoots high quality pictures in low-light conditions.  After consultation and research, I found the Canon Rebel T5i to be the best candidate for the job since it was a good balance between price and quality.  Since I am purchasing a camera rather than renting, this means I will own the camera after the research trip.  With that consideration, I am evenly splitting the cost of the camera between my own pocket and the funds raised for the trip.

Reward Expenses (6.31%) - While many of the donors either chose the reward of the digital copy of my research's second volume after publication, some took the option of garment rewards, which is an expense to the project. 

GoFundMe Fees (6.86%) - GoFundMe does take a portion of the money raised on their site.  However, not everyone donated directly through the site, so not every donation to the project had the roughly 8% deduction taken from it.

Rewards for Donating

To encourage donations, I have established a series of reward prizes for donating particular amounts to this project.  They are as follows:  (Update 12/27: Since the main part of the campaign is over, I will no longer be offering non-digital rewards, meaning no more garments or other similar rewards)

Reward 1) $10 – The Post Trip Report – Once I complete my research in London, I will be writing a report regarding the trip.  It will include a detailed log of the accomplishments and my experiences during the trip (mostly on a professional level).  Such a report will be a good guide to anyone who wishes to accomplish similar trips to the London archives, specifically Americans who have never been abroad to the UK. I will also include transcripts of a couple documents I obtained at the National Archives to show what kind of information I discovered. This report will be emailed out to those who donated $10 or more as a digital pdf file.

Reward 2) $20 – Name in the Acknowledgement – In addition to the prize in Reward 1, people who donate $20 will have their name placed in the acknowledgement of both volumes to recognize their contribution to this project.

Reward 3) $50 – A Digital Edition of Volume 2 or a T-Shirt – In addition to the prizes in Rewards 1 and 2, those who donate $50 can will receive either a digital edition of this project's second volume (which contains transcripts of many of the period documents used in this project, including those I obtained on the research trip) after its publication.

Summary and Conclusion

The $3,611 I am raising goes to fund this 26-day trip to photograph hundreds of documents at the archives in London so I can improve my thesis to a satisfactory quality before publication. I need to raise the funds by Christmas of 2016 for the trip to occur in February or March of 2017.  The information I gather from the trip will not only help me improve the information regarding maritime clothing in the late seventeenth and early eighteenth centuries, it will allow for the addition of a second volume featuring transcriptions of many period documents that most people would not, or could not, obtain themselves. 

Thank you to all who donate to this project. This research expedition means a lot more to me than a trip to a foreign country. This work in the archives will allow me to accomplish a significant achievement for myself, completing and publishing a major historical project for a large audience.  While the website I established did bring my passion and research of history to large audiences, a physical publication of the size of my thesis is another achievement entirely.  This overall project is also a means of establishing a firm foundation of understanding within a specific subject. Instead of future researchers and historians repeating the work of gathering the same information on maritime clothing from scattered books and texts, this new foundation I will establish with this two-volume publication will make it easier to make new advances in the study of the early modern maritime Atlantic world and of clothing history.

Organizer
#1 fundraising platform

More people start fundraisers on GoFundMe than on any other platform. Learn more

GoFundMe Guarantee

In the rare case something isn't right, we will work with you to determine if misuse occurred. Learn more

Expert advice, 24/7

Contact us with your questions and we'll answer, day or night. Learn more