On Halloween of 2006, our little Oliver, only 3 years-old, was taken from our own front yard. We searched for him endlessly for the months following - posting signs all over town, going door to door, checking animal shelters and rescues, reaching out to anyone that could lead us in the right direction. We were hoping that someone would scan his microchip and we would get the call. All our efforts were unsuccessful. Every year since, I made updates to our phone numbers and addresses linked to his microchip. 
         Over 9 years later, on November 19, 2015, I finally got the call. A local animal shelter had Oliver. He was dropped off by his "owner" the day before and would be euthanized within 48 hours if nobody came to get him. I rushed over there immediately and braced myself for his condition. My little Oliver is now 12 years old, filthy, and barely recognizable.
       They told me he is blind, mostly deaf, and has a bad skin condition. His foot was bleeding, his teeth are missing and foam coming out of his mouth. He wouldn't face anyone and showed almost no emotion whatsoever.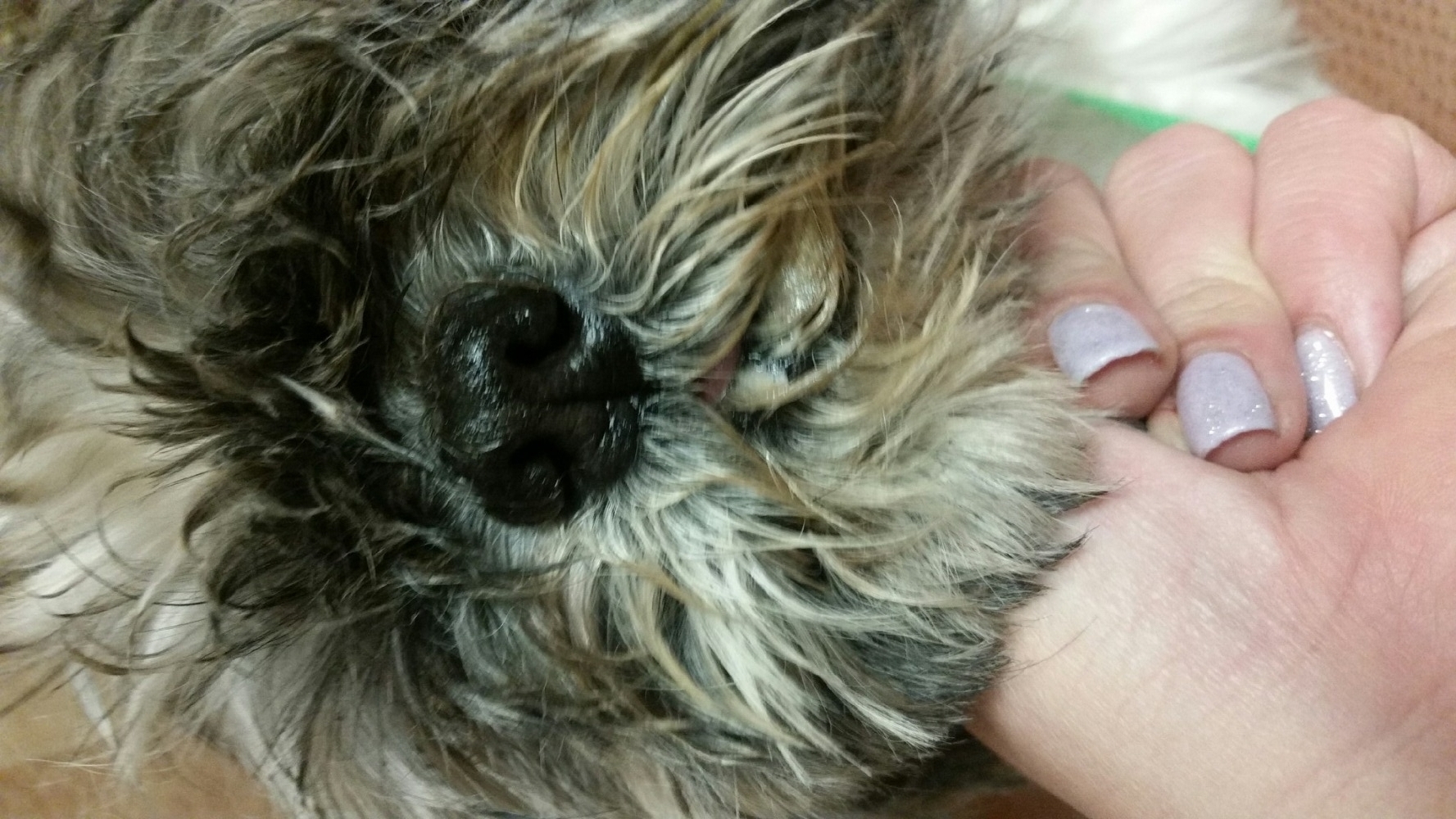 We went straight to the vet where they told us he has been severely neglected for a long time and has an extensive list of health issues. Some include:
- cataracts that are hindering his ability to see
- the three remaining teeth are infected and causing the foam in his mouth
- one of his toenails has been ripped out completely and the other is growing into the bottom of his foot (both are causes for the bleeding)
- a skin condition from the lack of baths and weather condition as they think he was left outside for most of his life in the Las Vegas heat. 
- a severe heart murmur 
- blood work shows signs of a serious liver disease. 
     He needs to see a heart specialist for the heart murmur, an optometrist to perform eye surgery so that he is able to see a little better, surgery on his foot to remove the toenail and stitch up the place where the other should have been, tooth removals, more in-depth testing, and a bunch of medication he will need to take for the rest of his little life. It breaks my heart that anyone could do this to the sweet and lively boy we once knew. He acts almost as if he has given up, but I refuse to. I am so thankful he is home again, however, I can't afford to give him the life he deserves.
      The total for all the surgeries, doctor's visits, procedures, and medications total out to well over $5,000. This is so unexpected financially and we are doing the best we can. I'm not one to ask for help or donations, but I am doing it for him. He deserves much better than this. I want to be able to take care of him and show him what it's like to be loved again. Anything you can give would help tremendously and would not only mean the world to me, but to Oliver too.
"He's a fighter and at least deserves a fighting chance."
               -Dr. Roberts, Oliver's vetrinarian
Craig Road Animal Hospital
5051 W Craig Rd, Las Vegas, NV 89130
(702) [phone redacted]
To see the news story on Oliver, please go to  
http://www.ktnv.com/news/valley-woman-reunited-with-dog-after-9-years
‌
Organizer
Mikah Gesler
Organizer
Las Vegas, NV