Rescue - Rehabilitate - Release
(We are currently receiving donations in Euros. 9€= US$10)
URKU Center needs help to release trafficked animals back to the wild in Peruvian Amazonia. URKU Centre has been working to rescue wildlife from illegal trafficking in Peruvian Amazonia for 14 years. We now need your help in order to increase our impact, rescue animals more efficiently and release them back to the wild!

URKU, with its 3 acres of rainforest, is situated within the buffer zone of the Cordillera Escalera Protected Area, a few miles from the city of Tarapoto, Peru. We are a community center that promotes life in harmony with nature and the responsible management of its resources. We work together as a team of professionals, interns, scientists, and volunteers to rescue animals from illegal wildlife trade and strengthen conservation efforts in Amazonia. Our fundraising campaign, "Rescue - Rehabilitate - Release", seeks to raise urgently needed funds to scale up our activities of wildlife rescue and release. We aim to release 500 animals back to their original habitats per year and build awareness on wildlife conservation by sharing our important message with 25,000 annual visitors at the center.
The Ocelot (Leopardus pardalis), currently a resident of the Centro Urku. (Photo: Andrew J. Clark)
Illegal wildlife trade is a global issue that has a destabilizing effect on both our ecosystems, as well as our society, and hinders sustainable development. It is the third-largest illegal trade in the world and continues to operate at such a vast scale due to the lack of control and weak government enforcement. Illegal traders exploit loopholes and wild-caught animals are extensively laundered, i.e. declared and sold as legal captive-bred animals. 

Peru's rainforests harbor an immensely rich fauna, which is sadly disappearing at an alarming rate. Illegal wildlife trade is the second main cause of defaunation after habitat destruction. Hundreds of species are exploited; parrots, parakeets, macaws, and turtles are particularly targeted for the pet trade and their use as tourist attractions. Other animals, regrettably, have high value as skins, furs, and leathers. 
A beautiful Red-and-green Macaw that lives freely in our center and its surrounding forest. (Photo: Andrew J. Clark)
In Peru, it is estimated that 20 animals are captured illegally from the wild every minute. According to the environmental authorities, more than 5000 specimens were confiscated between 2013 and 2017 just in our province, San Martín. The most common animals were various species of parakeets, parrots, and macaws, primates such as capuchins and Andean saddle-back tamarins, South-American coati, yellow-footed tortoises (vulnerable according to the IUCN Redlist), yellow-spotted Amazon river turtles (vulnerable according to the IUCN Redlist), and sloths.
Nancy Ma's Night Monkey spent a few months in our center before being released back into the Peruvian Rainforest. (Photo: Andrew J. Clark)
Since 2006, Urku Centre has sheltered over a thousand wild animals representing 61 species, of which approximately 30% were returned to the wild. A great majority of them have been wild animals rescued from illegal wildlife trafficking. Wild animals are confiscated by the authorities from people's homes, where they are kept as pets in often inhumane conditions; or are intercepted along the trade routes heading for international markets.

We at Urku work tirelessly, yet despite our greatest efforts and all that we have accomplished to date, we consider our impact small in comparison with the magnitude of illegal wildlife trade in Peru. The running of Urku Center and its animal inhabitants requires a highly dedicated team of professionals, interns, and volunteers throughout the year. Each animal requires feeding twice a day, water, veterinary care, and appropriate shelter, as well as an enriched environment with stimulation to ensure its overall welfare. To sustain our operating costs, Urku Center receives 25,000 visitors annually from all over the world. We put great emphasis on environmental education to create a behavioral shift in the society and reduce the demand and offer for illicitly sold wild animals, as well as the number of persons that take to poaching as a livelihood.
Alfredo teaching visitors about the complex life cycle of butterflies and the work carried out at the butterfly nursery. (Photo: M. Helve)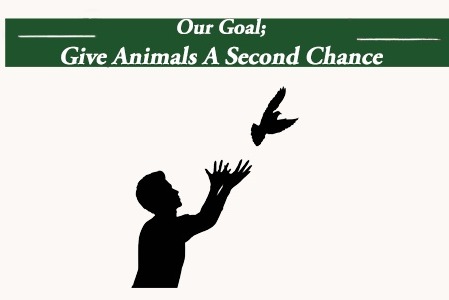 Our alternative vision counts on your participation. We firmly believe that a greater mass of people supporting our mission can be the decisive force to make a change. Be part of the movement to stop the illegal activities that destroy our rainforests and wetlands and deplete populations of wild animals. As Amazonians and guardians of the forest, we seek to restore the lost connection with our natural home. We've therefore turned to crowdfunding, as we believe that our voices in concert can act against illegal networks and political apathy. Urku receives no state or regional funding and proudly self-sustains its operations.

However, we now make a special appeal to take our activities to the next level. Our existing enclosures and aviaries need improvement and renovation, we need to systematize our work to become more efficient and thus be able to shelter more animals. Most importantly, we want to rescue to release them. The fundamental goal is always that the animals rescued from illegal trade are released back into the wild and according to the correct protocol. Unfortunately, this is often unfeasible because the animals no longer have the skills to survive on their own due to their trafficking experience. 
We currently release, on average, 50 animals to their natural habitat per year. We want the number of animals released per year to rise to 500, focusing our efforts on the following groups: parrots, small reptiles and amphibians. Furthermore, there is a pressing need for the monitoring of released animals in the wild, an activity that currently does not exist in Peru.


Your donations will enable us to improve our facilities, enrich the animals' environment, purchase vaccinations and medication, animal handling equipment (workwear, leather gloves, nets, sedation kits, transfer cages), high-quality laboratory tests, as well as tracking equipment and camera traps for post-release monitoring.

We hope that the global community will hear our appeal and show support for our work and mission. Your participation and help, in all corners of the world, are indispensable. Our goal is to raise USD$ 22,222 to scale up our impact. We are eternally grateful for your time, donations and interest, and want you to know that all the money will go directly to the welfare of animals and raising awareness about rainforest conservation. Make sure that Urku is just a phase on the life journey of these wild animals, not the final stop. Help us to Rescue - Rehabilitate - Release
Organizer