25 years ago I pulled a prank and broke a giant window.  My principal, Mr. Clarke, chose to forgive me. Now I am making good on paying the school back ($1994 of my own money) before my 25th reunion - plus any additional money you help me raise.
The backstory:
I attended Montpelier High School in Montpelier, Vermont.  For the most part, I was a pretty quiet kid who rarely came out of his shell.  If I walked by you, I'd most certainly go unnoticed.  Over my high school years I had a developed a reputation for being studious, responsible, and diligent - a true Breakfast-Club-Anthony-Michael-Hall-type.  But late in my senior year I decided to test the limits of what I could get away with because, quite frankly, I knew that no one expected it of me.
The prank:
I hung a giant banner from the roof of the auditorium that read "Live Long and Prosper Class of 1994." Pulling this off required a lot of preparation, brute force, and luck.
The banner was 60 ft. wide and 16 feet tall, and made up of 12 blue tarps purchased at Somer's hardware in downtown Montpelier from Dennis Maranville who, incidentally, was also one of the high school custodians.  He had no idea what I was up to.  He also didn't ask any questions.
I painted each panel of the banner by hand, one by one, in my parents barn.  The placement of each letter was carefully measured using only a tape measure and a marker, and the letters were brushed on using an unused can of boring off-white paint from my parents living room, and bedroom, and kitchen, and bathroom, and dining room, and you get the idea.
Once they were painted, I stitched them all together with a bunch of zip ties and copper wire in the back yard.  I folded it up several times and then rolled it along it's 60ft. length.  Once it was rolled, I realized that I had failed to estimate just how big and heavy the banner would be.  All said, it was probably 4 ft tall and 2.5 feet in diameter...and it was heavy.
The night before the grand unveiling, I had a friend come by the house & we loaded the banner into his vintage Land Rover.  Early the following morning, I met him at the school.  We wrestled the pile of painted tarps through the front door, up the stairs, and into the music room.  At the back of the room was a closet that contained a large metal ladder that went to the roof.  And this is another thing that I underestimated... Carrying this rolled up banner up that ladder, lifting it above our heads, and out the hatch some 15 feet off the ground was almost beyond my limits...But there was no alternative.  Goonies never say die.
We birthed it from the hatch and pushed it out on the roof.  It was dark, cold, windy, and raining.  Great conditions for two 17-year-olds to safely be on a 30 ft tall roof...Not.  There were surprisingly few items to tie the banner to, but I had a lot of rope.  Dennis sold me A LOT of rope.   We helped each other unroll the banner, tie it off, and throw it over the side.  I remember that it sagged in the middle and my heart skipped a beat upon seeing it.  We didn't have enough tension on the sides and it just looked like an unreadable mess.  Good thing Dennis sold me extra rope.  We pulled the banner taught, still in the cover of darkness, and then quickly descended through the hatch, back into the school to resume our day as typical students.
The unintended consequence:
Don't ask me what it was like to pull off such a prank.  I really don't remember.  I know that I walked out front to take in the sight of the banner and watch reactions from students and faculty alike.  I think I was quite proud of it.  But my memory of this accomplishment is fuzzy, because that memory is so vividly replaced by the moment I learned that the banner broke the auditorium window.
It's just tarps and ropes right?  Well, not really.  To make sure that the sign didn't flop around in the wind, I tied 2 liter bottles of water to each of the bottom corners.  Under light winds, the bottles were sufficient to keep the tarps stretched tightly against the building.  But in heavy winds like, um, on this day, they basically got lifted into the air and thrown around against the auditorium walls.  One of the bottles smashed a giant plate glass window and driving rain started to pour into the auditorium.
So I certainly wasn't sitting outside staring at the banner to see this happen.  I heard about it in the hallway from someone in between classes.  I naturally didn't believe them until I heard it from another person, and yet another, and another.  And then I got the unsettling suspicion that it might actually be real.
A lot of worries went through my head. Word on the street was that I'd have to pay for it...which I obviously had no ability to do after buying all of those tarps and rope.  Worse yet, I might be suspended.  And worse than that, my diploma might be withheld.  And worse than that I thought my parents would be so incredibly disappointed, because they expected me to be a good kid and not to break giant expensive seemingly irreplaceable windows on days of torrential downpour.
I knew it was only a matter of time that I got called to the Principal's office.  Yes, It happened.  And no, it didn't take long.
The Reaction:
Our Principal, Mr. Clarke, pulled me aside and we took a long, slow, silent walk to his office that felt like an eternity.  Now, 25 years is a long time to remember real quotations, so I'll paraphrase what he said to me.  It went something like this:
"Mike, I know that you had the best of intentions when you put this sign up on the wall today.  Sometimes we don't think through all of our actions and this can lead to problems.  I'm not going to make you pay for the window.  We'll cover it.  And I forgive you for being part of what caused it to break.  You won't be suspended & you'll still graduate with your class and get your diploma.  Yes, I've heard the rumors too.  Just promise me that from here on out you'll always consider your actions and the potential outcomes of those actions."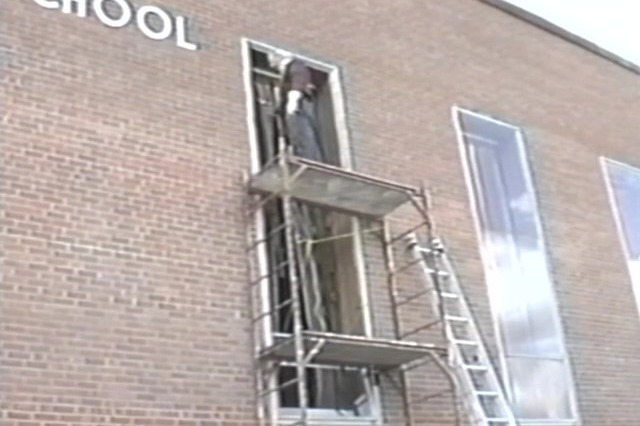 Of course I agreed to his terms.  I felt fortunate that I had built up so much credibility previously in my high school career.  It was quite clear from the tone in his voice that I had just spent a lot of it in this one moment of glory.
During graduation, Mr. Clarke's commencement speech was built upon the narrative of one of his teachers, Mr. Newell, forgiving him for his childhood antics.  To date, I am not sure if I inspired this narrative, or if I was just a convenient supporting example. "Mr. Newell would have loved your class. He would have celebrated your spirit, your individuality, your creativity and, yes, your sense of humor.  He even would have forgiven you a few broken windows."
He went on to say, "Mr. Newell planted the idea deep in my soul that I could, with courage and hard work, make a difference with my life.  I would like to suggest to each of you that Mr. Newell got it right.  That each of you has within you a gift that is crying out to be realized and shared with others.  You are a very special group of men and women.  You can do great things in the world if you follow your hearts and realize the the dreams that lie deep within you.  The faculty and I wish you well as you embark on your personal journey of discovery.  We love you and we will miss you.  And Michael, here's your bill for the window.  Live long and prosper."
And finally:
The bill the Mr. Clarke gave me was symbolic more than anything else. It was for $1,994.00, the year of our graduating class, which honestly seemed like a deal relative to what I imagined the actual cost of the window being.  The bill stated that it needed to be paid by my 25th reunion - a very generous payment plan indeed.
I had pretty much forgotten about this bill until I opened a box of old memories looking for things to discard.  Reading through it, with years of perspective, it only seems obvious that I should pay it back with my own money. 
I received a great education while attending Montpelier Public Schools.  I had wonderful teachers who truly cared about me, and each of my classmates.  It was a unique learning environment that granted freedom within a framework, allowing each of us to try, succeed or fail, learn, and try again with as much support as we needed.
You may not know me.  You may not know MHS.  You likely may not know any of the students or faculty that were there in the early 90's, or any of the people who are there today.  I am far from perfect, but MHS helped instill in me a strong desire to achieve my best, act responsibly, and make amends.  That's why, regardless of whether not you donate, I will be paying Mr. Clarke's invoice in full. 
All money raised through this campaign will be donated to Montpelier High School.  
Please support me in raising money for this truly remarkable school system & surprising them (in a good way) this time around.
I would like to suggest to each of you that, just like Mr. Newell, Peter Clarke got it right too.