Boulder Family Farms 2014 CSA
BOULDER FAMILY FARMS 2014 CSA2014 is going to be our BIGGEST and BEST season yet!!!
We have a new 30 acre farm located just East of Lyons by 2.5 miles and due West of Hygiene 2.5 mies....
Just South of Hwy 66 on N.63rd st.

BOULDER FAMILY FARMS12301 N.63rd St. Longmont CO 80503
JADE SABATINO
(Proprietor)
[phone redacted]

We are grateful for all the support received. THANK YOU!!!

This years CSA will include:
Spinach, Sweet and Hot Peppers, Fresh Herbs, Tomatos, Summer Squash,Winter Squash, Onions, Cucumbers, Tomatillos, Kale, Swiss Chard, Mixed Greens, Potatoes, Beets, Beans, Carrots, Leeks , and a lot more!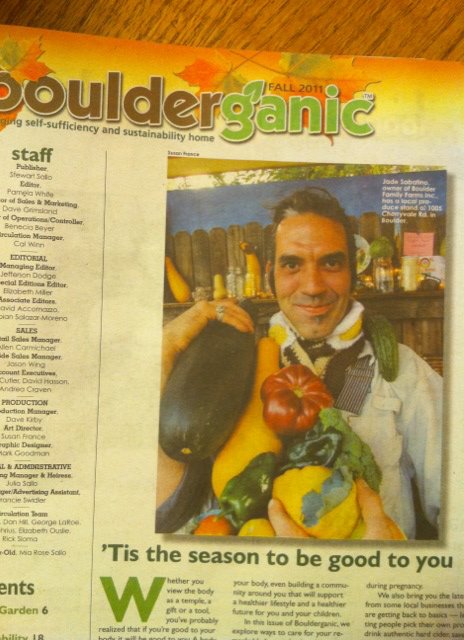 We have a limited number of FULL SHARES as well as EVERY OTHER WEEK SHARES available this season, and also a few discounted work trade shares (please inquire).
Our 2014 CSA will begin on June 5th and conclude on September 25th. Thats 16 weeks of amazing, fresh, local food directly from our farm to your table.
Our FULL SHARE will feed 2-4 people and the cost is $550.00.
Thats around $30.00 a week to feed your family the best food available.
Our EVERY OTHER WEEK SHARE will also feed 2-4 people and the cost is $300.00.
We will also be offering a a WESTERN SLOPE FRUIT SHARE and a FARM FRESH EGG CSA. More details as we get closer to spring.
We've chosen to use GoFundMe as an easy payment option.
I HIGHLY SUGGEST IF YOUR INTERESTED IN OUR CSA, THAT YOU SIGN UP ASAP!!! EVERY YEAR WE GET SO MANY PEOPLE THAT WAIT AND THEN DON'T UNDERSTAND WHY THEY CANT GET A SHARE.
HERES HOW IT WORKS
1.Decide which share will work best for your family.
2.Email us with your request BEFORE submitting any payment at
[email redacted]
(this is to confirm we still have shares available).
3. Well respond within 24-48 hours with our contract by email and any other information for this season.
4. Make your payment either by USPS or this GOFUNDME site.
We will be hosting a number of our
Farm to Table Dinners
starting in mid July. We will also be offering educational classes throughout the season. Just ask to be put on the email list for updates and details.
We lost almost everything in the flood... but not our intuition, our love of life and land, and the NEED to grow FOOD.
We are grateful for all the support received. THANK YOU!!!
Organizer