Reggae Girlz Rise Up
Hi my name is Sandra Brower (Solaun) I am the proud mother of Havana Solaun who plays for the Jamaican Reggae Girlz National Team. The 2019 Women's World Cup in France represented a ground-breaking entry for the small Caribbean island onto an international platform. Their maiden voyage into the competitive arena proved the Jamaican girls are a talented athletic force that had risen to the highest level of soccer.
Fast forward to 2022 - Mexico - World Cup Australia Qualifiers. Once again the Reggae Girlz "Rise Up" to beat Mexico, Haiti and Costa Rica and qualify for the Australia World Cup - July/August of 2023.
The Reggae Girlz success has been supported by the talented entourage of staff members consisting of coaches, therapists and doctors who spend endless hours
ensuring the Girlz are well taken care of.
The journey to Australia in July of 2023 is a costly endeavor and it is my intention to
to allow both staff and players to focus on the competition by helping raise funds to
cover some of the expenses incurred on this incredible adventure Down Under.
STAFF - Standing Above - Head Coach Loren
SECOND ROW - Will - Performance Staff - Sanford - Performance Analyst - Xavier - Assistant Coach - Laurie - Assistant Coach - Ak - Assistant Coach - Twin - Equipment Manager
NOT SHOWN - Devin Dawson - Masseur - Dr. Gillian Lawrence - Team Doc Saundria Codling - Physiotherapist
I sit on the sidelines, a proud Jamaican, an even prouder mother of one of these strong independent professional women who represent their country for pride and love of soccer. I'd like to show our support by raising money to show our appreciation for staff and players for the amazing job they do in representing the country of Jamaica at the highest level.
I"m reaching out to ALL Jamaicans, those residing on the beautiful island I call home, to the Jamaicans residing overseas whose love for their country remains strong and deep, to all the soccer enthusiasts who love the power of a Cinderella story, to all women who know the fight for equality continues. Let's band together and Rise Up to support the Reggae Girlz and staff who continue to make Jamaica proud. "Out of Many One People."
#6 - Havana Solaun with Mom (Sandra/Lee Phillips)
My goal of $100,000 is a starting point - Go Fund Me takes 3% of funds raised, every penny after will go to aiding the Reggae Girlz and staff embark on their Australian Adventure to the World Cup 2023. Testimonials and receipts will be posted on this website to show transparency and give all donors the ability to see where the funds go.
MEET THE REGGAE GIRLZ :-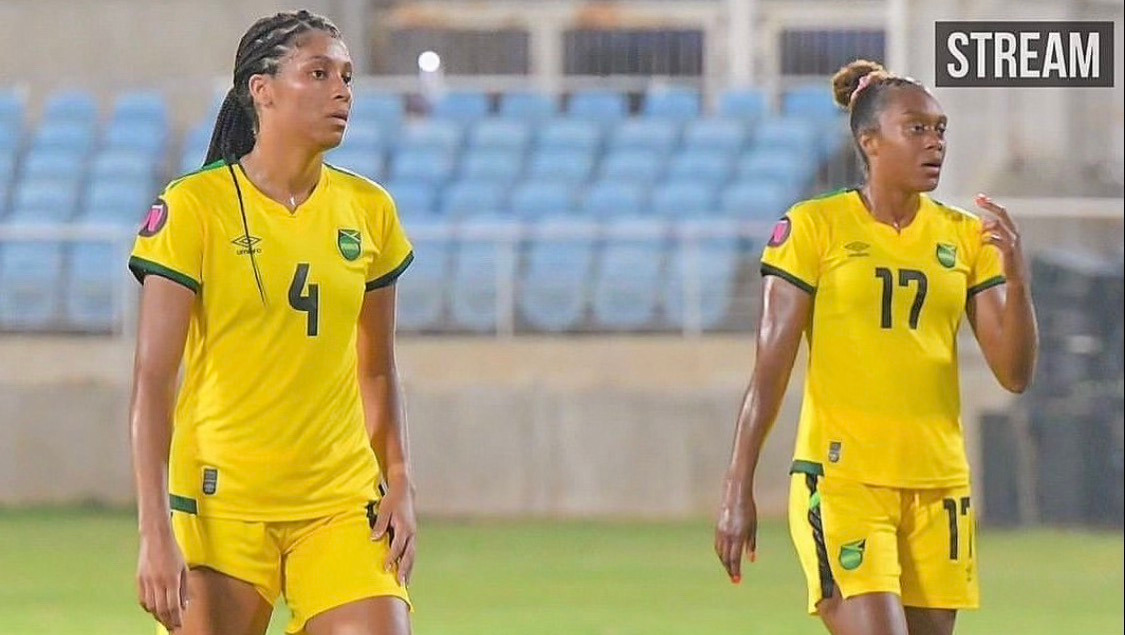 Sister Duo - #4 Chantelle Swaby - #17 Allyson Swaby
# 8 - Drew Spence - #11 - Bunny Shaw
#6 - Havana Solaun
#21 - Cheyna Matthews
#10 - Jody Brown
#3 - Vyan Sampson - #13-Becky Spencer - Paige #16
#14 - Den Den
#20 - Atlanta Primus
#16 - Paige Gayle
#1 - Sydney Schneider
#15 Tiffany Cameron
#9 - Kayla McKenna