Hello..
Thank-you for taking the time to read about my crowdfunding. I have seen so many other musicians set up crowd funding pages.. but I have always worked to try & support my own recordings, equipment, instruments, travel, accommodation ect..However I have now come to a point in my journey where I am gigging full time, and teaching to fund my projects but it's still not allowing me to fully do all that I want to with my music.
I am a Devon girl through and through, those of you that follow me or know me personally will know I'm such a family girl.. so it's important to me to find a balance.. living in North Devon is so wonderful & it's definitely carved me to be who I am but London is full of opportunity for me & at this time, I feel it is time for me to really immerse myself.. I will still come home to teach my lovely students 3 days a week.. and continue to gig locally for all of you that have supported my journey so far!!! to spend time with my family also and have the sanity of being able to walk across the road and be on the beach with my 2 doggies, or sat in the instow arms with some cheesy chips!
Having spent the last week in London, as soon as I stepped off the train in Paddington station all my doubts melt away and everything feels possible. London for me is somewhere I feel inspired & is my happy place. I've made lots of musical friends on my trips to london over the years and I'd love to be able to collab, support them and surround myself with people on the same journey as me..not just keeping in touch through a dm on Instagram because I'm so far away.
This past week I have been working on some new tracks, I sat there in the same room as my producer and almost embarrassingly I was nearly crying, I really had to hold back the tears.. not because I was sad but because I was truly truly at my happiest. I was creating music with someone, who I really admire, who gets me and my vision and believes in it too. I spent 2 days with him, the first day working on a track I wrote 2 years ago (!!!) it's taken that long to even get it in the studio and start work on it... the 2nd day, we co-wrote a track together.. and I have been listening to it literally none stop since I left his studio..as soon as I got home last night, I got my laptop out and made my dad, older sister and little brother listen to the tracks because I was so excited about them. (you'll be able to hear them soon too)!!
This is what it's all about for me... I was so busy & so into what I was doing up in london, I was hardly on my phone.. I sent a few snapchats to my best friend and his response was 'I dont think I've ever seen you this happy!!'.. which is crazy because I'm so totally happy at home, gigging in my local venues and teaching my little students. I really feel blessed for the life I have created for myself.. but needless to say, it's been a lot of hard work..
Since the age of I think 6 I've had piano lessons, then guitar lessons, then violin, and vocal lessons..I trained from such a young age and worked really hard to master my musical ability to the level I am now. We have pictures of me at the age of 1 sat at the piano with my grandad (Who sings himself).. music is so in my blood & I've always had my heart set on becoming a well known singer/songwriter.
I did my first gig aged 10 at Party at The Manor in Fremington, I have continued to play this festival every year since.. every year I see my self develop a little bit more, from a little girl singing High School Music, to a 20 year old little diva (hehe) singing my own songs on stage, and having people in the audience know the words and wearing my merch t-shirts..
Those of you that have followed me for a while will remember from the age of about 12 I competed in singing competitions over the country, performing at so many different venues, including Birmingham NEC and London Indigo O2. I was continually writing songs and performing them anywhere I could (I still am haha) it didn't matter what anyone said or anyone thought, I just believed in myself.. sometimes thats hard but all the highs and lows are worth it, for a feeling like standing on stage and seeing just 1 person singing along to your own song, or going into town and seeing a little girl wearing a Yazzy t-shirt.
Over the years my music has enabled me to be part of so many special things. Being asked to be the patron of ITV Pride of Britain nominee Lisa Wallis-Crockers, charity ChemoHero.. was and is such a highlight and something I'm SO proud of. I wear their necklace everyday, next to the little daisy pendant my mum gave me for my 16th birthday. I've sung for Lisa since I was 11 years old and have known her since I was teeny. I was out with my friend one evening and a girl came up to me and noticed my necklace, her mum had one too as she was under going chemotherapy, and ChemoHero were a huge part of her mum and her families support mechanism..and still are. I'm so proud to be part of something so amazing. Another charity I sing for are The Childrens Hospice SW, I think one of the first times I sang for them I was 13/14 and I went into the house and sang to the siblings and families of the children in the hospice. Now every year I play gigs for them, raising money and being part of the Children's Hospice family. The highlight for me is The Candle of Hope service, where I get to perform for the families that have sadly lost their beautiful children and have been supported by the incredible team at the hospice. We light candles and celebrate the lives of loved lost ones. I'm so honoured to be asked to be a part of both of these incredible charities and they are both charities I will continue to work with.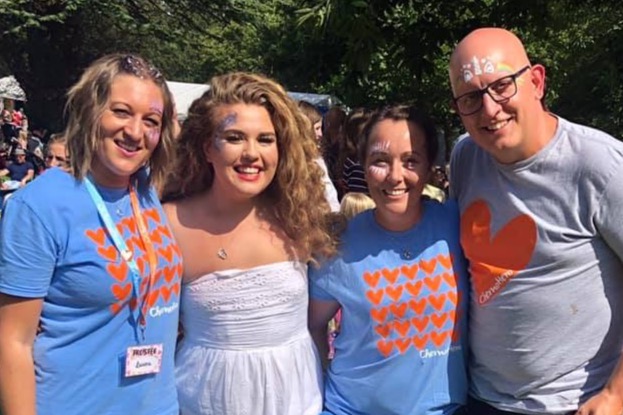 Last year I was honoured to have been invited by Michael Eavis, founder of Glastonbury Festival to support Paloma Faith at Glastonbury Extravaganza performing on the pyramid stage at the abbey, to over 10,000 people. Michael requested that I performed a 45 minute set of original material, which ended in an encore.. simply one of the best days of my life and gave me a real taster of something so wonderful. I felt so at home on the stage.. I'd love to be able to perform on the pyramid stage again one day.. and whilst I have been gigging, recording and writing for 10 years, I knew that was the start of something..
I am SO grateful to all of you that have been part of my journey, whether that's booking me to play in your pub, coming along to my gig, listening to me on youtube, following me online or following me silently, asking me to play at your wedding.. you have all helped me get to the stage I am now & I am so grateful.. music can be such a lonely isolating thing sometimes but I never feel lonely because I have all of you. I really genuinely love all of you..I hope one day I can sell out Wembley stadium and have a golden circle full of all of you and you can come back stage with me and know that you were such a significant part in all of this!
I want to explain why I am doing a crowdfunder and what I want to be able to use the money for. I have roughly budgeted. This would probably last about 3 months.
- Train tickets/travel to gigs & london. (I will need to commute to and from London weekly)
- Rent to live in London
- Recording sessions (hopefully weekly).
- new equipment/guitar/keyboard
- PR, promotional budget.
- Photoshoots, videoshoots ect.
Music is really really an expensive thing. I'm lucky enough to be in a position that I earn from my music, I teach 3 days a week and I gig a lot. However, the majority of what I earn does go straight back into my music. Whether that's a new guitar lead, new equipment, a train ticket, a hotel room, hiring a session musician, recording an album, PR ect.. there's so many expenses and hidden expenses when it comes to music.
I will still continue to work and earn myself to support my projects and what I am doing but I would love to have some support and stability in this. I know that I literally cannot work more than I am, but I don't earn enough to cover rent and costs of making and releasing and performing music.
Now we all know London isn't a cheap place to live, I want to be able to rent a room somewhere safe and fairly central from Thursdays-Sunday most weeks, so I can go to open mics, jam nights, host gigs, go to gigs, collab with other artists, be in the studio regularly, co-write and indulge in the industry. I want a room where I can have someone stay with for the majority of the time, as gigging late at night in london or anywhere for that matter isn't always the safest thing for women and/or men, so to have someone with me, helping me carry equipment and keeping an eye out for me whether its a friend or family member it's quite necessary, especially at this stage.
I am an indépendant artist, so have no one else helping me fund the music I make, so out of this goal I'd like to have a budget set as side for recordings and for live shows.. which can be really expensive. Especially if I want to perform with other musicians, a band ect..which I do!! There are so many things that go into recording, studio hire, a producer, sound engineer, session musicians, release costs, PR..the list goes on. And once you have the music ready, you need photoshoots, music videos and logos.
For my move to london, I'd like to be able to purchase a new PA system, (microphone, stand, leads), guitar and piano which can be left in my room in london, so I can commute on the train/tube without having to carry all of that with me each time, which to be completely honest isn't even possible. I want to leave the equipment I have now at home in Devon, so I can continue to gig down here too.
This budget realistically won't last long but it will definitely help kick boost my vision and really help me further my career and make that next step. I've never asked anyone for help with my music ever, and have always gigged or gone busking if I needed anything.. and although I'm flat out musically, if I want to keep recording and moving in the right direction I need a budget. This last year I've only been able to go to london a few times, and only managed to record 2 tracks in the whole year, which simply isn't enough if I want to keep growing myself and growing a following.. 
I dont really like to ask for help but I realise sometimes doing everything on your own, can be limiting.. 
I'm really really excited about the new music I'm making, I'm looking forward to developing and seeing where this next year takes me.
I love you guys so much and thankyou so much if you do decided to help me! if anyone would like to get in touch with my personally please message me on my social medias @yazzy_music
lots of love Yazzy <3