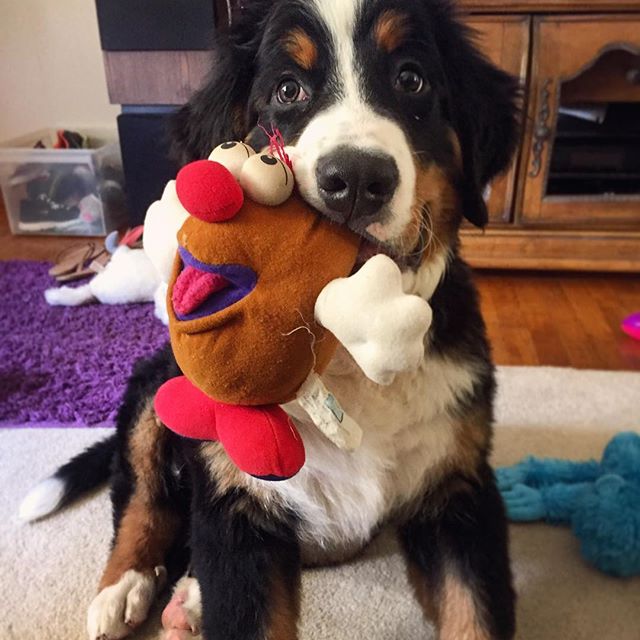 Reagan is an 11 month old Bernese Mountain Dog, recently diagnosed with severe, debilitating, double hip dysplacia. What this means for Reagan is that he will experience increasing amounts of pain and lose the use of both legs within the next year. No more walking, running, hiking or playing for our beautiful baby boy.    Our family has been presented with two options:
1) keep Reagan comfortable for as long as we can . . . until he has no quality of life, OR
2) have a double hip replacement (DHR) surgery done to replace his defected hip(s) and femoral head(s). 
   This puppy means the world to me, my sister, and our mother. He was a birthday/Mother's Day gift for our mom; she has dreamt about having her owner 'Berner' for ten years now.
  Reagan is extremely smart, attentive, and goofy! He shows interest and love to everyone he meets. A walking lump of joy, Reagan always has a smile on his face and has added an enormous amout of joy to our lives during his nine months with us.  We are all heartbroken.
   Any generosity on your behalf is extremely appreciated!! The money raised will go directly towards Reagan's surgery, medication, and rehabilitation costs. THANK YOU!



Momma with Reagan!! January, 2017

Our crazy Reagan, 9 months old!

Reagan loves watching TV . . . especially the WASHINGTON CAPITALS!!


Reagan, 10 weeks old, just a little baby!