In the last two years, Raven Radio has lost 45% of Alaska state funding. We're determined not to diminish local programming, and that's why we're asking for your help.
We aim to raise $5000 by the end of June to keep Raven Radio as vibrant online as it is over the airwaves. If you click, scroll, or stream your way through Raven Radio content, THIS is the campaign you want to give to.
Do you like our stories on
Facebook
, visit
kcaw.org
, steam radio shows, or get our
Twitter
updates? If so, we need YOUR HELP! Please click Donate Now to help keep Raven Radio content in your daily streams!
Are you one of our 10,000 Facebook users? Have you joined the 7,000 others that have visited our website in the past week?  It takes everybody to keep a community radio station alive and we're asking you now to support this communal effort.  
As a Thank You, you'll receive:
$10 Raven Radio Bike Bumper Sticker
$20 Raven Radio Regular Bumper Sticker
$50 Raven Radio Pomegranate T-Shirt (100% Cotton)
$100 Raven Radio Olive Sweatshirt (100% Cotton)
Please put your size info in a comment and we'll contact you for shipment! And Here's Max to model~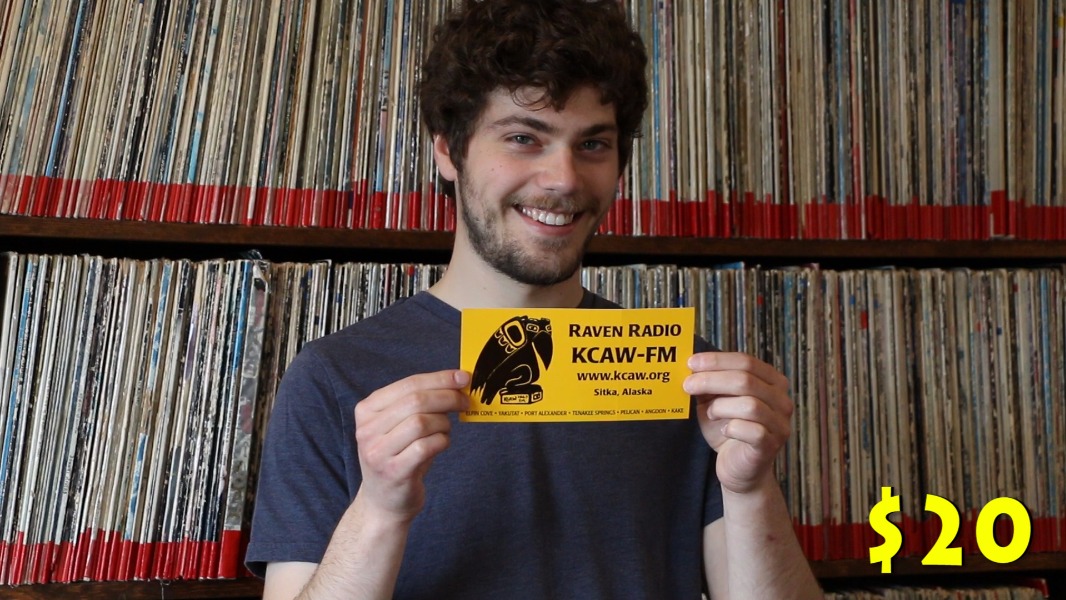 Raven Radio is community radio station in Sitka, Alaska. Since signing on the air March 6th, 1982, KCAW has been representing the diverse and vibrant cultures of the Southeast Alaskan communities of Sitka, Angoon, Elfin Cove, Kake, Pelican, Port Alexander, Tenakee Springs, Yakutat, as well as a wide expanse of the coastal fishing grounds.
Volunteer programming and community involvement have always been key components of Raven Radio's mission. The station currently has more than 1200 members and 100 active volunteers. In the past three decades, we have trained more than 750 on-air volunteers, and, in the past week, more than 75 Sitkans have been on the air.
Video Credits:
Written and Directed by Emily Kwong, KCAW Reporter
Videography and Editing by Cameron Clark, KCAW Summer Intern
Singing by Katherine Rose, KCAW Morning Edition Host
T-Shirt Modeling by Max Kritzer, KCAW Interim Program Director
Including the voices of KCAW General Manager Ken Fate and News Director Robert Woolsey
Organizer
Raven Radio
Organizer
Sitka, AK
Coastalaska Inc (Raven Radio Foundation Inc)
Registered nonprofit
Donations are typically 100% tax deductible in the US.