Help Save Their Family Business
My name is Robert MacDougal and I am here to ask your help in getting my good friends Justin and Michelle Van Dyk, back to where they should be.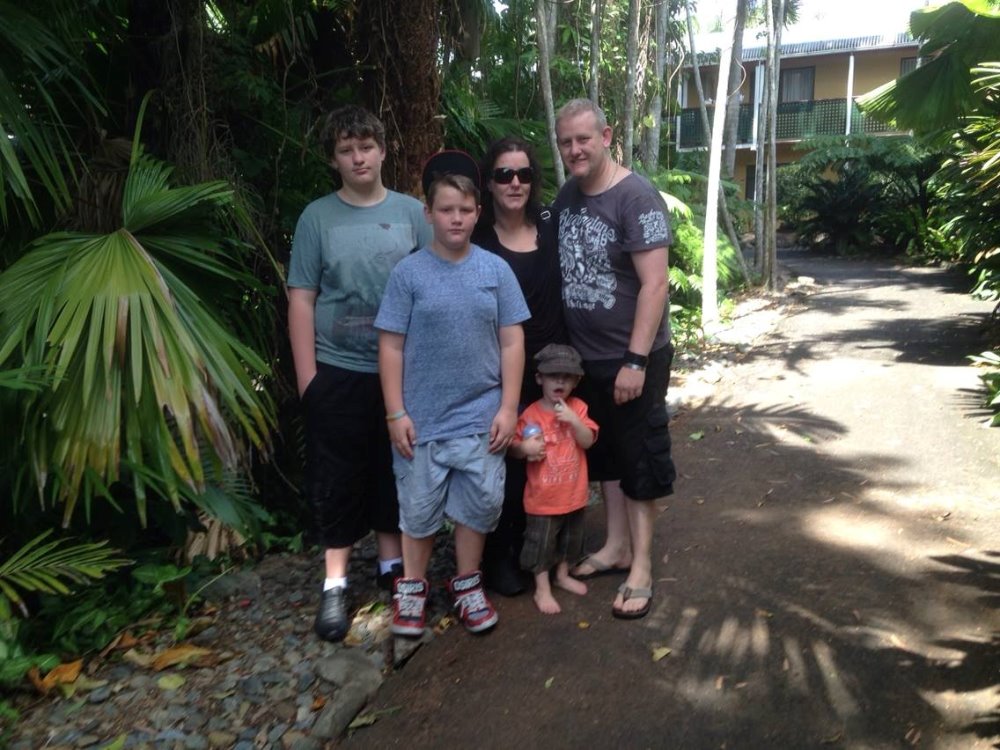 Meeting at 14yrs old, they have been inseparable.  After working as a retail manager and moving around Australia to grow Justin's career and support his family, Justin and Michelle faced some pretty big challenges.  Michelle became unwell getting chronic Pancreatitis after a gall bladder removal allowed stones to pass through and damage the pancreas.  For 8 long years, Michelle suffered chronic pain and endured countless surgeries and ended up being put on morphine to manage the pain.  She attended pain clinics in Brisbane and slowly her life got taken over with severe depression.  Justin gave up his career and become the carer for Michelle and the family.  Over the years, they have endured some pretty dark days but still somehow kept a positive outlook to take hold of life again and move forward together.
Over the years, they struggled hard and have moved forward in so many positive ways.  Michelle has learned to live virtually medication free and manage dealing with the pain and they now give time to the community through volunteer activities and Michelle has achieved her life goal and become a Fire Fighter.  They moved on to start a business to try and support the family.  
From very humble beginnings, Justin and Michelle Van Dyk started a home based computer repairs business from nothing more than the corner of the living room.  Traveling from house to house their reputation grew throughout the town, by giving honest and reliable service with a smile.  After many years on the road and growing in customers, they decided to take on an office space which quickly became a shop front.  
One of the previous businesses in that shop was a Graphic Design / Copy shop.  With their new presence, people starting asking for those services and after slowly growing with the demand, they finally made the call to take on the shop next door and expand.  Before you knew it, they had staff and a large customer base.  After a whirlwind year and a half, they suddenly found themselves working frequently until crazy hours of the morning and family life suffering for it.  
Being the people they are, they gave 150% to clients and always went above and beyond.  Health and family life started to come second.  The sad part is that over that time, they didn't grow financially.  The takings were higher, but so were the overheads and with the hours they were putting in and the stress they carried each day, it got to a point of having to make a life decision.  They decided to sell the printing business and go back to focussing on what they started with - providing great service in IT.
Justin told me, "When we started the business, we never took out any loans or borrowed.  We worked bloody hard and the profit from each job went into purchasing the things we needed to do the work better and grow the business.  The intention was that one day we would have built a business that we could sell for the deposit on our own home.  Sadly the last two years have taken its toll." 
 "As soon as we started to expand, the banks were quick to offer overdrafts and loans.  Suppliers suddenly started offering credit terms.  Before we knew it, the money we had put into establishing and stocking the new part of our business far outweighed the return we were getting.  Selling the printing equipment and removing ourselves from the second part of the shop has still left us with a massive debt." 
So it finally came to crunch time over Christmas and the decision, with advice from outside professional help, was made to voluntarily become insolvent.  10 years of hard work and massive personal sacrifice all over just like that with nothing to show for it.  Their dream after 10 years just gone.
The computer business by itself is profitable and has always managed to grow from the caring service they provide.  So I have decided it's time to help them put the past behind them and with our positive attitude and community support, help them grow again.  We can do it.  Justin still has his tools and knowledge and a loyal customer following.
 With everything they have endured over the years, they have stuck together and somehow kept their heads held high and smiling.  I want us to be able to help them.
So what am I hoping to achieve?  During the lead up to the bankruptcy, they have invested so much into trying to clear debts that personal bills and needs have been neglected.  They are now faced with many debt agreements in place to clear these, but the wheels of life keep turning and they need to be able to get back on top of it to survive and not lose everything.
 They are the first ones there to help a friend.  They are the first to put their hand in their pocket for someone else.  They always have a bed for someone needing it and an ear to listen 24/7.  They have 3 boys to support and just need to get life back in control so they can sleep a little better at night.  These people give and give to everyone and I think it's time for it to start coming back to them.

Organizer
#1 fundraising platform

People have raised more money on GoFundMe than anywhere else. Learn more

GoFundMe Guarantee

In the rare case that something isn't right, we will refund your donation. Learn more

Expert advice, 24/7

Contact us with your questions and we'll answer, day or night. Learn more