Bushfires. Devasting and Destructive. 
May, Ray Sr.'s eldest, said it best, "we can be grateful for:
1. Ray Sr. was not home. He is safe and unharmed.
2.  That we as a family have enjoyed 20 years at this beautiful property
3. The hardworking local lads who cleared a lot of a very rural road that only a few families relied on, just out of the goodness of their hearts.
4. A dear friendly neighbour who managed to save a few special items for Ray when the fire was fast approaching."
Ray Sr. is a quiet man, but always happy to play his guitar or tell you a yarn about his time in his band in the 60's in the outskirts of London, or when travelling the world with the English merchant navy that landed him in New Zealand. 
He fell in love in New Zealand, and made a home with Hettie Netana, soon having May and then moving to Australia where Ray Jr and Anthony would be born. Sadly, 25 years ago Hettie passed away from a sudden diagnosis of cancer. This was a traumatic experience for the whole family.
Ray Sr found some solace when he eventually came upon this property, a quiet space tucked away from the bustle of the cities and surrounded by the green bush and scuttling lizards. His 2-story home was largely self sustained. He worked a garden which had over recent years overgrown itself. Water was pumped from a nearby creek into containers that were then driven up to his home and into his water tank. Solar panels provided all of his power, even enough to power the TV and Satellite dish the government recently decided he qualified for.  A drive down to Wingham occurred every 4 to 6 weeks for canned goods and freezable items. Other than this trip, his few neighbours (a family, an avocado farm and a macadamia farm) and some family and friends would occasionally visit, but they were rather few and far between.
Ray Sr. is 74 years old. He is on the disability pension after being a Telstra tower builder - back in the day when that meant a very minimal harness and climbing 100's of feet in the air to build the phone towers that connect Australia. About 20 years ago he was diagnosed with Renaud's disease, and told he couldn't work any longer, due to his hands having trouble with grip and significant pain and difficulty in the cold.
Despite Australia being Australia, the cold here was becoming quite piercing for Ray Sr. A few years ago, chance would lead to his reconnecting with a friend from England, who would grow into his partner. As she was now living in Greece, this opened up his new cycle of chasing summer, spending half the year there, and half here. 
It was during a flight back from Greece to Sydney this November that, according to neighbours, "40ft flames leapt from tree to tree, heat so forceful that it ignited bushland long before the flames reached it." Ray Sr landed to the news his home was likely gone. The next day, accompanied by two of his children, armed with chainsaws, axes and shovels, they cut their way up to his property. 
(Note, there is no filter or editing in these photo's)
With a few options of family homes for Ray Sr to join, he is not in as much of a catastrophic predicament that many families are in this fire season. However, Ray Sr. has lost his home, practically all of his belongings, and most specifically, his own personal place to tinker with his many tools, sip tea on his wooden porch and enjoy the tranquillity of his piece of space.
Before and After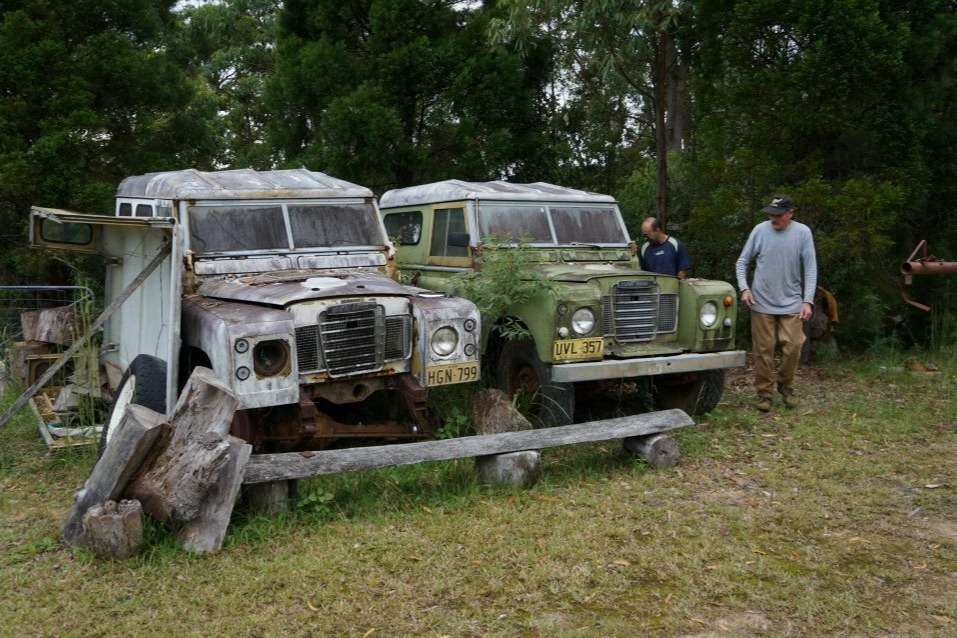 After an out pour of offers to help Ray Sr. rebuild, he has decided he'd like to construct a new home. This gofundme will be depositing straight into Ray Sr's bank account to go towards the construction costs. If you'd like to help with the build, it will be a couple months from now, but we'd love to hear from you, your skill/trade and supplies/tools you may have access to. We are not sure what the full cost will be but any help you can offer would be extremely appreciated. 
Please, note, this page was set up on behalf of Ray Sr. If you know him, you'd know he would never ask for such assistance, but as his loving family we are extending the request in hopes to alleviate some of the crush felt from this loss.
Below is a video depicting more before and after. Music by Ray Beadle (Jr).
Become the first supporter
Your donation matters
See all
Fundraising team (3)
Kimberly Beadle
Organizer
Raised $1,395 from 10 donations
Warriwillah NSW
Raymond Beadle
Beneficiary
May Jenkin
Team member
Raised $14,795 from 17 donations