On January 28, 2021, The Ross Family welcomed their beautiful twin boys, Caleb and Gabriel, into the world.  The boys were born at 33 weeks with Caleb weighing 4 pounds 7 ounces and 17.5 inches long and Gabriel weighing 4 pounds 2 ounces and 17.5 inches long.  The boys join their BIG two year old brother, Aaron!
Prior to their birth, Amy and Adam learned that Caleb would be born with a congenital heart defect called, Hyperplastic Left Heart Syndrome (HLHS) in which the left side of the heart is underdeveloped.  The doctors also diagnosed Caleb with Restrictive Atrial Septum that would need to be immediately corrected upon birth.
The boys were born via C-Section on January 28 at Levine Children's Hospital in Charlotte, NC, surrounded by a team of doctors. Caleb was quickly taken with his team to the cath lab to receive the catheter to open up his restrictive atrial septum.  Gabriel was taken to NICU to begin his process of growing and developing to term.
A team of talented doctors tirelessly worked six hours to save Caleb's life. The doctor told Amy and Adam, this was the most difficult surgery he has ever performed in the 20 years he has been practicing. He went on to say that because of the smaller size due to Caleb being premature at 33 weeks, it was very difficult on his body to go through this trauma. However, he said had Caleb not delivered now and waited weeks, it would have likely had very damaging and devastating effects for him. The extremely difficult surgery resulted in Caleb's oxygen levels dropping to the 30s and 40s for along while which can be damaging to his heart, lungs, liver, kidneys and brain.  Once the stent was placed his oxygen levels went to the 80s almost immediately showing what a little fighter Caleb truly is! 
Meanwhile, Gabriel continues to progress in the NICU and even had his oxygen tube removed.  Amy and Adam have been with their son and even held him for the first time.  
With two children, in the intensive care far from their home in Greensboro , NC it offers significant challenges for this family!  Caleb will most likely be in the hospital for many months while Gabriel will eventually be released before his brother.  Caleb is also facing future heart surgeries once he recovers from the initial surgery to help stabilize his heart and allow the left side to grow.  The hospital is 2 hours away from their home.  They will require temporary housing in Charlotte to be near their twin boys and to provide a location for their son Aaron to be with his parents.  They are also facing the financial uncertainty of housing costs, gas money, food, and medical bills, whilst in the face of a pandemic.  
Amy and Adam's faith is inspiring! Throughout the ups and downs of their journey they have remained steady in their faith of God's love and healing and the miracles he can perform for their son! Their positive spirit, hope, love and fight is a testament to their belief and the strength God provides!
With all this uncertainty, friends of Amy and Adam have put together this fundraiser to provide comfort and assistance during this difficult journey.  The money will be used for lodging, gas, food, medical bills and the care of two newborns.  We are also asking for positive thoughts, prayers and love for The Ross Family and their two precious boys! 
To read more about the Ross Family and their journey, please visit Amy's blog:
www.blessedwithboys.com
  where she shares the story of the diagnosis, birth and updates on the boys progress.  
We thank you for wrapping this family in love during this time!
Gabriel 
Amy and Gabriel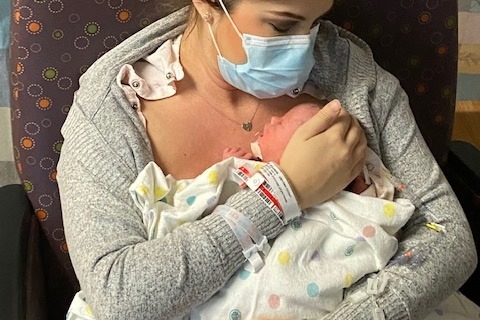 Caleb
Organizer and beneficiary
Tina Miller Lipstreu
Organizer
Kernersville, NC