Raise Funds to Help Abigail and Raf Harris
On January 24th, Abigail and her husband Raf took off for the trip of a lifetime to India.  They were embarking on a 3 ½ week trip to visit the remote beaches and realign their chakras (as Abigail would say :)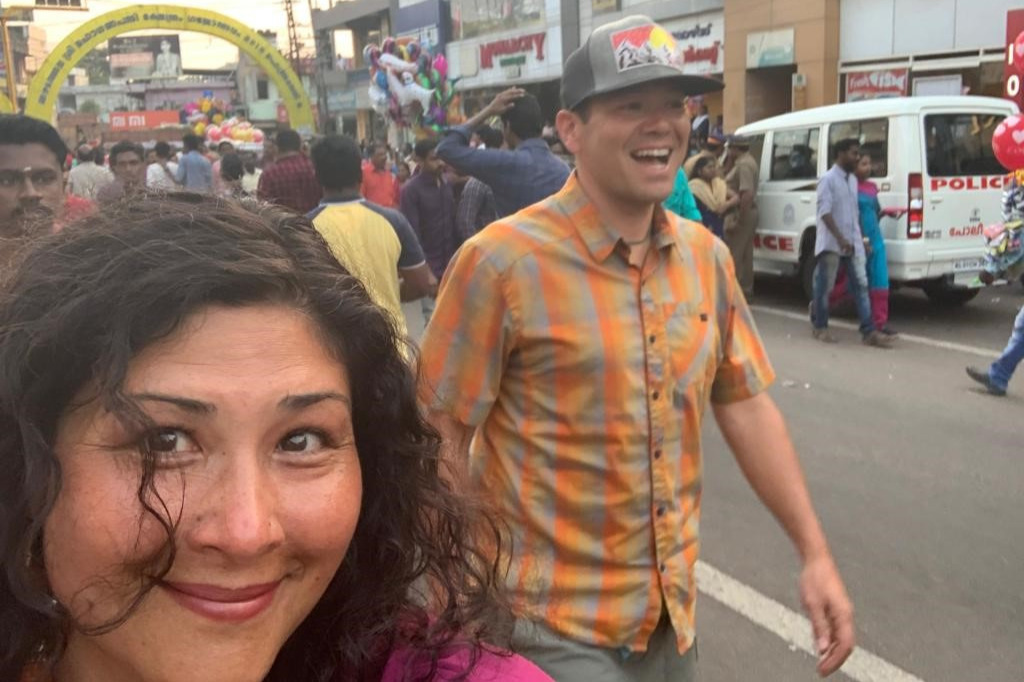 Unfortunately, on Sunday February 10th, near the end of their trip, her husband had a terrible accident.   As Raf body surfed in the ocean, he got caught in rough waves and ended up severely injuring his spine to the point that he instantly became paralyzed in the water.  In Abigail's own words… "He couldn't move and when I finally heard him, I swam as quickly as possible to save him. The waves were big and strong and I had to swim his lifeless body to the shore. I dislocated my shoulder and didn't even realize it until 2 days later because of the shock.  Honestly, Raf would have drowned if it had been a minute later…" 
They are both so lucky to be alive, but the aftermath of this tragic accident has left Raf partially paralyzed. He can't feed himself, or walk.  For those of us that know Abigail, you know she is extremely tenacious and resourceful.  She spent the next 3 days in Kerala State and met with four different institutes/hospitals and five different surgeons to find the best treatment for her husband. Raf had surgery last Thursday, February 14th to relieve the pressure on his spinal cord. They removed two cervical discs, placed two implants and fused three vertebrae with plates.  The hope is that he will regain feeling in his hands and legs once the spinal cord is no longer compressed, but this will take time for his body to heal and an enormous amount of physical therapy, commitment and support. 
Due to the severity of his injuries and the delicate nature of the vertebrae after surgery, the next six weeks are critical for the fusion, and Raf must stay in India to begin his recovery.  The vertebrae are very fragile and the jilting of the rough roads in a car would be too much.  He was taken via medi-vac from the hospital back to the room that Abigail has rented for the next six weeks to begin healing.  She has also hired a nurse to come and help her, as well as a physical therapist to work with Raf every day for two hours on mobility, balance and strength training.
Abigail is one of the most giving and generous people we know, and when we offered to set up this go-fund me page to help with the enormous financial costs she and Raf will face, she said, "As much as it would be a blessing, and the costs of the medical bills, living expense and PT will be astronomical, I feel embarrassed as there are so many other people in the world with so much less…". 
We reminded her about karma and how after all she's done for others, it's time for her to be on the receiving end. So many of us love Abigail and will want to help her and Raf in any way we can.   Aside from all the prayers, good thoughts and positive energy that we can send her way, we can also help by relieving some of the financial burden that she and Raf are facing. Please donate what you can to help us reach our goal. The money raised will go to offset the cost of medical expenses not covered by insurance, living in India during the rehabilitation, paying the everyday bills at home while being away for the extended time, and the extra travel costs incurred.  No amount is too small….every little bit helps. 
Their love story, zest for life and commitment to each other is inspiring.  Through all this pain and tragedy they've stayed strong for each other and maintained a positive spirit. We send her and Raf well wishes for fast healing while they spend the next six weeks focused on his recovery and look forward to welcoming Abigail back. 
Fundraising team (3)
Erin Knirk
Organizer
Raised $5,215 from 48 donations
Seattle, WA
Abigail Harris
Beneficiary
Katy Kennedy
Team member
Raised $800 from 4 donations