"Raise funds for Merewalesi Cakau to get medical treatment overseas"
I attended school with couple, Aminiasi and Ilisapeci Cakau back in Suva, Fiji. Liz (as Ilisapeci is known to most) and I became very good friends and we have since shared in on some of life's highest and lowest points. I've set up this page to help them raise funds for their daughter, Merewalesi, who was born with Beckwith Wiedemann Syndrome (BWS), a rare genetic condition associated to the overgrowth of internal organs and characterised by an increased risk of childhood cancer, particularly, the cancerous, Wilms tumour.

Their Story

In July of 2012, Mini and Liz welcomed their second daughter and middle child, Merewalesi Naibosa, who was born via C-section weighing 4.8kilos.
Mere was not only a very big baby, she was born with an unusual physic and a noticeably large protruding tongue. According to Liz, attending doctors immediately diagnosed Mere with Downs Syndrome (DS) due to her physical appearance. As all blood test results returned negative for Downs Syndrome, the same doctors changed their diagnosis to something different. Not convinced and appalled with the approach taken by the consultants, the couple were adamant to prove the diagnosis wrong, and continued to search for answers themselves.
In 2013, Merewalesi was diagnosed by specialists in Australia, following a 3 day BWS conference that her parents attended in Parramatta, NSW.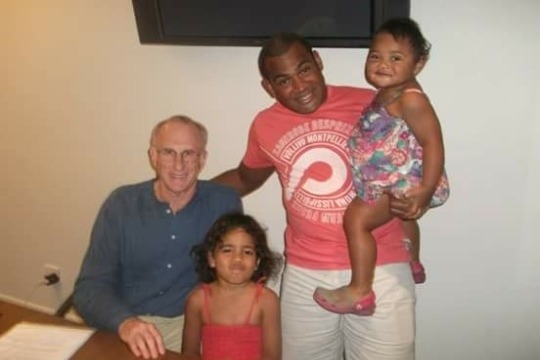 The diagnosis, no doubt, brought relief to Mere's parents who on returning to Fiji were better informed and more aware of their role in monitoring her condition, and ensuring that she lived as normal a life as any other child.
********************************************
3 years later (2016), Mini and Liz were to experience the worst tragedy that any parent could encounter, losing their eldest child, Sophie-Moana, to Systematic Lupus Erythematosus, a chronic autoimmune disease in which the body's immune system becomes hyperactive and attacks normal, healthy tissue. Sophie was aged only 6 years old.
Sophie-Moana (01/12/2009 - 19/03/2016)
Prior to her passing, Sophie had been examined and misdiagnosed by 7 different doctors before doctor number 8 picked up on Lupus and ordered further tests. Unfortunately, the results, came back a couple of days too late.
Reeling from the untimely loss of their eldest child, the couple refocused their energies towards getting Mere the necessary treatment she needs, and are raising funds towards the overseas treatment of Mere's predominantly large tongue (Macroglossia). Her tongue has in the past, caused sleep and breathing problems as well as disrupted the growth of her teeth leaving her with an anterior open bite that her parents fear could lead to malformed jaws and other associated facial and dental problems in the future.
The Plan
Due to apparent limitations with the Fiji health system, Mini and Liz looked at possibly bringing Mere to Australia or even taking her to NZ for her tongue reduction procedure. However, the projected costs involved were too much, and so they've had to look at other options. Their plan now, is to raise funds for Mere to receive treatment in Chennai, India.
Help me help my friends help their daughter!
Your donations will enable Merewalesi, despite her rare condition, to live a better life in honour of her beloved big sister!
On behalf of the Cakau family

Organizer