Rachel Crosby & Family's Blessings
On March 10th, 2016 Rachel Crosby and 2 of her 3 children where in a horrific car accident near Crowley, TX. Unfortunately the driver of the other vehicle didn't make it. Rachel suffered extensive injuries. The children were both in car seats not injured. Rachel has been in the hospital since the accident going on 2 and a half weeks with surgery after surgery. Rachel's injuries consist of right leg: ankle bone snapped out of skin, femur at pelvis is broken. Left leg: hip in socket is broken, knee is broken along with 3 toes. Left arm had a plate put in it, broken sternum, hole in diaphragm which was start of many surgeries. She has had a high fever a few times either due to body adjusting or infection? We are asking for prayers to heal her body and fight infection. Rachel is an amazing woman who loves God with all of her heart. One of her favorite chapters of the Bible is PSALM 121. I felt God lay it on my heart the evening of the accident that this is what I needed to set up for the family. The morning after the accident it was really heavy on my heart. I have been praying about it & I feel that we can help The Crosby Family with financial needs such as out of pocket medical expenses, vehicle expenses not covered by insurance, child care, whatever is needed to take care of the 3 children, unknown future expenses due from injuries/accident. My name is Keri Griffin, I first met Rachel at our church StoneLake at the end of 2012 where she ran children's ministry which later transitioned to StoneWater Cleburne campus. She has given so much to those children and loves them all so much! Rachel was the first person at church who my daughter told that she wanted to let Jesus into her heart. The Crosby's are great people who have a long road ahead of them. Please help give generously to The Crosby Family, any amount is a blessing. I have talked with Michael Crosby, Rachel's husband and he has full access to this gofundme account. If you feel it in your heart to help this wonderful family out God Bless you & Thank You so much for your generosity.
2 Corinthians 9:6-7
Thank you for being so faithful.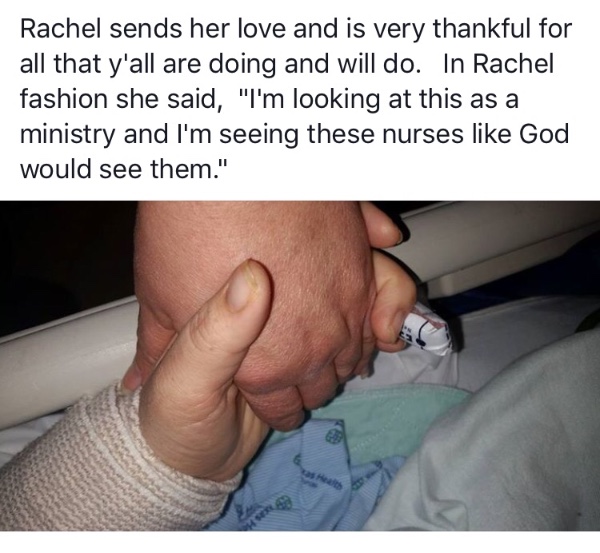 Organizer and beneficiary
Keri Sprouse Griffin
Organizer
Cleburne, TX
Michael Crosby
Beneficiary