Equine Goals & Dreams 2016 project
Please help me provide Korea with the first local to be qualified as an Equine Sports Therapist 
My name is Gaye Gauci-Marchant and I have a non-profit business called Equine Goals & Dreams. Any of you who know me or what I stand for will know that I never ask for myself, I only ask for help on behalf of people who need support to reach their goals within the equine framework anywhere in the world. The money raised specifically covers, airfares, course fees and any uniform, accomodation or tools required to successfully complete each project. We do this for the horses. I don't have the money to make these things happen but I if I see something that can make better changes and better conditions for horses on my travels then I feel it's my duty of care not to ignore it and try my best to fill the void.
Over the last 10 years we have provided over 53 opportunities to people from 8 different countries who are now leaders in their chosen fields...all working within the equine framework. When I say non-profit I mean seriously non-profit to the point of having had many times to fund the shortfalls in raising sponsorship for the people I try to help myself. When I come across anyone I feel that with a small opportunity can make a big difference to the lives of the horses in their area or country I try and make that dream happen. Through the kindness of previous sponsors we have helped many young people gain the skills and connections to change their lives and the lives of the horses they work with. This project is I feel the most important one we have taken on to date. 
Equine Goals & Dreams 2015-16 project: Provide Korea with the first local to be fully trained and qualified in Equine Sports Therapy.
I am trying to raise money or sponsorship to fund the airfares ($2000-Korea-Australia-Korea), the cost of 2 equine therapy qualifications (1x $3750 Equine Myofunctional Therapy- 1x $1500 Equine Photonic Therapy) courses for a groom I identified in Korea as someone who can make big changes given the right opportunity to come to Australia for 6 months in January 2016 to study and up skill. I have just finished a 4 month contract in Korea working daily in the horse racing stables where there are many Australian horses in full work (2400 in total). I loved the culture, the people and the horses and I see a very bright future for Korean racing and equestrian on the international stage. One of the things I spent a lot of time on was identifying injury or soreness in the horses and then applying acupressure, acupuncture, muscle release or massage to these horses to give them some relief. There is no full time equine body therapist in Korea as yet available on a daily basis to assist the trainers with these horses. The moment I saw Sulhee Jung put his hands on a horse I knew he was special and could not ignore the fact that here was someone that could easily become a master of this art. He has all the right qualities to be the first equine therapist; he is passionate about learning all he can about equine sports therapy, he has a special empathy for horses and his family (wife and 4 children) are excited for him to come to Australia alone for 6 months in order to make this life changing dream happen.
The only things standing between him and his new career is opportunity, airfares and course fees.
Well we have one already covered and that's opportunity.
..the rest I am trying to raise right now.  Between us all I am sure we can make this happen. There is no funding available for things like this believe me I have tried to find some.  As Australians we sell horses to many other countries but do we ever consider helping the people on the other end with their care? Perhaps it's about time we started as we are the lucky country and our local horses have access to all the services they need for health and welfare instantly but not all the other countries have this luxury as yet. I know if I was selling horses to other countries I would want to ensure they could be provided with all the services they need. Please help me provide Korea with the first local to be qualified to provide these services for the horses there.
He can then teach others in their own language to do the same. 

If you can help in any way then I thank you on behalf of all the horses who will benefit from the outcome.
If you can't help then I thank you anyhow for even reading this story. I wish I could wave a magic wand and make these projects just happen but I can't. I didn't go to Korea looking for an EG&D project I was there to work and this just unfolded.
Once again I am standing at the bottom of a huge mountain looking up but I don't give up easily.
|Please feel free to email me with any questions: [email redacted]   THANK YOU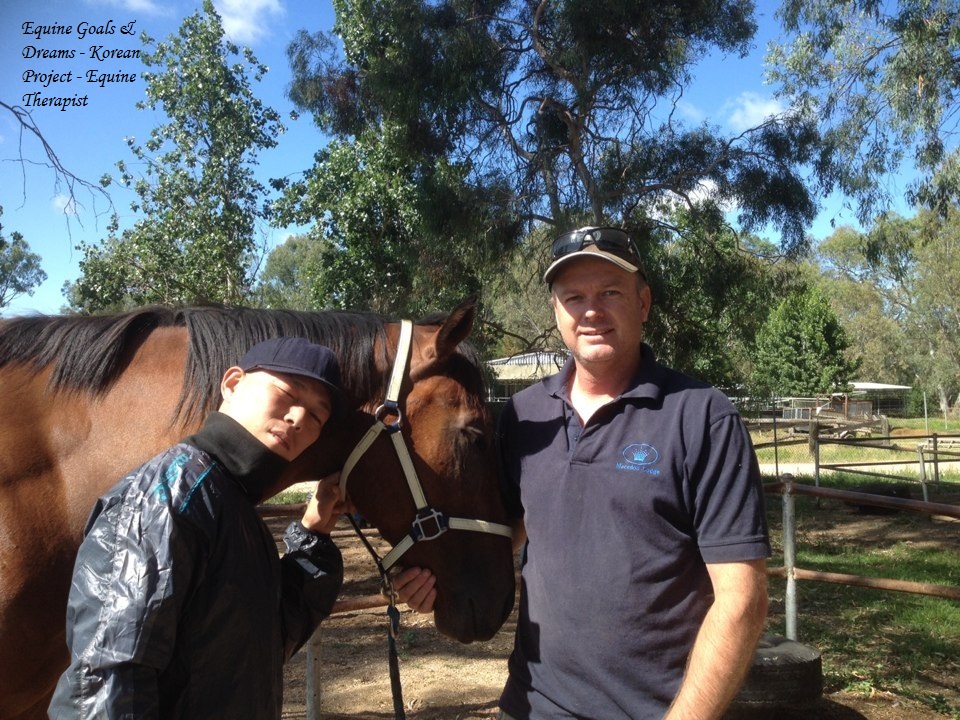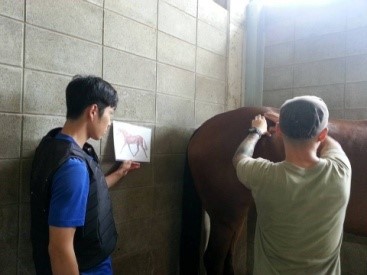 Organizer