Help me to help the world !
Hello!




My name is Ines
, I'm 27 and I come from Cameroon, a country in Central Africa which actually faces war, political crisis, and death.
Since High school, I cherished the dream of being a lawyer. But in my country, the bar exam happens every 7 years; if you miss it, you will have to wait 7 more years or just say goodbye to your dream. I moved to Vietnam almost 2 years ago because I had no other choice; if I wanted to achieve my dream, I had to.
In Vietnam, I met the friend of a life, Eli. Eli is my boss and is a wonderful friend. I told him I always dreamed to be a lawyer and that I ran out of my country to achieve my goal. He helped me apply to Duke Law School's LLM in Environmental Law; the school, not only I was admitted, offer me a full tuition for a year. I shall start this fall.  I feel so lucky; however, it might just be a dream if I cannot raise the rest of the money the school asks for my living expenses, about US$20,000. 
What brought me to Vietnam?
I came to Vietnam to complete her Master's degree.
Paris 2, the first and best University for Law studies in France had an international program in Vietnam, which provided me a pathway to achieve an international quality law degree and at a cost which I could afford. Vietnam is where had the first chance to realize my dreams.   But Vietnam became much more than just a great place to study.  It was a country where the people always smile and enjoy the company of good friends and good food.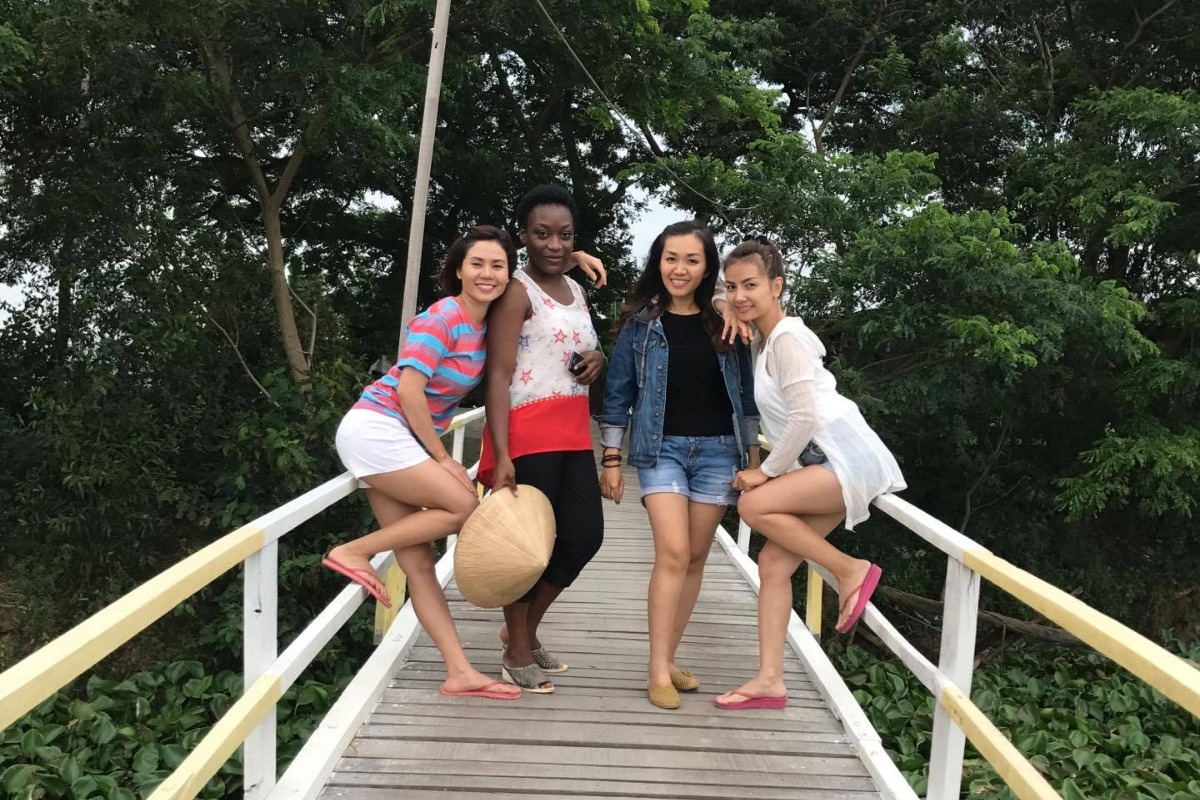 What is the US$20,000 for?
Duke Law School, beyond all my expectations and hopes, granted me the full-tuition on Merit Scholarship which covers the US$68,000 tuition fees. But I still needed another US$20,000 to cover my living expenses (rent and utilities, food, books, health insurance). I try to stay focused everyday to seek support for my  cause and to pray that I can fulfill my dreams. It will break my heart if miss this opportunity of studying something I'm really passionate with and my dream of being a Lawyer. I am so desperate, I lost sleep. At this moment, just one person agrees to help me find the money and that person, is Eli. 
Eli is an American Lawyer who has been working in Vietnam for 18 years. Eli is joyful, friendly, and easy-living person. I was so lucky to meet him. He interviewed me when I applied for the internship position in the law, where he is a partner. He felt really interested in my story, my country, my ambitions and passion to succeed.
Unlike other lawyers I met in my life, Eli has me by side his all day long, to show me how he works; he takes me to meetings with clients; he assigns me tasks and acts to draft; he never gets angry or mad at me when I do wrong but comforts me and tells me I will learn from my mistakes. When I applied to Duke and Got admitted with the Scholarship, he was so proud of me as if I am his daughter. I have been missing the affection Eli is giving me. And I don't want to deceive him.
Eli has a son of 9. He told me he always wanted to have a girl too. He talks about his kid every single day and tells how proud he is of his son. He cares for his parents who are sick and visit them twice a year in America. They are so old. He loves writing and painting. He is always laughing.
More than ever, I am determinate to succeed for me and my family, for Eli who wants me to the next UN General Secretary and for the world, because I am so dedicate to people around me. Eli is so generous, he even convinced his firm to pay me more than other interns in order for me to have enough money to pay the rent of my room here and eat.
What about my family?
My father, who is retiree since last year, lost his job after 20 years of work due to global redundancy. The Company he worked for, a foreign company, has never paid him back his allocation. He has been jobless for 6years now. My mother is a nurse-like, she works with seniors; she takes care of them every day. She loves helping people but unfortunately she doesn't earn a lot. I have one brother and another sister. My parents are paying their school.
In Cameroon, many girls don't go to school; instead, they married and have babies at teen age. My mother was one of them. My parents did not want that for me and my sister. So When I found this French program, they were so happy for me, that they gave me all their savings to pay the school, the flight ticket 3 month rent. When I told them that I did great at my exams, they were so happy. Now, I found this LLM, and it is my biggest chance to access the bar, one of the prestigious ones; when I told them about, and what Eli is doing for me, they were so grateful, but they told me they don't have money.
Even with the tuition covering my Scholarship, US$20,000 is more money than my father could ever imagine; and as much as my father wants to contribute to my school costs, he needs to save that money to educate my younger brothers. My goal is to work my hardest every day in school, and to live in the land where anything is possible and where dreams can come true for those who come to America's shores in search of a better life for their family. 
How urgent is it to raise this money?
Extremely urgent. I need to show the school I have secured all funds to attend Duke by
no later than July 29th
 ;otherwise, I will lose my scholarship and any chance to attend Duke University. I pray everyday that we (Eli and I) reach the goal of sending me to Duke.
I don't want to think about losing this opportunity; I'm a positive person and that is what I teach and share with the world on my blog
www.fromdarktorainbow.com
  . Creating this blog helped me to keep faith in life and hope. I have been running it for 3 years so far.
All my life I have dreamed of being a Lawyer, and of even aspiring to become the next UN General Secretary, to ensure we take care of each other and to make our world more accessible to those less fortunate, but willing to not stand still, but to fight for what they want.
How you can help me right now?
* Forward my letter on to your friends and family so that others can hear of mystory and know that anything is possible I you want it bad enough. You'll be doing a lot for me if you can forward your email on
* If you believe in me as I do, please donate what ever you can
* Can be as little as USD20, USD50, USD100 and we won't stop you if you want to donate USD1,000. 
Thank you very much!!