Spot a besoin de votre aide! Spot needs your help!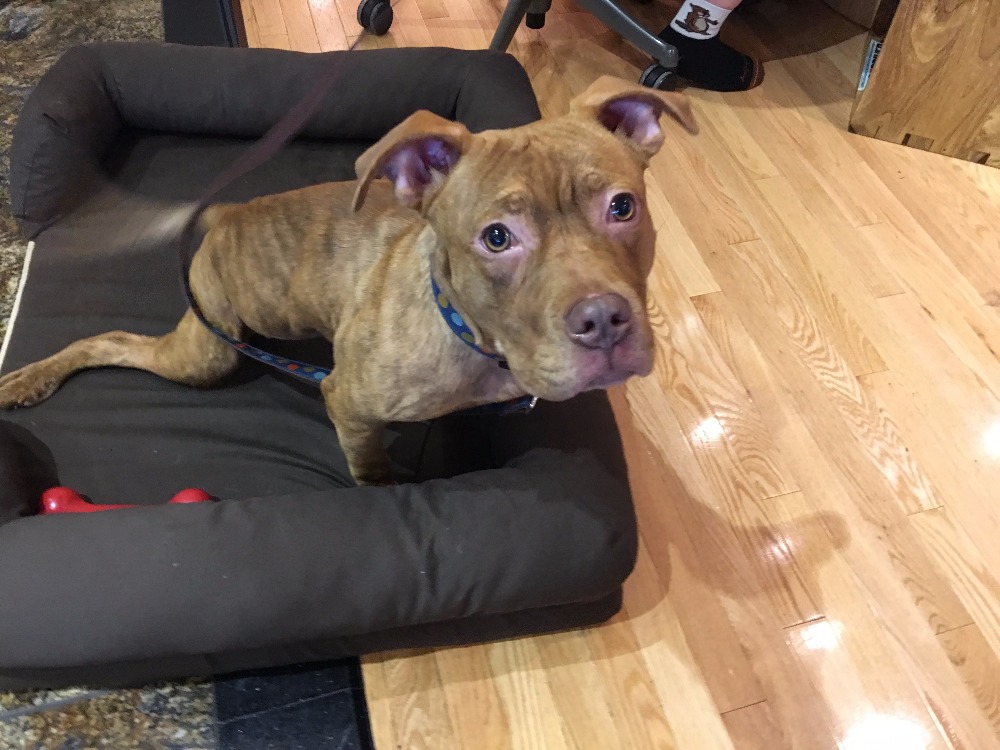 See news and updates below this story.
Spot is a 6-month-old pit bull puppy. Spot suffers serious handicaps. His hind legs do not support him, so he scoots around on his two front legs. Spot's hind legs never properly healed from early fractures, and his orthopedic problems have multiplied. He needs surgery on his spinal cord, on his hips and on his legs.
But he still has a chance for a quality life.
While Spot does not appear to be in pain, he has little control of his lower body and moves around only using his front legs. He is incontinent, and needs help to pee and poo. Needless to say, Spot requires constant care.
When I got him, he was wasting away before my very eyes. We worried about his pancreas, about his liver, about parasites. Surprisingly, his internal organs are all fine, and after a course of antibiotics and other meds, he is putting on weight like a champion!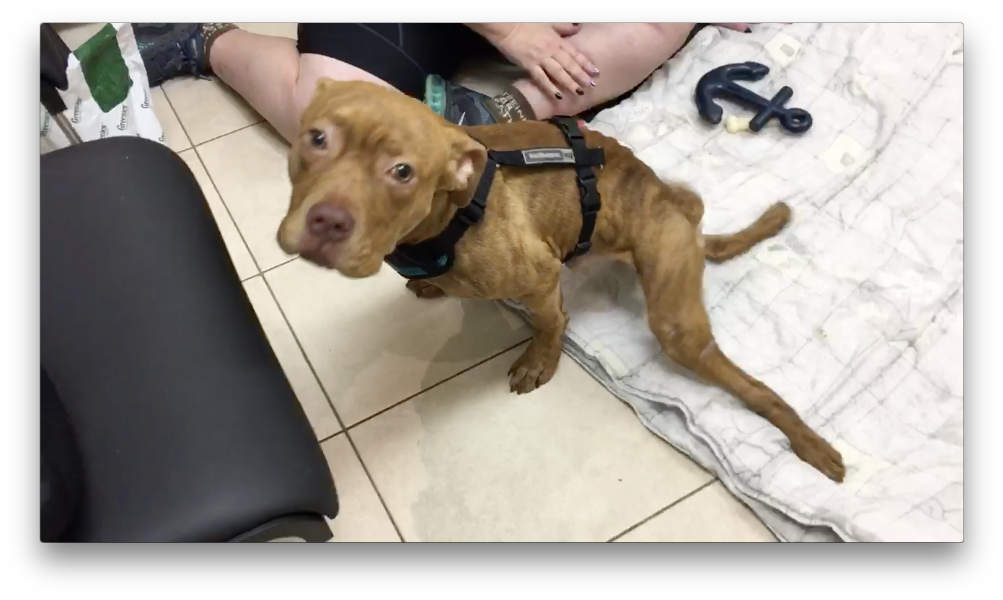 Despite his handicap, Spot is in great spirits. He is affectionate and joyous. And despite being branded a "pit bull-type dog", he is anything but dangerous. He is just a dog, with a heart and soul. And he deserves a chance.
Since Spot came into our lives several weeks ago, his condition has improved and it appears that with your help we can dramatically improve his quality of life. By undergoing several medical procedures, Spot has a real chance to run free one day and to have a happy and fulfilled life.
Under care of veterinary professionals at the South Shore Veterinary Hospital (the CVRS), Spot has gone from 12 to 16 kg in two weeks!  We bought a wheelchair for him in the U.S., and he is adapting to his new wheelchair with all the energy of, well, a puppy! He is no longer abrading his legs, injuring his penis or covering his hindquarters in dribbles of pee (in a wheelchair, his hindquarters are fully supported).
A series of surgeries and medical procedures have been planned to restore function to Spot's hind legs.
Spot will undergo surgery on Wednesday, November 9th. He will have a double laminectomy of his spinal column, based on the hypothesis he suffers from tethered cord syndrome. He also has a syringomyelia which must be drained, so that there is no more pressure on his spinal cord. Finally, a shunt will be installed, to ensure there is no more fluid build-up that would compress his spine and interfere with nerve conduction.
Nerve signals are passing from his brain to his legs and tail, so he is not paraplegic as we formerly thought. There is hope that with good recovery from surgery and intensive physiotherapy that he will have more control over his legs, and his peeing and pooing. Then, we can plan orthopedic surgeries for him. This will certainly cost over $ 30,000.
Help us give Spot a chance to continue the fight for his life, and the hope that he will run one day with our other dogs and be able to enjoy his life to the fullest! 
Spot's story gives meaning to the legal battle being waged by the Coalition to Promote the Safety of People and Canines (CPSPC) to overturn the new animal control regulations recently introduced by the City of Montreal. His story perfectly illustrates the importance of the opposition to breed-specific legislation that victimizes dogs that look like him. We hope Spot will be a mascot to demonstrate to the City that all dogs deserve our love and attention!
Any donations in excess of the cost of Spot's medical care will go to support the CPSPC's fight for the rights of animals targeted by the City of Montreal's by-law.
PLEASE SHOW YOU CARE AND GIVE GENEROUSLY!
Wednesday, November 9, 2016 - Spot recovering after his first procedure.
 – "He is VERY comfortable and ate like a champ!"
SHOW YOU CARE. PLEASE GIVE GENEROUSLY!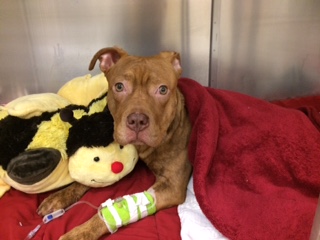 Wednesday, March 1st, 2017 - Spot recovering after another procedure.
Thank you for your continued help and support!
Here are new pictures of Spot, after his surgery this Sunday, convalescing in the hospital. I also have pictures of the hardware installed in his legs!
Physio can resume as soon as his surgical scars heal, which takes 7 to 10 days. His bones are nailed/screwed into position, and they are solid!
PLEASE SHOW YOU CARE AND GIVE GENEROUSLY!
Donations

Organizer
#1 fundraising platform

People have raised more money on GoFundMe than anywhere else. Learn more

GoFundMe Guarantee

In the rare case that something isn't right, we will refund your donation. Learn more

Expert advice, 24/7

Contact us with your questions and we'll answer, day or night. Learn more